As an Engineer, I buy, read, and apply North American rack design codes because that is my main focus. Rack owners are rarely exposed to these documents and are commonly unaware of their range of responsibilities. Given what is at stake, it is important to bridge this gap of knowledge that exists between Engineer and rack owner. In the U.S., the Occupational Safety and Health Act of 1970 requires an employer to offer a workplace that is free from known hazards. For rack owners, this means that improper use, selection, installation or maintenance of racking and storage systems may put workers at risk of injury and expose employers to serious liability in case of an accident.
Below I have compiled a list to guide rack owners on what needs to be done according to rack design codes (MH16.1). Use it as a starting point and then dive deeper into the different subjects by informing yourself via trainings and/or partnering with a rack safety partner for further support. Whether you own a warehouse with storage rack systems or are considering investing in one, know that ownership comes with great responsibility - and ensuring safety is paramount.
Pallet Rack Load Capacity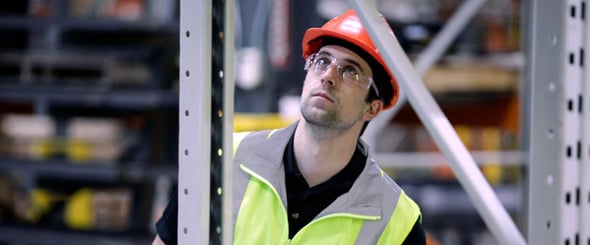 Load capacity refers to the maximum load that may be placed on a given racking system. Knowing and displaying your pallet rack load capacity is critical to the safe operation of your warehouse. Below are some responsibilities directly related to the load capacity of your racking:
Clearly display rack load capacity and inform operators.
Make sure the slab and the subgrade adequately support all storage rack loads. To learn more about why warehouse flooring is important, read this article.
Make sure that maximum permissible load is not exceeded during operation.
Use and maintain the racks properly to insure adequate structural performance.
Retain and maintain LARCs (Load Application and Rack Configuration drawings) and other documents that establish the load capacity.
Make sure rack configuration alterations are approved by rack design engineer and updated in the LARCs.
Use structurally sound and suitable pallets for each rack type and usage. More on how to choose the right pallets for your needs here.
How To Address Damage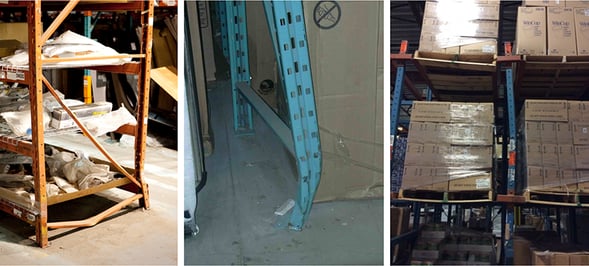 Pallet rack damage is often caused by forklifts. It may be easy to overlook a damaged rack because to the naked eye, it may appear like it "still works." However, one or more small impacts on an already damaged rack could be the difference between standing uprights and a complete system failure. To avoid a hazardous incident, you should:
Rack Safety Training for You and Your Employees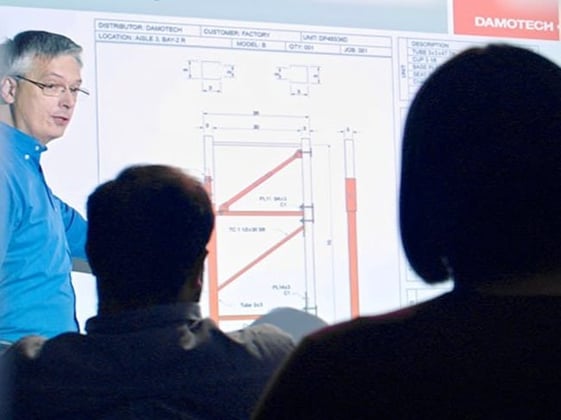 Warehouse and rack safety training is the best way to educate yourself and your employees on the proper course of action when rack safety issues occur. More information on training opportunities here. Below are your main tasks regarding training:
Make sure operators are properly trained on pallet manipulation and consequences of rack damage.
Make sure in-house rack inspectors know how to recognize damage and are trained on rack safety and inspection points. To learn more on when to inspect racks, read this article.
Keep a record of all inspections.
Other Key Responsibilities
Comply with building and fire codes.
Consider adequate lighting levels for operators.
Obtain required permits.
Keep documentation establishing compliance available at all time for building officials and Health & Safety inspectors.
Doing the "Right Thing" When It Comes to Rack Ownership
Rack owners taking care of the points above are basically covered and doing the "right thing". But like anything, when you get down to it, the details may get in the way and the entire process may sometimes seem overwhelming. Partner with a knowledgeable rack safety solutions provider and the implementation will run smoothly.
Leading solutions providers will offer a full gamut of engineering services. Experienced engineers will conduct regular rack inspections, assess the severity of the damage, prioritize repairs, validate load capacities, and provide load capacity labels. Investing in safety and proper maintenance will keep your warehouse and your workers safe. It will also make your operations more cost-efficient. And most reassuringly, knowing what you are accountable for puts you in a better position to take the appropriate actions.