This guest blog was originally published on MHI's website and written by Damotech's Charles Carbonneau, P. Eng.
A warehouse is in constant movement of people, equipment, and merchandise. In the hustle and bustle of the day-to-day, it's easy to forget about the seemingly idle structures that reside in the background: the racking systems – whose sole job is to bear thousands and thousands of pounds of merchandise. These racks are in fact very much alive in the sense that they are always interacting with their environment. And while racking is designed to support load vertically, they are not designed to withstand horizontal impact from foreign objects or vehicles. For example, a forklift bumping into an upright can cause significant damage to the overall integrity of a rack. Therefore, implementing safety measures in a warehouse is vital.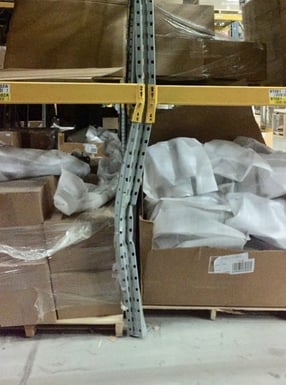 An example of a damaged upright.
Safety Regulations
Safety in American warehouses is regulated by a series of standards from the Occupational Safety and Health Administration, commonly known as OHSA. The US Congress created OSHA under the Occupational Safety and Health Act, which was signed into law by President Nixon on December 29, 1970. This act requires employers to keep their work environments safe for workers. In the last four decades, there has been a lot of progress made when it comes to workplace safety thanks to the efforts of employers, health and safety professionals, unions and advocates. Worker injuries and illnesses were down from 10.9 incidents per 100 workers in 1972, to 2.8 per 100 workers in 2017. Although these numbers are encouraging, there is still much work to be done to reduce warehouse hazards.
Four Basic Steps to Address Damage
1. Evaluate
A good first step is to schedule an assessment of your racking systems to get a clear picture of the state of your racks. This can be done by your maintenance personnel, using a checklist or by a specialist knowledgeable in the field of pallet racking systems. Upon visiting your warehouse, the specialist may recommend a conformity inspection, performed by a qualified rack specialist or even an engineer, resulting in a detailed and actionable report listing all issues found.
2. Prioritize
Once you have a solid understanding of the issues, then it is time to address them in order of priority. The damage identified as being a high priority should be labeled as such, and the affected part of the rack can be unloaded as a preventive measure. Pay particular attention to high traffic zones where repeated damage has occurred.
3. Repair or Replace
If you currently have damaged rack uprights in your warehouse and are considering replacing them, you should know that the option of repair also exists. By repairing the upright with an engineered rack repair kit, you will restore its original load capacity while also protecting it against future damage. Sometimes only the horizontal or vertical brace on an upright is damaged. In this case, there are custom, adjustable braces that can replace the damaged one – avoiding the replacement of the entire upright. Rack repair is a viable alternative to replacement, especially when factoring in that no unloading and dismantling is required so extra costs are avoided.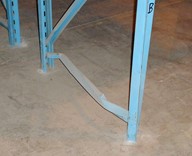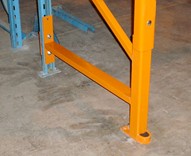 Before (left) and after (right) a rack repair kit is installed to the front of an upright.
4. Communicate
Communicate your safety goals and train your employees in order to make it easy for them to report damage. Damage can go unreported unless those who work around the racks know what to look for and can quickly alert management. When employees are knowledgeable about pallet rack safety, they are better equipped and more likely to take proper action when damage occurs. Training your workforce on rack safety is one of the best investments your company can make to minimize unnecessary risk.
Tracking Safety with KPIs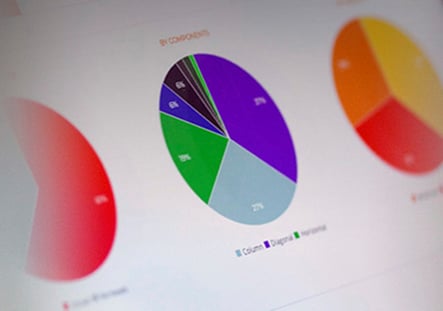 Being a warehouse manager is a balancing act, one that requires taking the right business decisions while facing whatever the day may bring. You must maintain top warehouse efficiency, fulfill orders, respect deadlines, and budgets, all the while ensuring worker safety. So how then, do you make informed decisions? This is where KPIs can be a valuable tool for warehouse managers and operators.
Key Performance Indicators are reference measurements that help leaders and managers gauge the effectiveness of a team, project, warehouse or even a company. It is a way to measure objectives as part of a greater strategy or as a method to align everyone to a goal, but it is not the goal.
Find Rack Professionals You Can Trust
Working with a knowledgeable rack safety solutions provider is critical to ensuring products are right for your needs and installed properly. It is also highly recommended to choose a company that is an active ProGMA member, an MHI group composed of the racking industry's leading suppliers of fixed protective guarding products. Purchasing from a ProGMA member ensures you are getting products that are engineered to hold up to the industry's highest standards. Leading solutions providers will also offer a full gamut of engineering services. Experienced engineers will conduct regular rack inspections, assess the severity of the damage, prioritize repairs, validate load capacities, and provide load capacity labels. Investing in safety and proper maintenance will keep your warehouse and your workers safe. It will also make your operations more cost-efficient. If your company is still not making rack safety a top priority, now is the best time to do so. Show your employees you care about them and start investing in their safety today!