< BLOG HOME
In the supply chain and warehousing industry, some days may feel like a balancing act as many warehouse managers must constantly keep a multitude of moving parts from spinning out of control. While pallet storage may come in at the end of a production cycle, it can still greatly affect the process if things go awry. It is important to control the warehouse environment and keep production running as smoothly and efficiently as possible. Implementing proper procedures and precautions can help achieve this, while also ensuring workers' safety. Below, we list five insightful statistics related to warehouse safety, collected by safety representatives and government agencies in North America. The numbers include incident rates, fatality rates, as well as the costs involved in an accident.
1. The Number of Warehouse Employees Has Doubled in the Last Ten Years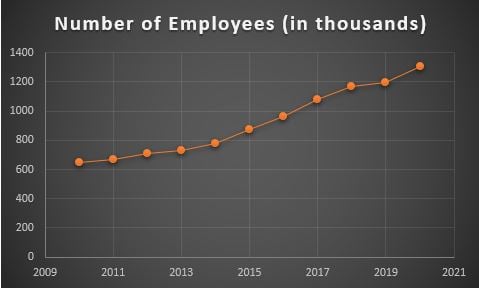 Figure 1: Number of employees working in warehouses.
Due to a high demand in product consumption, employers are looking to expand their production and storing capacity. To achieve this, more warehouses are being developed, thus creating more employment. According to the U.S. Bureau of Labor Statistics, the number of employees has doubled from 645 200 in 2010 to 1 304 900 in 2020 (Figure 1) and it is forecasting almost 2 million employees by 2030. With this increase, the employer's responsibility to ensure the safety of employees and adhere to the guidelines provided by OSHA will become more crucial (and perhaps, more challenging) than ever before as there will be significantly more workers to manage on a daily basis.
2. There Are Less Than 30 Fatalities Per Year in U.S. Warehouses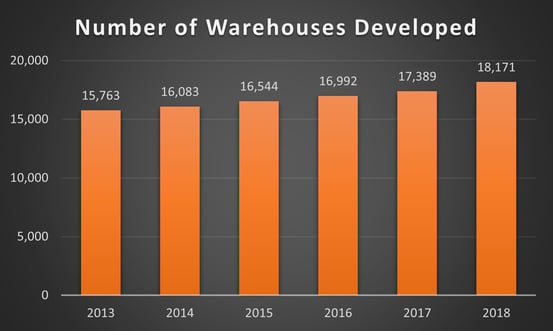 Figure 2: Number of new warehouses being developed year after year.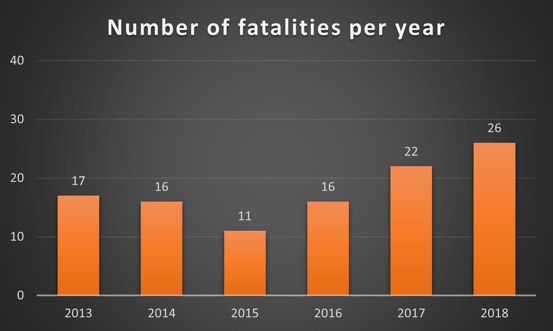 Figure 3: Number of recorded fatalities in warehouse industry.
According to data provided by the U.S. Bureau of Labor Statistics in 2019, the average rate of recorded injuries in the warehousing industry was at 4.8 for every 100 full-time workers, which is slightly lower than the previous year's number: 5.1. This number represents cases resulting in days away from work and the transfer of jobs. While this number is lower than that of the previous year, it still accounts for almost 8% of the 2.8 million non-fatal workplace injuries and illnesses reported by private industry employers. On the bright side, even though the rate of expansion of warehouse development is increasing year after year, the number of fatalities reported remains relatively stable. As shown in Figure 2, the number of warehouses jumped from 16,544 in 2015 to 18,171 in 2018, which translates to an average of 4% increase per year. Whereas in Figure 3, the number of fatalities reported since 2013 remains under the count of 30 fatalities per year, with the lowest count of 11 fatalities in 2015.
3. 90% of Pallet Rack Failure is Caused By Forklifts
When it comes to rack failure, many factors contribute towards collapse. The most common reasons are due to system overload, lack of maintenance, and collisions with forklifts. In most cases, it stems from a combination of all the above.
Forklifts are one of the most essential warehousing tools at our disposal. They help maneuver goods in a fast and efficient way; however, they must be used properly. The chances of racking system damage increase exponentially when a forklift is involved. To learn about the five frequent ways forklifts damage racks, read this article. A standout statistic according to one report is that 90% of rack failure is due to an impact by a forklift. Due to its dynamic movements and heavy weight, this powered vehicle has a high potential of hitting the pallet racks. However, the risk can be significantly reduced by providing proper training to forklift operators, increasing the width of aisles, and safeguarding racking with protection devices such as rack guards.
4. Forklift Truck Overturning is the Most Common Fatal Incident
If one were to think of forklift truck accidents, being struck head-first may come to mind as the most common incident. However, data from OSHA shows that more than 40% of fatalities are caused by forklift overturning or tipping and only 10% are due to being struck by a forklift. A summary of fatalities by type is shown in Figure 3 and a forklift overturning is demonstrated here.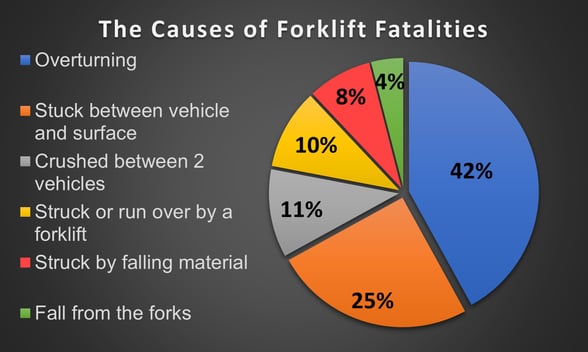 Figure 4: Pie chart demonstrating the causes of forklift fatalities.
The key to preventing these incidents is providing the employees with proper training and stringent warehouse guidelines. This training would include:
The explanation of different types of forklifts and the weight distribution that they support.
Understanding the importance of aisle width and clearance.
Keeping a safe speed throughout the warehouse.
If companies implemented these policies, the Occupational Safety & Health Administration (OSHA) estimates that roughly 70% of forklift accidents in the U.S. could be prevented.
 
5. Injuries Cost More than $84 Million Per Week in the U.S.
When hearing about the cost of an incident at work, one would think that the cost only covers the insurance or the medical bills. However, in 2018, according to the National Safety Council, the cost per medically consulted injury was $41,000, while the cost per death was $1,190,000. Both direct and indirect costs must be considered, including medical bills, damage to equipment, loss of production time, and training for replacement staff. It was also reported that non-fatal injuries in the transportation and warehousing industry cost $84.04 million per week, averaging $240,000/year for each of the 18,171 warehouses that were reported in 2018. In addition to these costs, a fine from OSHA for not following the safety guidelines can run up to $7,000 for minor infractions and up to $70,000 for repeat offenders. Investing a portion of that amount on rack protection devices and proper training can lead to a much safer work environment and major improvements in injury reduction.
Hope for Improved Warehouse Safety
Since the introduction of safety guidelines in 1970 by the Occupational Safety and Health Administration, the number of occupational deaths has declined by 62% and the number of workplace-related injuries has gone down by 42%. This considerable decline shows that following these safety guidelines has helped decrease the yearly rate of injuries and fatalities, however, there is a lot more work to be done. With proper planning, effective safety training, the use of protection devices, and frequent racking inspections, the goal of zero fatalities can one day become a reality.
References:
Rack Safety Tips
STAY UP TO DATE