In recent decades, the global economy has witnessed significant changes, accompanied by a surge in consumer demand. This transformation has left an indelible mark on the warehousing industry, prompting it to adapt and expand. The growing demand for products has led employers to increase their production capacities and, consequently, their storage facilities. This surge in growth has resulted in the construction of countless warehouses and distribution centers (DCs) across the United States and globally. Simultaneously, it has driven a substantial increase in warehouse employment.
Warehousing's Soaring Workforce: Challenges and Safety Imperatives
Projections paint a vivid picture of the future, indicating that this upward trajectory in warehousing will continue. While this explosive growth promises economic opportunities, it also underscores the urgent need for employers to prioritize the safety of their employees. Navigating the complex terrain of compliance with Occupational Safety and Health Administration (OSHA) guidelines becomes even more critical, given the challenges associated with managing an ever-expanding workforce.
Surprising U.S. Warehouse Industry Safety Statistics
In this article, we delve into the surprising safety statistics of the warehouse industry. Through these statistics, we aim to shed light on the factors shaping the present and future of the warehousing industry in the United States. Discover the trends, challenges, and safety imperatives that define this dynamic sector.
1. The Number of Warehouse Employees Has Doubled in the Last Ten Years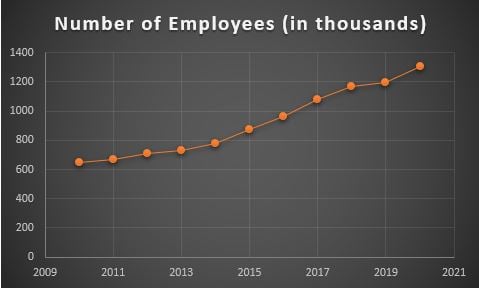 Figure 1: Warehouse employee growth over the years.
Rising product demand has prompted employers to expand their production and storage capacities. This growth has led to the construction of more warehouses or distribution centers (DCs) and increased warehouse employment. According to the U.S. Bureau of Labor Statistics, the number of employees has doubled from 645,200 in 2010 to 1,304,900 in 2020 (Figure 1). Projections indicate that this trend will continue, with nearly 2 million employees expected by 2030. With such growth, the responsibility of employers to ensure employee safety and comply with OSHA guidelines becomes even more critical and challenging, given the larger workforce to manage.
2. There Are Less Than 30 Fatalities Per Year in U.S. Warehouses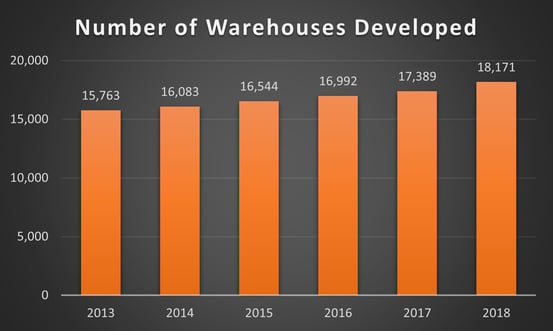 Figure 2: Annual increase in warehouse development.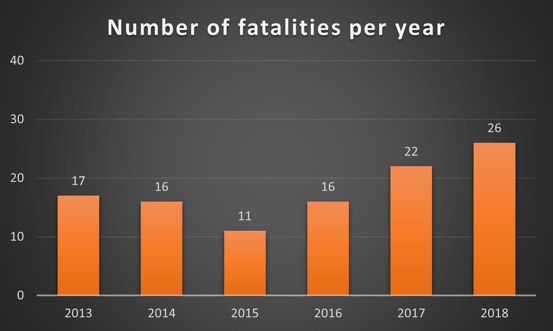 Figure 3: Number of recorded fatalities in the warehouse industry.
Based on data from the U.S. Bureau of Labor Statistics in 2019, the average rate of recorded injuries in the warehousing industry was 4.8 per 100 full-time workers, slightly lower than the previous year's rate of 5.1. These numbers encompass cases resulting in days away from work and job transfers. While the rate of injuries decreased, it still accounted for nearly 8% of the 2.8 million non-fatal workplace injuries and illnesses reported by private industry employers. Encouragingly, despite the annual growth in warehouse development (as shown in Figure 2, with warehouses increasing from 16,544 in 2015 to 18,171 in 2018, an average yearly increase of 4%), the number of reported fatalities remains relatively stable. Figure 3 reveals that annual fatalities have consistently stayed below 30 since 2013, reaching a low of 11 in 2015.
3. Forklifts are responsible for 90% of Pallet Rack Failures
Pallet rack failures can result from various factors, including system overload, inadequate maintenance, and collisions with forklifts. In most cases, it stems from a combination of all the above.
Forklifts are one of the most essential warehousing tools at our disposal. They help maneuver goods quickly and efficiently; however, they must be used properly. The chances of racking system damage increase exponentially when a forklift is involved. To learn about the five frequent ways forklifts damage racks read this article. According to one report, 90% of rack failures can be attributed to forklift impacts. The dynamic movements and weight of forklifts make them prone to collisions with pallet racks. This risk can be significantly reduced by properly training forklift operators, wider aisle spaces, and installing protection devices such as rack guards.
4. Forklift Truck Overturning is the
Primary Cause of Fatal Incidents
While one might assume that being struck head-on by a forklift is the most common accident, OSHA data reveals that over 40% of fatalities result from forklift overturning or tipping. In comparison, only 10% are caused by direct collisions. Figure 4 illustrates the distribution of forklift fatalities by type.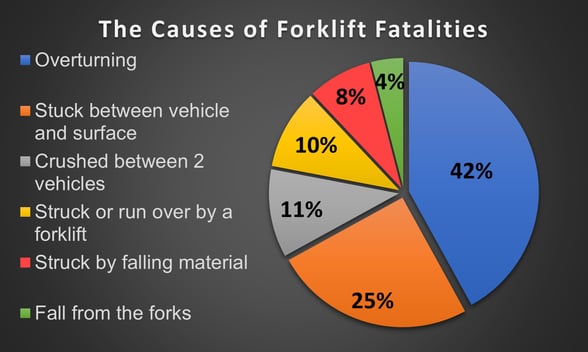 Figure 4: Pie chart demonstrating the causes of forklift fatalities.
Preventing such incidents requires comprehensive employee training and strict adherence to warehouse guidelines, including:
Familiarizing employees with different forklift types and their weight capacities.
Emphasizing the importance of aisle width

and clearance.

Promoting the maintenance of safe speeds throughout the warehouse.
The Occupational Safety & Health Administration (OSHA) estimates that implementing these measures could prevent approximately 70% of forklift accidents in the United States.
 
5. Injuries Cost More than $84 Million Per Week in the U.S.
When considering the financial impact of workplace incidents, it is important to recognize that costs extend beyond insurance and medical bills. In 2018, the National Safety Council reported that the average cost per medically consulted injury was $41,000, while the cost per fatality amounted to $1,190,000. These costs encompass direct and indirect expenses, such as medical treatments, equipment damage, loss of production time, and training replacement staff. Non-fatal injuries in the transportation and warehousing industry alone cost approximately $84.04 million per week in 2018, averaging $240,000 annually for each of the 18,171 warehouses. Furthermore, non-compliance with safety guidelines can lead to fines from OSHA, ranging from $7,000 for minor infractions to $70,000 for repeat offenses. Investing a fraction of these amounts in rack protection devices and comprehensive training can significantly improve workplace safety and reduce injuries.
Striving for Enhanced Warehouse Safety
Since the implementation of safety guidelines by OSHA in 1970, occupational deaths have declined by 62%, and workplace-related injuries have decreased by 42%. These remarkable improvements demonstrate the positive impact of adhering to safety protocols in reducing injury and fatality rates. However, there is still much work to be done. Achieving the goal of zero fatalities is possible through meticulous planning, effective safety training, the use of protective devices, and regular racking inspections. With these measures in place, a safer work environment can be attained, bringing us closer to the day when warehouse fatalities become a thing of the past.
References: