Every day, lift trucks move and retrieve palettized loads in and around storage systems. When they have limited space to maneuver, they can hit the racking systems and damage them. A connection can be made between rack damage, aisle width and the type of forklift used. Consequently, when deciding on the space to allot between rows of racks, we must consider the type of forklift used; otherwise, the systems are exposed to a greater risk of damage. To know if there is enough room for the forklift operators to turn safely, read on.
Aisle width is determined either by calculation or by referring to the forklift manufacturer's recommendations. To give you an example, here are three common types of forklifts found in warehouses today:

1) Standard sit-down counterbalance forklift
2) Stand-up counterbalance forklift (single/double-deep)
3) VNA (very narrow aisle) Swing reach / Turret trucks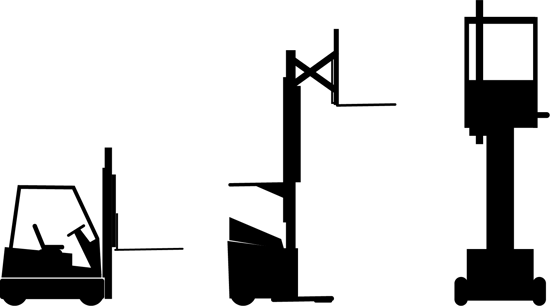 Figure 1. Sit-down counterbalance, stand-up counterbalance, and swing reach truck
Each forklift has an intended use. For example, in choosing a lift, we consider the maximum load capacity, how high or how deep it can stack, the minimum required space to navigate the aisles and more. To find answers, you can turn to the manufacturer of the lift truck. Toyota Industries, for example, provides this simple formula to help you determine how much aisle space your forklift will need:
Load Length + Basic Right-Angle Stack + 12in = Minimum Aisle Width
Load Length is the length of palettized products carried on the forks. Basic Right-Angle Stack is the smallest amount of space a forklift needs to be able to turn and enter a pallet slot, as illustrated in the figure below. The 12 inches of clearance allows for enough space to accommodate the forklift's turn radius and leave room to turn in the aisle without coming into contact with the racks.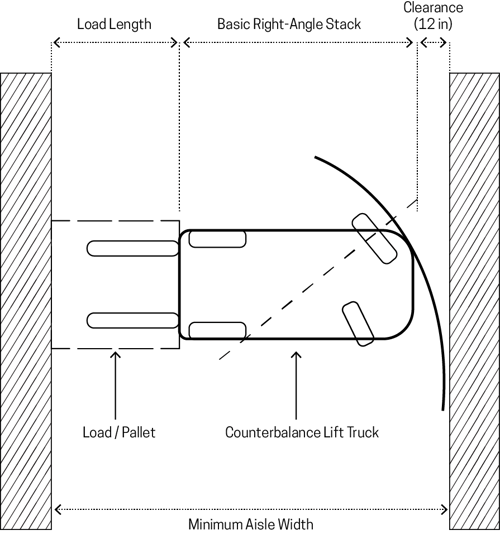 Figure 2. How to determine the minimum aisle width needed for my forklift.

This table shows the recommended aisle width of 4 common types of forklift, provided by the lift manufacturers:
Manufacturer

Recommended Aisle Width (ft)

Standard Counterbalance lift truck

Single deep reach truck

Double deep reach truck

Swing /Turret
reach truck

Toyota

12

7.5-8

7.5-8.5

5-7

Clark

13

8

10

6

Yale

12

8

9

5-6

CAT

12

8.5

9-10

N/A

Table 1. Comparison of recommended aisle width by forklift type from common manufacturers.

In the table, we can see that the manufacturers agree on the recommended aisle width for each type of lift truck. If you've applied the formula above and realized that the aisle width in your warehouse is inadequate and cannot easily be changed, you have a few options. First, you can change the forklift used in the aisle. You should also consider adding guarding products to protect your racks from forklifts impacts. Finally, providing forklift operators with additional safety training is always a good idea. Sessions focused on the hazards surrounding pallet rack systems can raise awareness about the danger of cumulative rack damage.

OSHA1 says that approximately 70 percent of all forklift incidents in the United States could be avoided with proper safety training.

All in all, a good pairing between forklift type and aisle width will ensure the safety of your racking systems and your warehouse. If leaving ample space between aisles is not possible, consider using a different and more suitable forklift intended for your aisles, installing adequate rack protection or offering additional rack safety training to forklift operators.
_
1. The Industrial Truck Association – (http://www.indtrk.org/training)
2. National Forklift Safety Day, June 9th, 2020 - virtual event: https://www.indtrk.org/events