< BLOG HOME
Have you ever wondered about the size of the biggest warehouses and distribution centers in the US and Canada? Join in as we journey to some of these largest warehouses, which have evolved in recent years to become among the most expansive and impressive industrial structures on earth.
Before diving in, you may be asking yourself: why the need for such large warehouses? Or maybe you're asking yourself, "just how many Amazon warehouses are there, anyway?" or "
As consumer demand increases and e-commerce becomes more prevalent, there is a greater need to house more products in warehouses. So, without further ado, here is a countdown of the top 10 largest warehouses in North America.
10. DSV Warehouse
Size: 1.1 million sq. ft.
Location: Milton, Ontario, Canada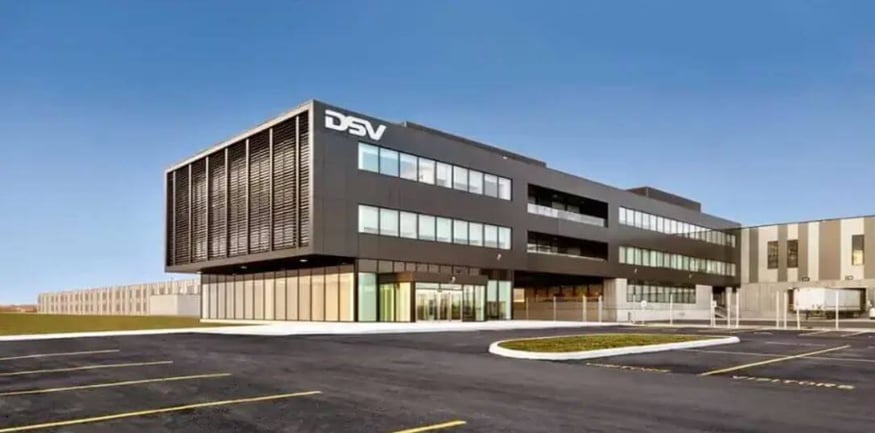 Photo credit: csengineermag.com
DSV is a global transport and logistics service provider with international headquarters in Hedehusene, Denmark. It's been in operation since 1976 and is now in over 80 countries. Just before the onset of the COVID-19 pandemic in February 2020, the Danish company DSV opened its 1.1 million square foot warehouse and head office in Milton, Ontario. Less than a year later, pandemic-related increases in global shipping meant that the facility was already nearly at capacity.
The company has notably been handling staggering amounts of essential items, such as Personal Protective Equipment (PPE) and medical supplies. The timing of this warehouse's opening may have been the luck of the draw, but there is no doubt DSV will continue to make the most of this important investment.
This DSV facility offers 111,000 square feet of climate-controlled space (15-25°C). With a future goal of catering to both food and confectionery industries within the Canadian B2B and B2C markets, this warehouse is perfectly situated close to Canada's Highway 401 and Pearson International Airport in Toronto.
9. Walmart Distribution Center
Size: 1.5 million sq. ft.
Location: Casa Grande, Arizona, USA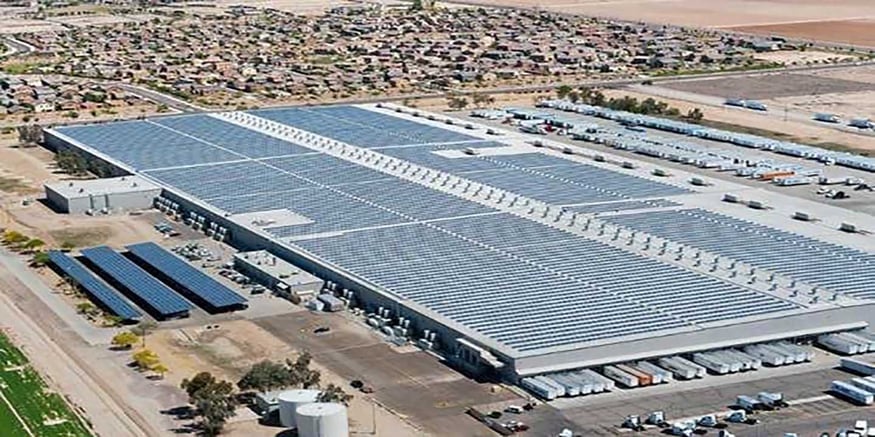 Photo credit: RicorInc.com
Considering that virtually every town in North America houses its own Walmart and that this enormous retailer employs more than 2 million people in the United States alone, it should be no surprise that Walmart's large warehouse reigns supreme in its region.
The Casa Grande Walmart distribution center in Arizona is vast, coming in at 1.5 million sq. feet. With the number of Walmart locations that span the map, this distribution center is one of the largest in the world, serving over 160 Walmart stores, supercenters with food distribution, and beyond, putting it in direct competition with the largest Amazon warehouse. The warehouse technology that Walmart is using across its distribution centers includes augmented reality, virtual reality, and drones.
Wondering where Walmart's biggest store is located? The largest Walmart store is located in Albany, New York. It opened in 2008 and has 260,000 square feet (about double the average Walmart store size).
8. Target's Import Warehouse
Size: 2 million sq. ft.
Location: Savannah, Georgia, USA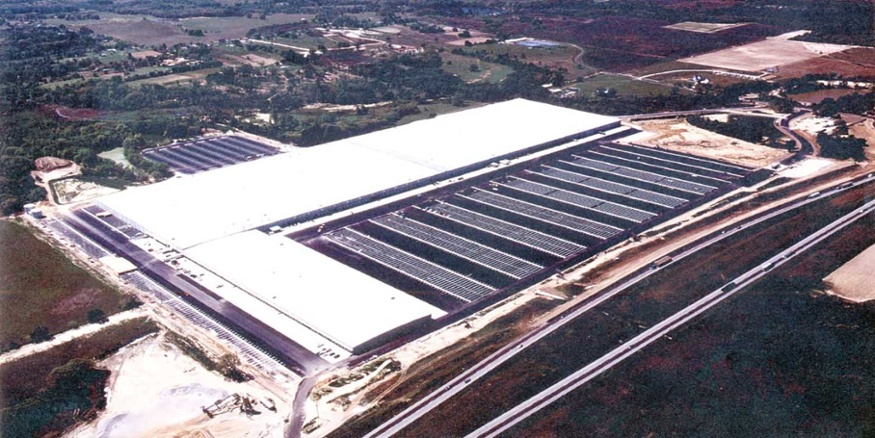 Photo credit: harrisarchitects.com
Target tells us to "expect more," and that's precisely the philosophy that guides operations at its 2 million square foot warehouse in Savannah, Georgia. Here, this world-leader discount retailer operates one of its key Target distribution centers, receiving goods from all over the world and readying them for transport.
Everything from clothing and home goods to electronics and furniture makes its way through this impressive target distribution facility. Opened in 2006, this warehouse ensures the retail giant will well serve the Southeastern United States for years to come.
Fun fact: 75% of the U.S. population lives within 16 km of a Target store.

7. Digi-Key's Distribution Center Expansion
Size: 2.2 million sq. ft.
Location: Thief River Falls, Minnesota, USA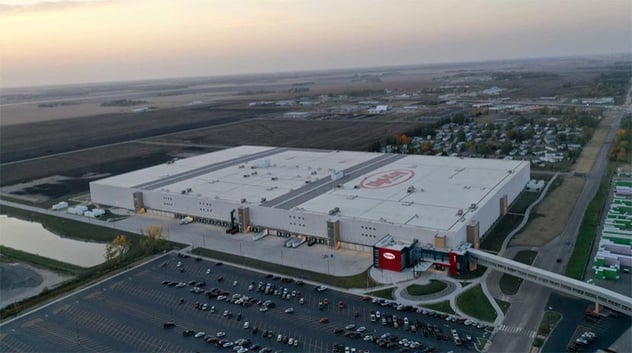 Photo credit:
mcshaneconstruction.com
In August 2022, Digi-Key celebrated the expansion of its Thief River Falls product distribution center. The 2.2 million square feet addition to the company's headquarters brings the combined total footprint to more than 3 million square feet.
Digi-Key distributes electronic components and automation products across 180 countries. With a size comparable to 22 football fields, the new building was built with sustainability and efficiency in mind: it includes sensor-activated LED lights and an energy-maximizing conveying system!
6. John Deere Parts Distribution Center (PDC)
Size: 2.8 million sq. ft.
Location: Milan, Illinois, USA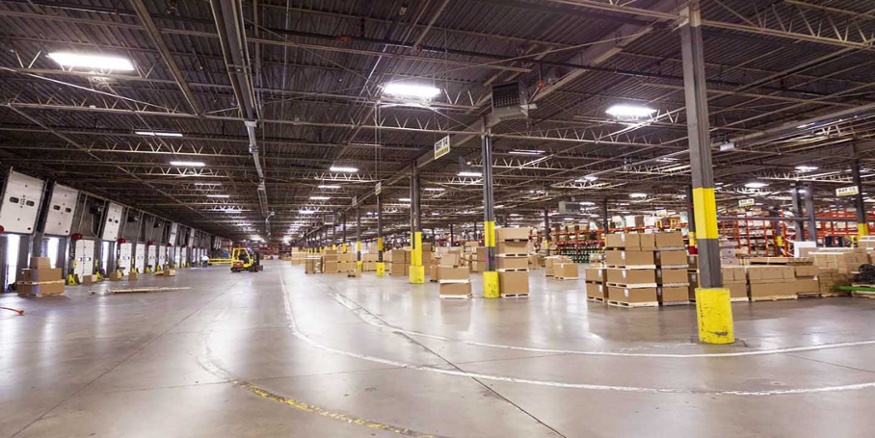 Photo credit: QCTimes.com
Known for their tractors and large-scale farm equipment, John Deere also services the everyday consumer market by offering backyard, rather than barnyard, items like household riding mowers and utility vehicles.
As an industry leader with a worldwide reach, it is no surprise their Parts Distribution Centre (PDC) is one of the largest in the world! Located in Milan, Illinois, and constructed in 1975, this 2.8 million square foot site is the agricultural leader's headquarters, where most of its agricultural and distribution are housed and distributed. Over the years, it has had seven major expansions, the last of which was in 2009-2010 when 450,000 square feet were added.
Workers must navigate through nearly 100 miles of floor-to-ceiling storage racks, lifting and moving parts across acres of aisle space. On any given day, the facility stocks more than 600,000 part numbers. While most of the work is done with the help of forklifts, warehouse workers pick parts that range in weight from 1 ounce to 25 tons. The warehouse additionally has sustainable practices in place such as having a special roof built so that it puts rainwater back into the nearby pond. A one-inch rainfall will put 1.5 million gallons of water in the pond.
5. Nike's Distribution Center
Size: 2.8 million sq. ft.
Location: Memphis, Tennessee, USA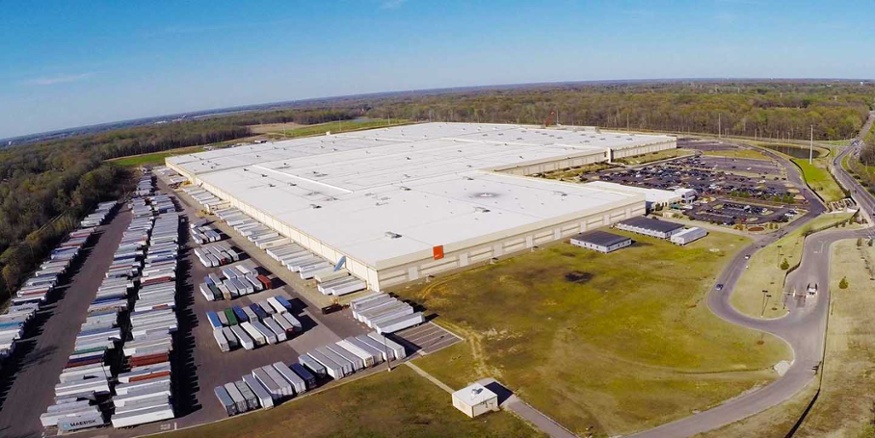 Photo credit: Nike.com
In 2015, Nike—the 200-billion-dollar athletic apparel, footwear, and athletic equipment powerhouse—opened its distribution center (called the North America Logistics Campus, or NALC) in Memphis, Tennessee, the company's largest building worldwide. The goal for the company was to increase efficiency and reduce shipping times.
They also wanted to emphasize the importance of creating a greener warehouse, which is why this new facility follows LEED certification guidelines to elevate its supply chain while strengthening the brand's commitment to corporate social responsibility. All the products housed here are eventually shipped out to individual consumers, wholesale customers, and Nike's retail locations. One interesting fact is the facility features an amazing 33 miles of conveyor belts!
4. Amazon Distribution Center
Size: 3.6 million sq. ft.
Location: Mt. Juliet, Tennessee, USA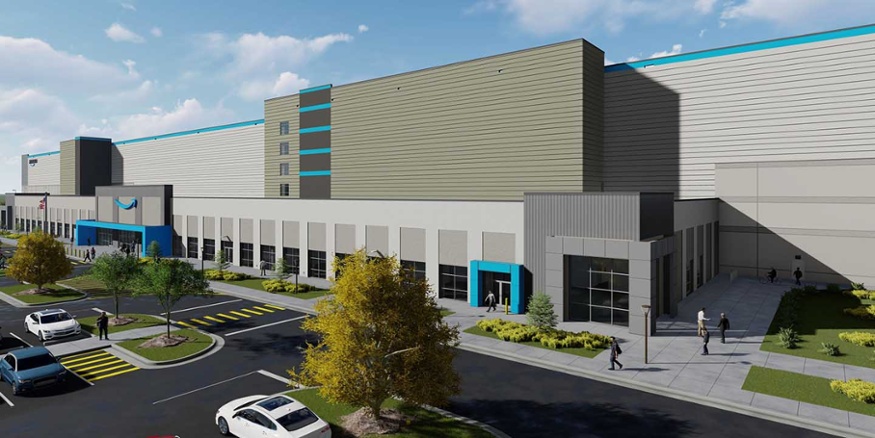 Photo credit: Tennessean.com
For the last decade, customers have been leaving their homes less and relying more and more on online shopping to get their goods delivered to them. The Covid-19 global health crisis only accentuated that trend. No other online retailer has experienced this boom quite like Amazon, which had already seen an incredible 40% uptick in sales year-over-year by Q2 in 2020.
Amazon also expects to see a 200% rise in profits attributable to the pandemic. But even before the coronavirus outbreak, Amazon warehouse and fulfillment center locations were on the rise as numerous distribution centers have been opening up all over the country.
Wondering what the biggest Amazon warehouse is? The e-commerce giant's latest fulfillment center, located in Mt. Juliet, Tennessee, is its biggest. It will employ as many as 3,000 full-time and part-time employees. As Amazon's second fulfillment center in Tennessee, it will use innovative robotics technology alongside employees who will pick, pack, and ship smaller customer items such as electronics and consumer goods. Amazon has numerous distribution centers scattered across the continent, varying in capacities and sizes.

3. Boeing's Everett Factory
Size: 4.3 million sq. ft.
Location: Everett, Washington, USA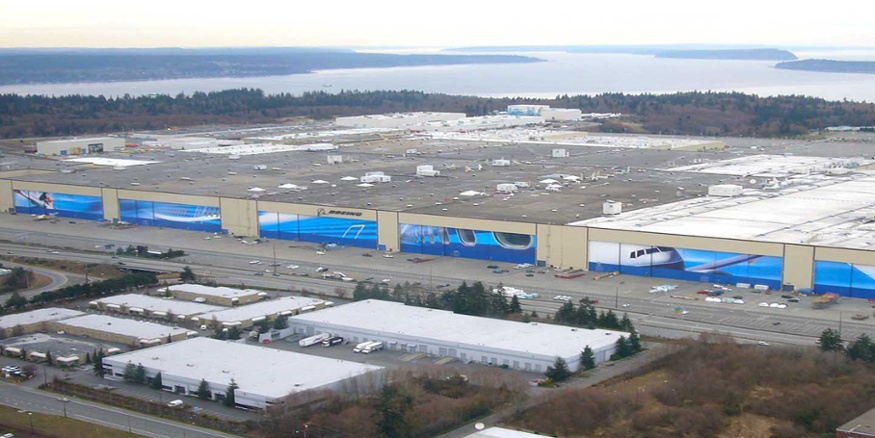 Photo credit: Wikipedia.org
You can't talk about big buildings without shouting out to Boeing's factory in Everett, Washington. The factory was built in 1967 for the Boeing 747 and has since been expanded several times to accommodate new airliners, including the 767, 777, and 787 programs.
At 4.3 million square feet and 272 million cubic feet, it's the largest warehouse in the world by volume. Every last inch is used to manufacture the company's most-recognized aircraft, including the 787 Dreamliner. In an industry where technology and designs are constantly evolving, it's crucial to have a space that can be customized—and that demands plenty of extra space. While nothing sits still for too long in Boeing's flagship factory, the staggering pace of production and massive size of the parts mean immense requirements in terms of warehousing.
2. Tesla's Fremont Factory
Size: 5.3 million sq. ft.
Location: Fremont, California, USA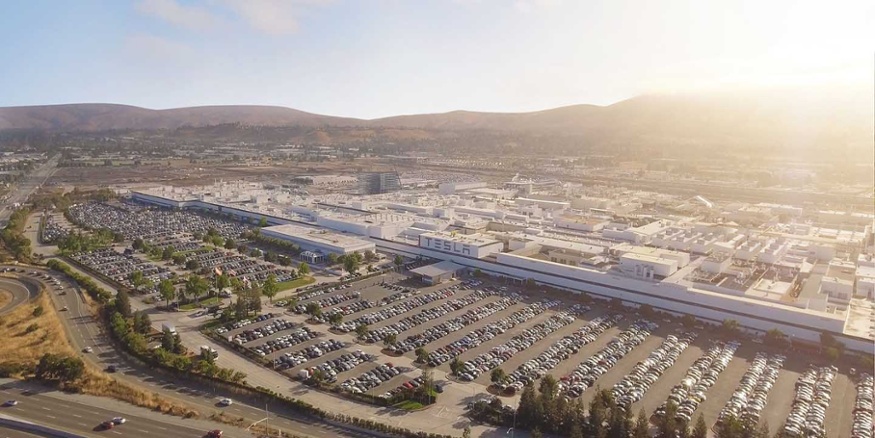 Photo credit: tesla.com
As more consumers factor in the environment with their purchasing decisions, pioneering companies like Elon Musk's Tesla are paving the way for the automotive industry and sustainability. But with a growing demand for EVs (electric vehicles) comes a requirement for bigger spaces and increased warehouse efficiency. That's why it's no surprise to see Tesla's warehouse, located in Fremont, California, named one of the largest warehouse spaces in North America.
Approximately 5.3 million sq. ft. on a plot of land that spans 370 acres, this huge warehouse can also lay claim to being one of the most advanced manufacturing plants in the world.
Currently, Tesla's cars are manufactured across four different factories, some also responsible for producing solar panels and batteries.
Fun fact: This site was once home to General Motors from 1962 to 1982, then GM and Toyota's New United Motor Manufacturing, Inc (NUMMI) from 1984 to 2009. Tesla acquired the factory in 2010 and launched its first Model S car in 2012. Today, more than 10,000 employees work at the Fremont factory and they are responsible for manufacturing Tesla's Model S, Model X, Model 3, and Model Y.
1. Tesla's Texas Gigafactory
Size: Over 10 million sq. ft.
Location: Austin, Texas, USA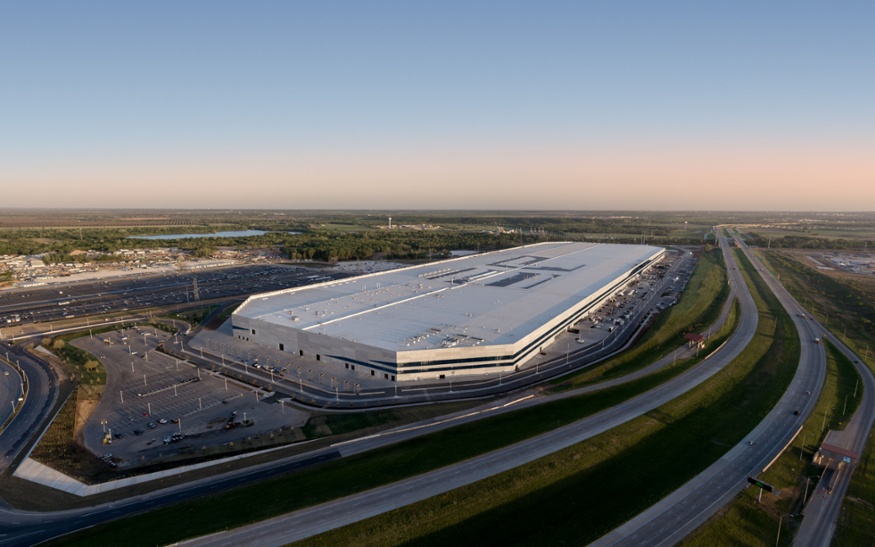 Photo credit: tesla.com/giga-texas
With over 10 million square feet of factory floor along the Colorado River, Tesla's Gigafactory establishes a new record as the largest warehouse in North America... It is also the largest warehouse in the world! Opened on April 7, 2022, this facility will take on the latest engineering and manufacturing challenges that will lead our way toward sustainable energy.
The level of optimization in the Texas facility is astounding. Among the impressive details, the production floor and the assembly line work along with one another, for increased efficiency. All of the production steps take place on the same floor, or as the TESMANIAN blog puts it: "...from the supply of materials for production on one side of the factory to the departure of the finished car on the other side of it."
Fun fact: Giga Texas has a volume of 338 cubic feet and can accommodate 194 billion hamsters, according to Elon Musk.
Recently removed from the Top 10 Largest Warehouses in North America
11. UPS Facility
Size: 850,000 sq. ft.
Location: Caledon, Ontario, Canada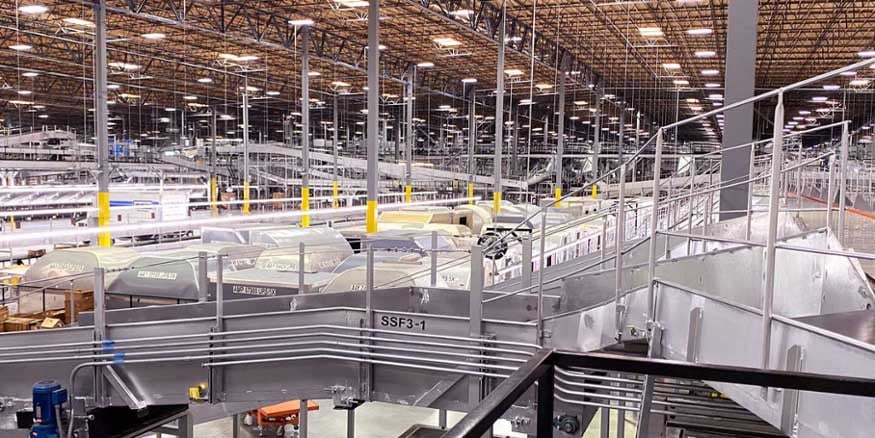 Photo credit: Line.17qq.com
A recent addition to this list is the UPS facility, built in the town of Caledon, Ontario, just north of Toronto. This 850,000 sq. ft. warehouse opened its doors in late 2020 to become the largest UPS facility in Canada. At its peak, this huge warehouse can accommodate enough employees to handle more than 35,000 packages per hour, essential for such a densely populated area as the GTA.
This facility features advanced scanning and sortation technology, integrated with data-driven tools to achieve maximum efficiency. UPS has its clientele top of mind as they strive to serve Canadians with only the best customer service – with special attention paid to the busy holiday season.
12. Preferred Freezer Services
Size: 500,000 square ft.
Location: Richland, Washington, USA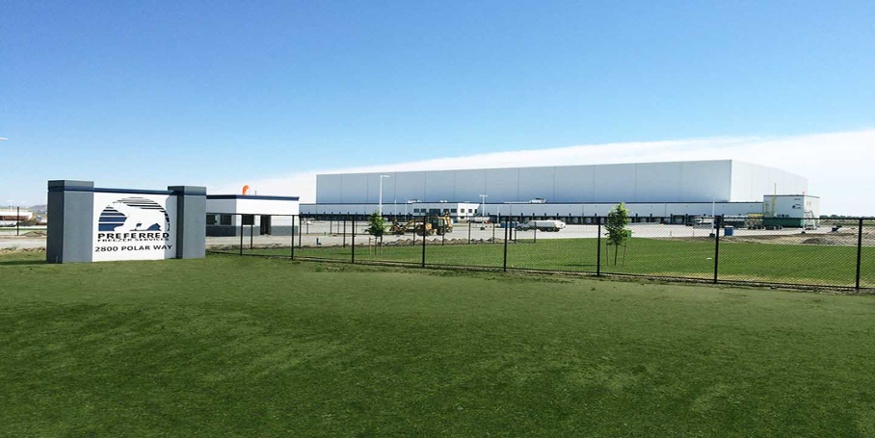 Photo credit: Wikipedia.org
The Preferred Freezer Services warehouse at 2800 Polar Way holds the honor of being the world's largest refrigerated warehouse and automated freezer. Located in Richland, Washington, this massive cold storage facility is over 500,000 square ft. in size and serves many different purposes, including automated warehousing, dedicated warehousing, importing/exporting, and much more.
This facility can handle more than two billion pounds of food from various brands at any given time. While 65% of the facility's inbound receivables are delivered by automated shuttle trucks, 35% of deliveries are handled with more traditional forklift trucks. Workers at this facility load and unload pallets in bays that are kept at 2°C.
Optimize Your Warehouse for Growth
From Nike to John Deere and all of the Amazon distribution center locations you can count, now that you've read up on some of the biggest warehouses in the world, you can get a better sense of how big companies operate their distribution and fulfillment centers.
Anecdotally, if you've ever asked yourself how many warehouses does Amazon have? The answer is a whopping 175 across the world — which amounts to almost 150 million square feet of space.
While your own company may not (yet) have the warehouse square footage of an Amazon, you can still take steps to ensure that your space is optimized for growth. While achieving maximum productivity and increasing your profit margins are paramount to success, your warehouse cannot flourish if you do not take care of your most significant assets. Two of these crucial assets are your workforce and your steel storage systems. If you maintain your pallet racking health, then you protect your warehouse employees and offer them a safe place to work.
As you increase space by adding more or bigger warehouse space, the challenge of establishing and carrying out a rack safety protocol can become overwhelming. If you are looking for a rack safety partner who can help you on your journey to running a safer and more cost-effective warehouse, talk to one of our rack safety experts today.

Sources
DeWitt, J. (2015, May 9). Quad-City Times. John Deere PDC keeps parts moving. Retrieved from Quad-City Times.
Toneguzzi, M. (2020, Nov 15). Retail Insider. DSV Opens Largest Multi-Client Logistics Facility in Canada Near Toronto. Retrieved from Retail Insider's website.
UPS Stories. (2020, Nov 16). UPS. Just in time opening of new UPS hub readies Canada for its holiday shipping peak. Retrieved from UPS.com.
DeShields, J. (2016, June 2). A Behind-the-Scenes Look at How Walmart Delivers. Retrieved from Walmart's website.
NIKE, Inc. (2015, June 26). Nike Opens Its Largest Distribution Center Worldwide in Tennessee. Retrieved from Nike News.
Avanta Workspace Creation (n.d.). Top 20 Largest Warehouses in the World. Retrieved from AVANTA.
Morrow, Jeff. (2019, April) Tri-Cities Area Journal of Business. $35 Million Project in Works at Preferred Freezer Services. Retrieved from Tri-Cities Area Journal of Business.
"Digi-Key Celebrates Ribbon Cutting of Product Distribution Center Expansion": News published on Cision PR Newswire
Rack Safety Tips
STAY UP TO DATE