Among the main concerns of warehouse managers, safety issues are at the top of the list. In an industrial setting, a single incident can affect the most important assets in production; employees, warehouse systems, and merchandise.
As soon as one of these is affected, production operations inevitably suffer the repercussions, which can be devastating for a business. Learn how warehouse optimization software helped a company improve operations and worker safety.
A true partnership success story
This article highlights the story of a well-established manufacturer of products used in building construction. With over 50 years of business experience, the company combines sophisticated manufacturing technologies with distribution centers across North America. Efficient customer service and high-quality products have enabled the company to carve an enviable reputation for caring about its employees' well-being. They were also recognized for creating a culture centered on workplace safety.

The company's warehouses typically have about 50 operators working at a constant, rapid pace to meet demand. Products and materials are stored in large pallet racking systems that are impacted daily by forklifts moving through the bays to retrieve or store merchandise.
The beginning of the partnership with Damotech
Mike, the warehouse manager, had been looking for a solution to two major concerns for a few months:
The many safety issues on the production floor

The accelerated pace of operations compromised the useful life of pallet racks, which in turn can become a safety hazard for workers, merchandise, and even the building.
He met with pallet racking security expert Robert Desormeaux from Damotech when the latter contacted him to offer a free audit of his storage systems.
On his first visit to the warehouse, Robert detected anomalies that are unfortunately common in industrial environments; the load capacities were not displayed on the racks. He noticed severe damage at different levels of the pallet racks. To help Mike bring his warehouse up to CNESST safety standards, Robert recommended a compliance inspection by engineers specialized in the field.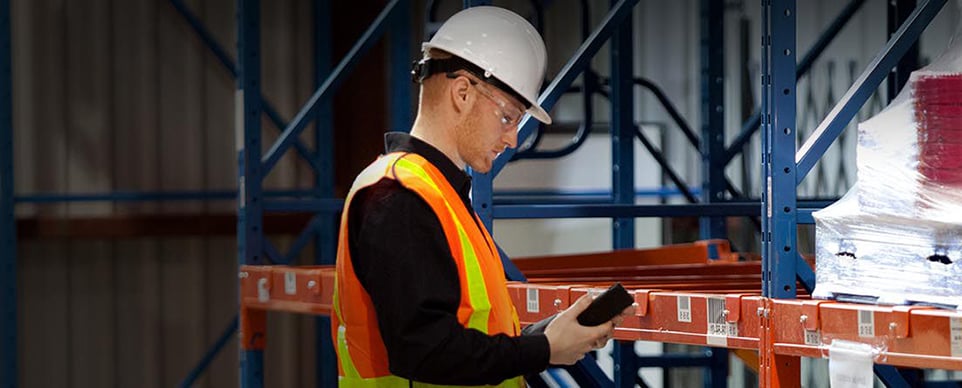 Mike accepted on the spot, aware that the inspection would detect anomalies on his racks. He was also interested in obtaining accurate load capacities, an issue that had been bothering him for some time.
With the inspection report in hand, Mike realized that the loads on his various pallet rack levels exceeded their capacity. He called upon Damotech's expertise to reconfigure the pallet racks in order to increase the load capacity in certain sections of the warehouse. The company followed the precise and calculated assessments of a team of engineers specialized in pallet racking safety. They reviewed the structure of certain pallet racks by adding beams to boost their capacity.
Damotech software platform raises safety standards
Now better informed about pallet rack safety, Mike took Robert's recommendations seriously. To optimize workplace operations, he knew that the warehouse manager must not only protect the condition of the merchandise stored in the storage systems but also safeguard employees. These goals could in part be achieved by ensuring the integrity of storage systems.
He realized at the same time the magnitude of the challenges that awaited him:
Conducting inspections in a rigorous manner

Detecting anomalies

Listing and prioritizing them

Planning and following up on repairs
These tasks were an unmanageable workload for his already busy team. Already feeling the administrative burden of implementing a process using paper forms and Excel files, Mike asked Robert for advice.
Once again, Robert had a turnkey solution to offer: the Damotech Platform. This warehouse management software helps companies monitor the safety of pallet racking systems in warehouses. It facilitates audits, identification of anomalies, and overload risks. All the information collected is integrated into the cloud platform and can be accessed at any time, from any location.
Managing warehouse safety with ease
The cloud data warehouse software displays the real-time status of storage systems, synthesizing data, information sharing between stakeholders, and follow-ups. A graphical presentation of the data simplifies understanding on the platform, while different filters allow the information to be sorted to better determine what needs to be prioritized. A plan view lets users visualize the warehouse, including where pallet racks are located, to identify damage to the physical infrastructure.
Users can take advantage of a mobile app (iOS and Android) as they circulate within the warehouse while collecting photos and information related to anomalies.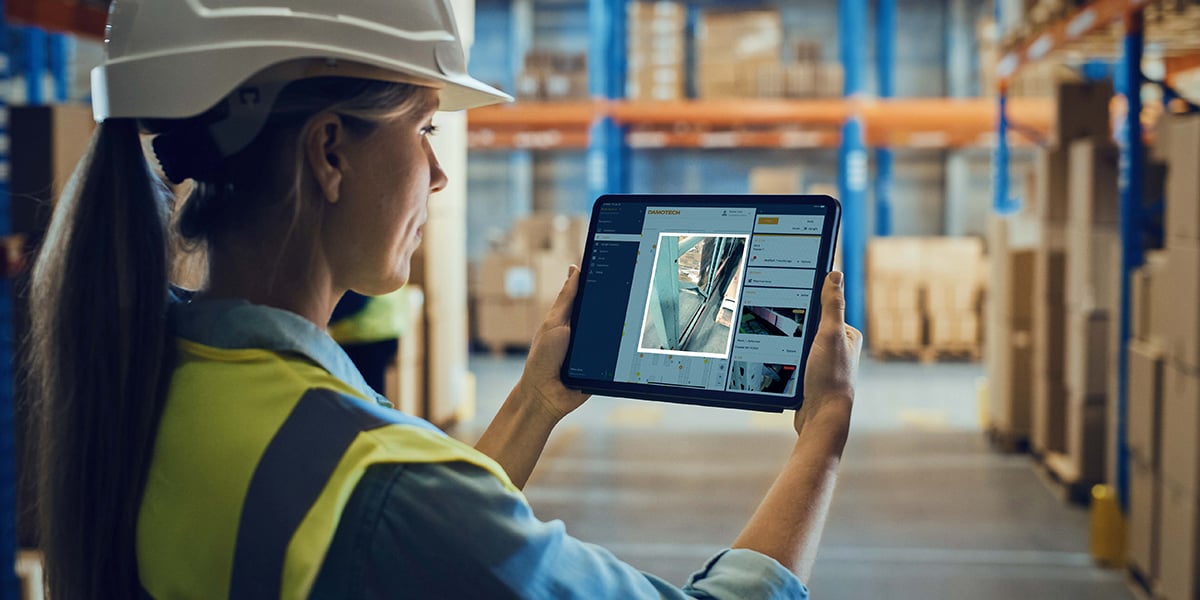 It features an offline mode, which is ideal when an Internet connection is not available on the floor. Data can therefore be collected on-site and then synchronized with the platform when a connection is available.
A
warehouse optimization software for improved safety
When Mike discovered the Damotech platform, he immediately knew that he could implement a new safety strategy in his warehouse. Rigorous audits are now performed monthly, and the information gathered is automatically saved on the platform. Mike can track the addition of new anomalies as well as keep track of the planning and maintenance progress. Based on the photos and information presented on the severity of the damage, he can determine which repairs to prioritize and ensure that they are addressed within a reasonable timeframe.
Remote access to warehouse racking system data
Mike is now able to consult the platform even when he is away from the warehouse. This remote access is worth its weight in gold: he can analyze and approve repairs from anywhere, thereby avoiding considerable delays.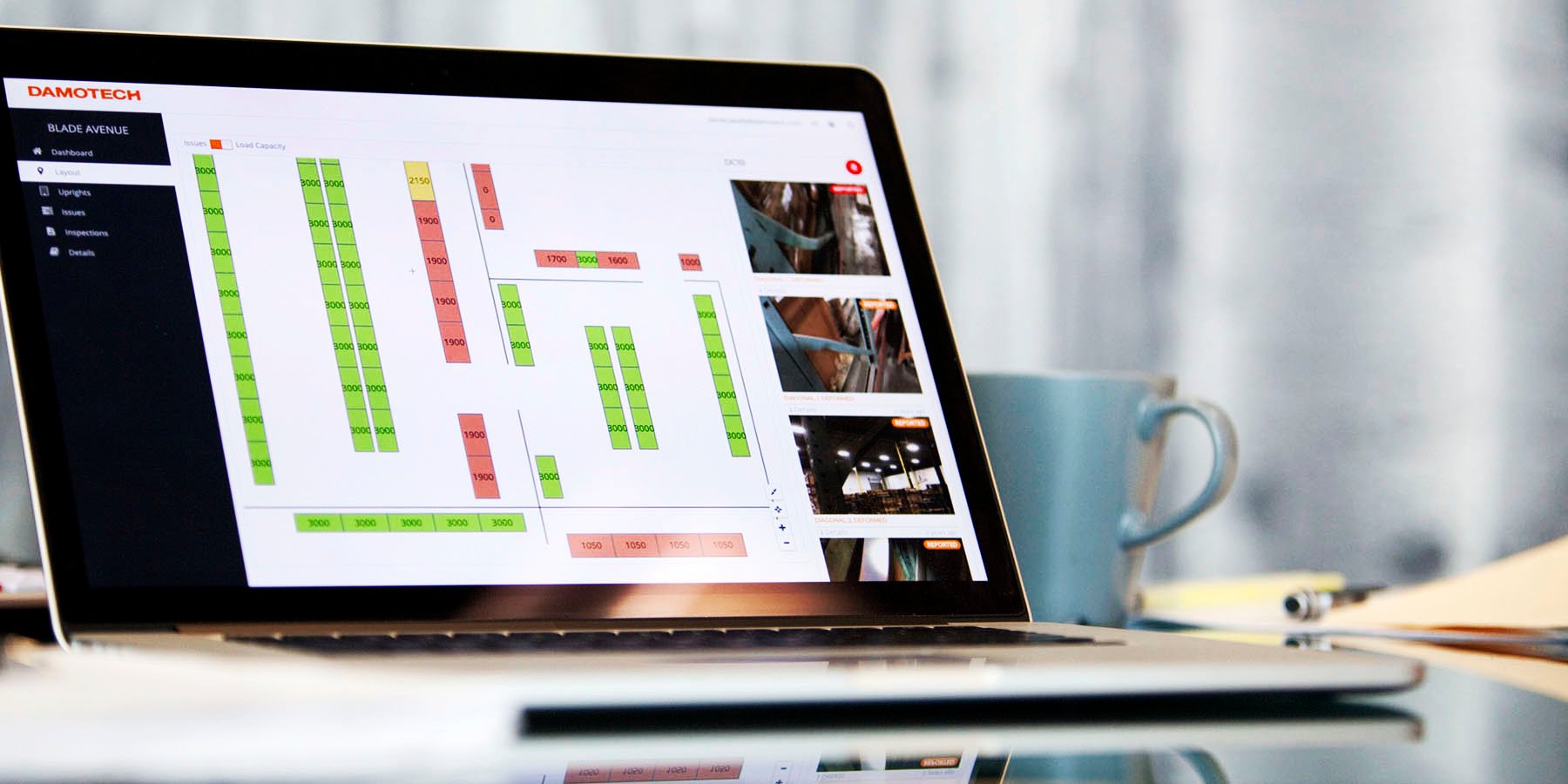 Having developed a trustworthy business relationship with Robert over the years, Mike calls on him to perform monthly audits, ensuring that this crucial aspect of workplace safety is in good hands.
Safety training for warehouse employees
The warehouse manager has also taken advantage of the new measures in place to increase employee awareness of the importance of pallet rack maintenance. Employees are now more involved in detecting and reporting anomalies. This new situation increases the level of diligence within the facility by leveraging everyone's input and making all team members accountable.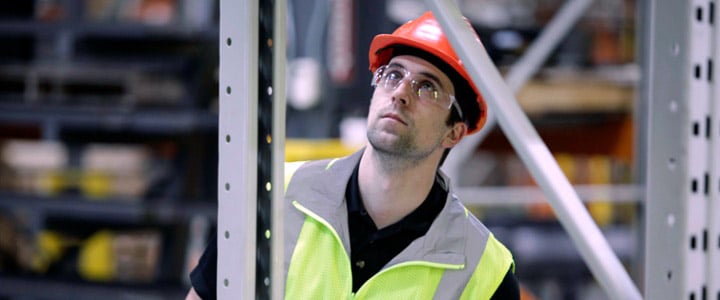 More than a pallet racking management platform: Compelling results and unequaled peace of mind
During the first inspection conducted by Damotech in 2019, thirty anomalies classified as "high priority" were detected in the warehouse. Anomalies gathered in this category represent risks that warrant repair or replacement as soon as possible. As of February 2022, Mike and Robert are proud to note that only one "high priority" anomaly was observed. It was proactively taken care of as soon as it was discovered by a competent Damotech repair team!

The peace of mind that comes from using powerful management software and partnering with Damotech is priceless for Mike. It allows him to better focus on the other tasks that fill his busy schedule as a warehouse manager. Thanks to better pallet racking management, the overall level of safety in the warehouse are improved.
Operations are optimized. Forklift drivers can easily locate the load capacities of each rack and store merchandise safely. Downtime is reduced. Employees are reassured about the integrity of the largest asset in their workplace.
A nationally adopted warehouse safety solution
Impressed by the results obtained in the division served by Robert, the company chose to implement the same safety strategy in its other warehouses across Canada. It's a win-win partnership between Damotech and a company concerned about operational performance — but not to the detriment of employee well-being.
For more information on using the platform in your warehouse, watch a demo.