To ensure the integrity of your pallet rack systems, it's essential to understand the various types of damage that can be found on racks and their components. If you've seen damage in your warehouse, you might wonder: is it bad? How bad?
Pallet rack damage priority classification
Racking damage classification is necessary to ensure that rack damage and issues identified during inspections are appropriately addressed to prevent any opportunity for racking failure. The following is a brief review of the different damage priorities and a classification system used to communicate findings after a baseline audit or rack inspection.

Remember that this information should be used as supplemental guidance, as tolerance for damage or risk varies from company to company. It is certainly not intended to replace the advice of a professional rack specialist or engineer.
A holistic approach to rack inspections
When conducting inspections, one must look at the racking systems as a whole. Damage is rarely an isolated issue because racks are systems with various components that all rely on each other to support stored merchandise. Consequently, one must consider the height, the load capacity, the types of loads stored, the warehouse environment, the floor on which it stands, etc. If you think the damage may be critical or you have doubts about its severity, it's always best to unload this part of the rack and speak to a racking specialist or a qualified engineer.
Rack damage weakens the system and can pose serious hazards
If the rack hasn't collapsed, it doesn't mean the damage is not significant or that it won't happen! At worst, rack failure can lead to a partial or full collapse of the pallet racking system, resulting in falling objects and stored merchandise, damage to the property, or serious injury to workers.
Understanding issue priority levels and rack damage classification
There are several ways of classifying or prioritizing rack damage. Here are three examples:
| | | | |
| --- | --- | --- | --- |
| | BY PRIORITY LEVEL | BY SEVERITY | BY COLOR |
| Level 1 | Low | Minor | Green |
| Level 2 | Medium | Moderate | Yellow |
| Level 3 | High | Severe | Red |
When Damotech's surveyors assess damaged racks, they use the following to prioritize what they've found:
Unload: Severe damage requiring immediate unloading of the rack (bay)
High priority: Address this damage as soon as possible
Medium priority: Address promptly (6 to 12 months)
Low priority: Report and watch during subsequent inspections
Emphasis should be placed on inspecting racks regularly and reporting all damage.
The method you choose to label them is up to you as long as the damage is being addressed. If you are trying to promote safety within your warehouse, and have been emphasizing incident reporting, make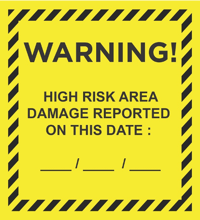 sure to respond quickly when damage is reported. Cordon off the affected area, unload if necessary, investigate the incident, and repair or replace the damaged component.
Any location deemed a high priority should be locked out to ensure that the rack is no longer supporting loads and to avoid the potential for collapse. A label or tape can be placed on the front of each damaged upright with a date. Extra caution should be used when placing or removing pallets near these locations.
Examples of pallet rack damage and issues found during an inspection
Damage to horizontal & diagonal rack braces

Missing brace
Detached from upright
Severely dented or deformed

Damage to upright base plates

Missing or damaged base plate

Out-of-plumb / Out-of-straight

Maximum allowable out-of-plumb is 1/2" per 10 feet for loaded situations.

Welded rack repairs

Welded splices and non-matching extensions
Unless approved by an engineer, any homemade repair should be replaced by an engineered repair solution or an undamaged equivalent rack component.

Damaged rack beam connectors

Detached beam clips
Missing safety pins
Severe dent in a beam

Rack column damage from impacts by forklifts blades or outriggers

Dents, cracks, deviations

Missing or damaged rack anchors

Missing anchors
Damaged or sheared anchors

Rack column shims

Shims exceeding six or more times the diameter of the base
Shims dislodged from their original position.
Leveling pads are not well seated.
Should be secured with anchors

Damaged or twisted rack columns
Other considerations regarding rack damage prioritization and classification
Some damage may not look "critical." However, it can still lead to extraordinary consequences, especially if left unaddressed for a long time or if damage accumulates in the same upright location. These sorts of issues can seem small and sometimes hard to see, but they still need to be tended to. Additionally, a combination of several "low priority" damages on a rack system can lead to a high priority. If an issue on your pallet rack has been identified, appropriate action should be taken to remediate it.
Finally, whichever classification system you choose to prioritize rack damage, do make sure that it is documented, labeled, and tended to in a reasonable amount of time.