ESSENTIAL WAREHOUSE MANAGER'S CHEAT SHEET
Are you a dedicated warehouse manager committed to the safety of your team and the efficiency of your operations? While pallet racks are incredibly effective, they can quickly become safety concerns if not managed properly.
Look no further – we have the perfect tool. Our warehouse infographic guides you through crucial aspects of pallet rack safety, from rack installation to loading and stacking, acting as your ultimate checklist to ensure nothing is overlooked!
Fill out the form to download it.
Tip: Print and display it as a daily reminder to create an environment where safety is on everyone's mind!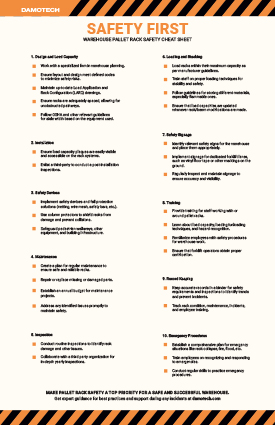 Fill out the form to download the infographic