The size of warehouses has been significantly increasing over the years. When you think of warehouse size, the first reflex is to imagine incredible square footage. However, ceiling heights have also continuously risen over the past few decades. This increase in ceiling height is driven by warehousing and supply chain companies looking to capitalize on the cubic space of a warehouse.
The average height of warehouses built in the U.S. has gone up from around 24 feet in the 1960s to anywhere between 36 and 40 feet today. And with more vertical space, comes the opportunity for additional work or storage space, alleviating the need for a move or building expansion.
One of the ways to maximize the workspace in a facility is by adding either work platforms or mezzanines. The terms equipment (or work) platform and mezzanine both refer to structures that create an intermediate floor, however, there are clear distinctions between them, one of which is their permanence. In this blog article, we will explore the different characteristics of each, as well as look at their structural design (including code requirements) and their safety. While both are great options for adding square footage, there are key facts to consider before choosing to add either one to your warehouse.
Differences Between Mezzanines and Work Platforms
Mezzanines
A permanent intermediate level within a building.
A structural/building engineer is required to study the effect of adding a mezzanine on the existing building's design.
Connected to the building's structure, therefore updated building plans are required.
They may have structural steel or concrete columns, which likely have their own footing instead of resting on the concrete floor of the building.
Included in the overall fire area of the building.
Higher assessed value and taxes because it is counted in the square footage of the building.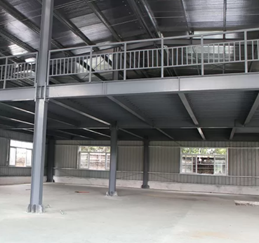 Figure 1. Freestanding mezzanine.
Work Platforms
A work platform is considered a piece of equipment, therefore a temporary structure.
Not considered in the building's fire area, nor the building's means of egress since the equipment platform is unoccupied and used exclusively for mechanical systems or industrial process equipment.
Smoother building approval process because fewer building code requirements are applicable.
Lower assessed value and taxes as it is considered a piece of equipment.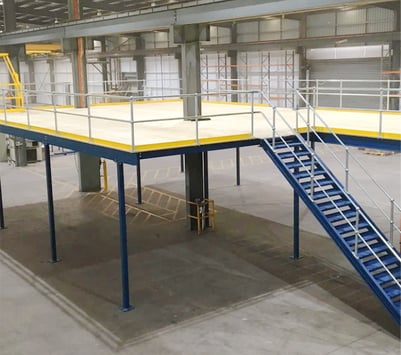 Figure 2. Freestanding work platform.
Four Main Types of Platforms
There are several types of elevated platforms, but the four main ones are shelving elevated platforms, rack supported platforms, free-standing platforms, and catwalk platforms. All of these can be considered either mezzanines or work platforms, depending on whether they are connected to the building or not.
Shelving Elevated Platforms: These types of platforms are ideal for storing small items and for order-picking access.
Rack Supported Platforms: These platforms are supported by rack uprights instead of structural legs. Standard pallet racks are built above and below these platforms and the rack aisles double as walkways for easy access to stored goods.
Freestanding Platforms (also known as Industrial Work Platforms): These are self-supporting platforms, meaning the columns rest on the concrete slab and each column baseplate is anchored to the slab. These platforms are highly customizable and can cater to several warehouse needs including additional office space, equipment storage, or break/lunch areas for workers.
Catwalk Platforms: Catwalks are generally used to provide additional workspace around other freestanding systems or to provide easier access for warehouse workers performing work such as maintenance tasks.
| | |
| --- | --- |
| | |
| Shelving elevated platform | Rack supported platform |
| | |
| Freestanding platform | Catwalk platform |
Freestanding Vs. Rack Supported Platforms
Below we compare the two most common work platforms: industrial work platforms or freestanding to rack supported work platforms.
Freestanding or Industrial Work Platforms (IWP)

Highly customizable and can cater to several warehouse needs including additional office space, equipment storage, or break/lunch areas for workers.
Foundation footings may be needed depending on the number of work platform levels.
A support structure is needed for carton flow or pallet flow applications.
Fewer columns than rack-supported work platforms.
More versatility with column placement, stairs, drop gates, and handrail placements and modifications.
Sprinkler systems can be added to the webbing in joist and girder system modules.
As beams are deeper, there is less clearance under the module than in a rack-supported structure.

Rack Supported Work Platforms

More columns than for an IWP
More cost-effective than an IWP
Built using either structural or cold-formed steel rack uprights.
The floor is built in the aisles within the pallet racking or over the top of the racking uprights.
Racking structure allows you to support carton flow, cantilever shelving, pallet flow, conveyor, stairs, and pallet gates.
Railings, stairs, conveyors, and lifts can be attached to the structure but may require additional structural support beams.
Less flexibility (difficult to make layout changes above the floor) since this platform is supported by the rack uprights both above and below it.
Code Requirements
In table 1607.1 of the 2014 International Building Code, the general capacity guidelines for mezzanines and equipment (or work) platforms, measured in pounds per square foot (PSF) are 60 PSF for elevated platforms/offices, 125 PSF for light manufacturing storage warehouse, and 250 PSF for heavy manufacturing storage warehouse. The International Building Code holds definitions and regulations for mezzanines and equipment platforms. Some of these guidelines are listed below:
Mezzanines:
The total area of a mezzanine within a room shall be not greater than 1/3 of the room in which it is located, and the clear height above and below a mezzanine shall not be less than 7 feet (2134 mm).
A mezzanine shall not contribute to either the building area or the number of stories. However, its square footage shall be included when determining the fire area.
A mezzanine shall be open to the room in which it is located or enclosed depending on the occupant load or the number of exits serving the mezzanine space.
Each occupant of a mezzanine shall have access to at least two independent means of egress.
Equipment (or Work) Platform:
Equipment platforms in buildings shall not contribute to either the building area or be considered as a part of the floor below. Moreover, they shall not be included in determining the fire area.
The total area of all equipment platforms within a room shall be not greater than 2/3 of the room in which they are located.
Equipment platforms shall have guards and shall be fully protected by sprinklers above and below the platform.
Safety Measures for Elevated Platforms
Opting for a mezzanine or a work platform in your building or warehouse can be beneficial in maximizing the workspace and facilitating access to equipment and materials. However, they bring with them the inherent risk of working at heights.
The Occupation Safety and Health Administration (OSHA) put together a rule that incorporates both the general industry standards for slip, trip, and fall hazards (subpart D) and the requirements for personal fall protection systems (subpart I) to enhance the safety in the workspace. Safety regulations for mezzanines or elevated platforms are in section 1910, subpart D – Walking-working surfaces in OSHA Standard and OSHA factsheet. Some of these regulations are listed below:
Personal safety protection: Each employee on a walking/working surface with an unprotected side or edge that is 4 feet or more above a lower level shall be protected from falling by guardrail systems, safety net systems, or personal fall arrest systems.
Falling object protection: Toeboards used for falling object protection have a vertical, minimum height of 3.5 inches (9 cm) and can withstand a force of at least 50 pounds applied in any downward or outward direction at any point along the toe board.
Guardrail protection: The top edge of a guardrail safety system is 42 inches (±3 inches) above the floor. The guardrail can withstand a force of at least 200 pounds applied in a downward or outward direction.
Making the Choice that Suits Your Warehouse Needs
In conclusion, the main difference between a work platform and a mezzanine is the permanency of the structure. As defined earlier, a mezzanine is considered a permanent elevated platform in a building, which makes the building process complex because there are more building code requirements, and the structure is subject to being taxed over an extended period (31 years). Meanwhile, a work platform is a piece of equipment that is taxed for seven years and has a simpler building process.
Moreover, both these elevated platforms can be beneficial for maximizing workspace and facilitating access to equipment and materials. They both have their code requirements and their advantages based on design, flexibility, and means of access attached to it. Yet, the safety precautions while working on these elevated platforms is crucial, and having personal fall arrest systems, guardrails, and toe boards for falling objects are mandatory as stated by OSHA Standard.
Damotech's rack safety experts can provide you with the products (repair and protection) and engineering services needed to help you maintain a rack-supported work platform, as well as a safe warehouse overall. No matter your challenges, the dynamics of your warehouse, or the industry you are in, our dedicated team of rack safety experts will cater to your specific needs. Learn more about the advantages of partnering with a rack safety partner here.

References:
Fuchs, J. (2018, May 31). Work Platform vs. Mezzanine - And The Permit Process. Beaton Industrial, Inc.

UpCodes. (2020, March 2). Section 505 Mezzanines and Equipment Platforms.

Apex Companies. (2017, September 21). Going up? Mezzanines – Looking at Freestanding vs Rack Supported.

Rite Hite. (2021). Safety Standards for Mezzanines and Raised Platforms. Rite-Hite

Trammell Equipment. (2021, January 2). Mezzanines and Work Platforms. Trammell Equipment Company.

Berman, J. B. (2017, March 28). As e-commerce grows, so does the height of warehouses, says CBRE. Logistics
Management.