We all know how important it is to inspect racking systems to identify issues or damage that may compromise the safety of your workers. We know that rack load capacities should be calculated by engineers and displayed for workers to see. But how exactly should rack compliance inspections be performed? Inspecting racking components is not necessarily a simple task. This article will give you tips and strategies for conducting rack inspections and highlight what to pay attention to.
What to Look for during a pallet rack inspection?
Initiating the evaluation process begins with a clear understanding of your specific requirements. A racking system, a complex assembly of interconnected components, operates cohesively to ensure the system's efficient functioning and safety integrity. Consequently, thorough scrutiny of each part is of paramount importance. This includes a meticulous examination for potential issues associated with all components, including:
Base plates, shims, and anchors
Upright columns and braces
Beams, connectors, safety pins
Safety bars, wire mesh decking, and other rack accessories
Clearances, pallet overhang, protection, load capacity labels

5 Tips to efficiently inspect your pallet racks
Tip #1: Maintain a consistent inspection process
Because there may be several aisles to assess, we recommend you follow a pattern to avoid forgetting any elements during the inspection. For example, you can start at ground level and observe the baseplates and anchors. Then, look upwards, following the columns and paying attention to the braces, going across and verifying the beams and attachments, and going back down at the next adjacent upright. You then repeat these steps from one bay to another. There is no perfect order in which to conduct your inspection. Find a process that works for you, then meticulously repeat these steps from one bay to another.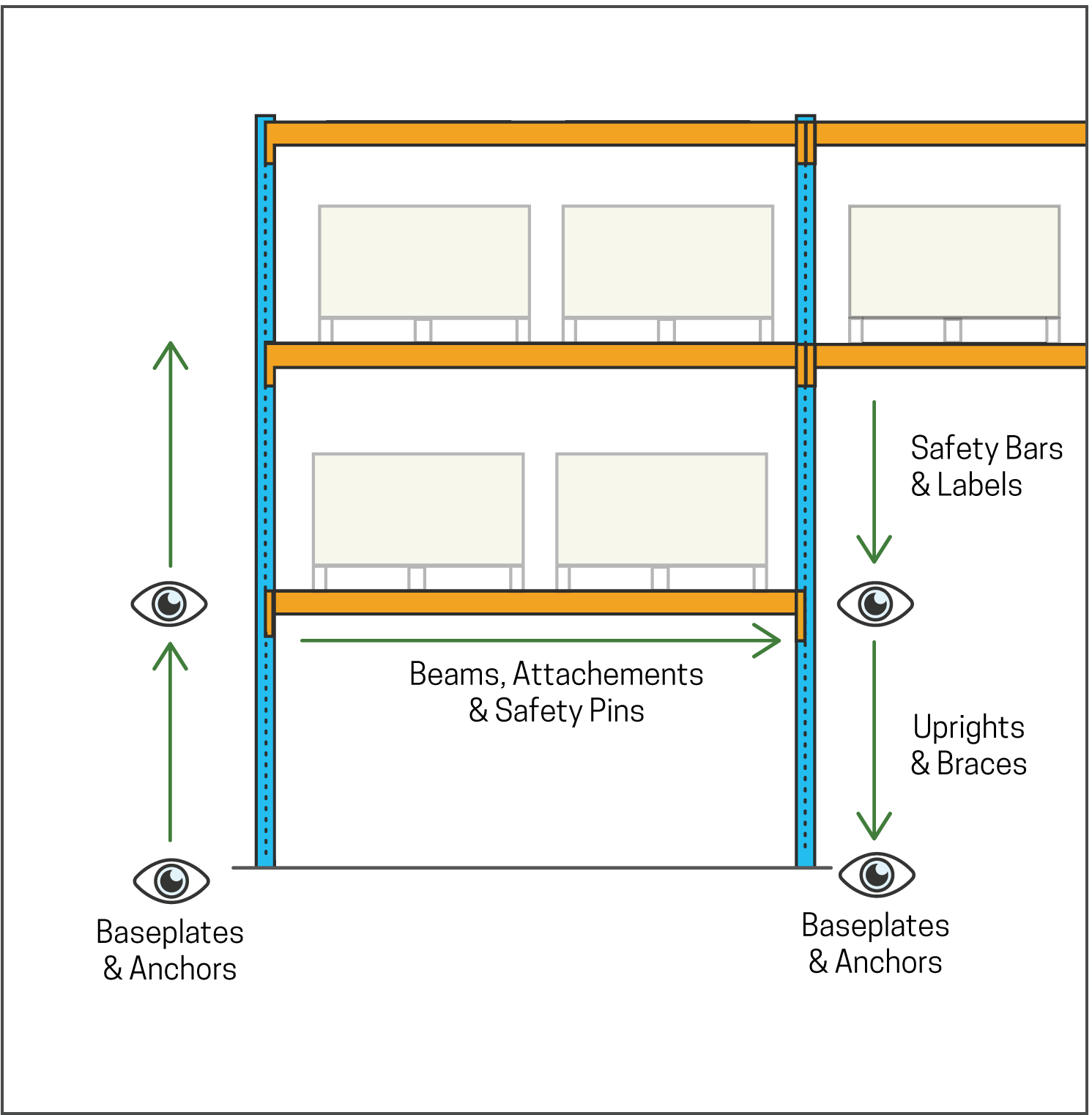 Tip #2: Use a divide-and-conquer strategy for your warehouse
If you have a large warehouse with many racks to inspect, you might want to separate the warehouse into sections you can assess sequentially. Find a copy of your warehouse's floorplan; you should have Load Application and Rack Configuration (LARC) drawings on hand and use them to divide your racking systems into more manageable inspections. It's hard to concentrate fully on a task like inspecting over a long period of time, so be smart and separate your inspections into multiple sessions.
One way to do it is to prepare a schedule that allows you to concentrate on one or a few particular items during a specific inspection.
You may want to use different employees to inspect different components or sections and have a rotation in the inspection schedule to develop an awareness of pallet rack safety among your team. Most people working in material handling will tell you that safety is important, but few can accurately and consistently identify rack safety hazards. This is a good opportunity to train them on the subject.
Tip #3: Use the right inspection tools for the job
Equip yourself with adequate tools and equipment to ensure the most efficient and accurate inspections. There are a few pieces of equipment you may want to consider using:
Flashlight: it should be portable to help you see in dark areas, for instance, the back upright leg;

Plum bob or laser level

: use it to verify the verticality of uprights; it's essential;

Pen and paper, or tablet

: report damage locations and the types of issues found;
Safety vest with pockets: make sure you are visible to everyone, especially forklift drivers;
Camera: to take pictures of found issues and where they are located.
Tip #4: Preparing your inspections ahead of time
Optimizing your inspection process involves thoughtful preparation, ensuring unobstructed aisles for enhanced issue identification. You'll already be busy looking for issues; you don't want to lose your focus by having to move pallets around.
Consider strategically scheduling inspections during periods when designated areas are less likely to experience high traffic, further streamlining the assessment process.
Since you will be using various tools and doing quite a bit of walking, stretching before, during, and after the inspection is a good practice to avoid any soreness or stiffness.
Tip #5: Manage the gathered data to make it actionable
The inspection is just the beginning. To fully optimize the use of the data collected during your inspection, make sure you have a system to sort the valuable inspection data and report on its status and priority level. You can then analyze it and put an action plan in place.
An ideal solution for this is a checklist (in a spreadsheet like Microsoft Excel or Google Sheets) or dedicated software (like the Damotech Platform) that allows you to flag, analyze, track, and report the found issues during inspection:
Where are the rack issues located;
How many deficiencies or missing components were found;
A list of parts that need to be ordered;
Define priorities for each issue;
Track the status or progress of the repairs or replacements.
Final Recommendations on Racking System Inspection
Finally, safety authorities often recommend an independent (third-party) rack inspection for an annual in-depth inspection of your pallet rack systems. Their expertise will allow you to get updates on current regulations and help you recognize patterns in the damage found, whether from forklift impact or other handling equipment. A third-party partner can also give you a benchmark from which to compare your internal inspections to allow for adjustments in the process if required. Then, they can also assist you in deciding on how to best address issues, and whether components should be repaired or replaced. If, like many of us, you are short on time or staff, investing in a third-party rack inspection is a smart decision.
These rack inspection tips are a great start, but ultimately, including regular rack inspections in your safety program demonstrates that you are doing all you can to provide a safe work environment for your warehouse employees.