Having a reliable supply chain is crucial for businesses, particularly manufacturers and retailers. An efficient, streamlined warehouse is essential for supply chain success. According to the Institute of Supply Chain Management, "Effective supply chain management (SCM) must be a strategic priority for businesses that want to serve their customers well… An integral part of SCM is warehousing."
Proper warehousing is the basis for efficient inventory management, protecting goods against damage, and ensuring customer satisfaction by supporting on-time delivery. Even with automation becoming more commonplace, people make all the difference in how well a warehouse functions. In this article, we'll answer 6 crucial questions about working in a warehouse.
What are the roles and functions of the people who work in warehouses?
What skills are needed?
What are the education requirements?
What opportunities are there with a warehousing career?
What trends are affecting warehouse workers?
What are the physical and safety risks involved?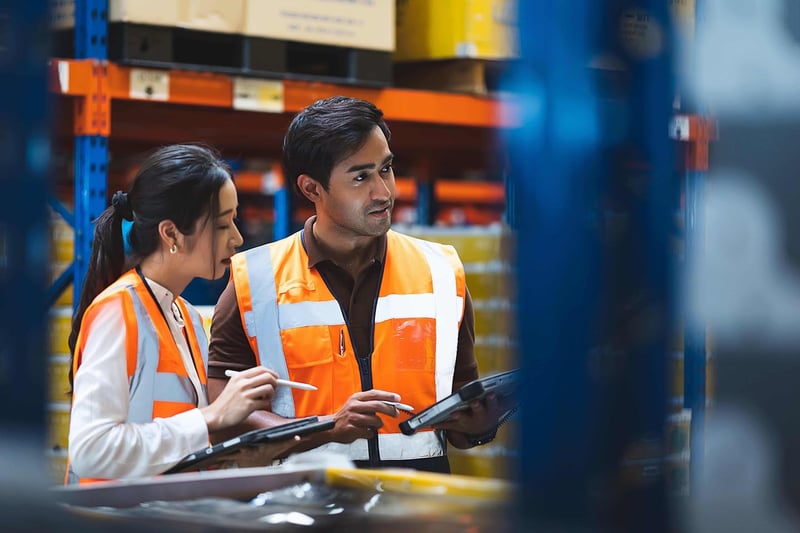 1. What are the roles and functions of warehouse workers?
Every step of a product's journey requires proper handling by warehouse personnel, from receiving to shipping. A high-performing warehouse needs well-trained staff who can manage multiple responsibilities.
The following list includes some common roles and functions of the people who keep warehouses running smoothly. Depending on the size of the warehouse and the volume of goods being managed, each worker may have multiple roles or many people could perform each function:
Dock Worker—loads and unloads shipments; distributes freight.
Shipping and Receiving Clerk—reviews, receives, inspects, and verifies incoming shipments against invoices, purchase orders, and other documents; reviews and packs orders to be shipped.
Forklift Operator—moves goods to different locations by using a forklift.
Quality Control Inspector—inspects, records, and reports the quality status and compliance of inbound and outbound goods.
Health & Safety Manager—ensures compliance with applicable local and national health and safety regulations. Manages and administers required training.
Materials Handling Engineer—designs and develops automated systems to move materials efficiently; this includes moving, packing, and storing goods to optimize warehouse space and facilitate timely retrieval of items.
Automation Technician—provides troubleshooting, maintenance, and technical support for materials handling equipment used in warehouses and distribution centers.
Machine Operator—runs different types of machinery such as conveyors, packing machines, and cranes; monitors equipment for malfunctions.
Logistics Coordinator—coordinates shipments to ensure that products are shipped and transported in a timely, cost-effective manner.
Vendor Compliance Specialist—works with the procurement team to ensure that goods are received on time and comply with specifications and company requirements.
Warehouse Manager—provides leadership and inventory management expertise; implements best practices and oversees daily warehouse operations.


2. What skills are required for warehouse jobs?
The abilities and training required to work in a warehouse are as varied as the different roles and responsibilities that make up the warehouse team. Requirements often include physical abilities, soft skills, and specialized experience.


Physical Requirements for Warehouse Workers
Lifting—the ability to lift and move loads of 50+ lbs is often a requirement for warehouse work.
Endurance—warehouse workers must be able to last through physically demanding shifts.
Dexterity—in some cases, a warehouse worker may need to pick and place items that require high dexterity.

Soft Skills for Success in a Warehouse Environment
The fast-paced nature of a warehouse is best suited for people who possess strong soft skills such as reliability, teamwork, and communication. Safety depends on everyone's ability to understand and follow safety protocols. The varying nature of day-to-day operations means people must be flexible and work well as a team.

Certification Requirements and Specialized Experience
Each type/class of forklift has specific certification requirements. Forklift operators must be trained and certified by passing a written test and a hands-on skills test. Appropriate training is available through vocational schools and certain companies.
Other roles may also require expertise, such as logistics managers with experience managing LTL and FTL shipments and machine operators and automation technicians with knowledge of specific machinery.



3. What are the education requirements for warehouse jobs?
For entry-level positions, a high school/secondary school diploma is required by most companies. Warehousing, distribution, logistics, and inventory management training and certifications will be required for specific positions and career tracks.
With software solutions playing a larger role in warehousing operations and inventory management, experience using enterprise software such as WMS, SAP, and SCM is a prerequisite for managerial positions.
Automated equipment technicians need both mechanical skills and programming abilities to implement, maintain, and update the increasingly complex equipment used in many warehouses.





4. What opportunities are there with a warehousing career?
With positions ranging from entry-level associates to supervisors and managers, there are many opportunities for longevity and career growth in warehousing. Experience counts. Upper-level posts often require experience working in warehousing.
Even at Amazon, where warehouses are highly automated, employee upskilling is prioritized. In 2019, Amazon publicly pledged to invest in training programs to help its employees move into more highly skilled roles.



5. What trends are affecting warehouse workers?
Decision-makers must be selective when deciding which trends are worth time and attention to implement. Trends like sustainability that affect company values and automation and robotics that can help offset labor shortages and improve efficiency are important to watch.

Sustainable Warehousing
According to SupplyChainBrain, sustainable warehousing is a management trend that includes eco-friendly packaging and incorporating sustainable practices like electric vehicles.

Labor Shortages in Warehouses
Widespread labor shortages are affecting warehouses. According to Deloitte, some factors contributing to the labor shortage are an increase in demand for warehouse workers, a limited talent pool, and a skills gap. Automation is often proposed as part of the solution to the labor shortage; however, skilled workers will still be needed.





Transforming Warehouse Jobs: The Impact of Automation and Robotics
Implementing automation and robotics is shifting the skill sets that workers need. As robots take on repetitive tasks, people are required to program the robots and provide creative problem-solving.
According to DC Velocity, "Even as robots become a familiar sight in warehouses across the country, experts say human workers continue to play an important role … a successful robotic implementation still requires the participation of humans—whether they're working collaboratively with the bots to pick orders, handling errors, or supervising fleets."
Honeywell says, "Technical skills are needed to plan for, utilize, maintain, and optimize warehouse automation, and they're in short supply… It promises to make warehouse jobs more attractive intellectually and drive higher compensation, thus making the overall market more compelling for job seekers and those seeking upskilled career transitions."





6. What are the physical and safety risks in warehouse jobs?
With the physical lifting done in a warehouse, as well as the loaded racking systems, heavy equipment, and automation present, warehouse racking jobs can be hazardous. Implementing safety protocols and proper training go a long way in minimizing risk.
Improper use of racking systems, structural rack damage accumulated over time, and direct impact from forklifts due to error can all contribute to the danger of rack collapse. Pallet rack inspection and audit services are available to certify that racking systems comply with applicable safety standards.


According to the Occupational Safety and Health Administration (OSHA), "Warehousing industry workers may be exposed to ergonomic risk factors in the workplace, such as lifting and lowering heavy items, bending, reaching overhead, pushing and pulling heavy loads, working in awkward body postures, and performing the same or similar tasks repetitively… Forklift operators must be properly trained to understand the working environment. It prevents injuries to operators and pedestrians and damage to other warehouse equipment (storage racks, stored materials, etc.)."
For people who want to make a difference in the work they do and have a direct impact on how well a company serves its customers and runs efficiently, warehouse jobs should be seriously considered. As more automation is implemented, excellent opportunities for upskilling exist. Since warehouse workers are in demand, they can be selective about working where safety is a priority, and the environment is designed to minimize hazards.

Sources:
Institute of Supply Chain Management: Industry Insights; The Importance of Good Warehousing in Supply Chain Management
Deloitte: Closing the gap between traditional & automated warehousing–The future of warehousing is automated
Amazon: Amazon Pledges to Upskill 100,000 U.S. Employees for In-Demand Jobs by 2025
Supply Chain Brain: The Biggest Trends in Warehouse Management in 2023
DC Velocity: Human workers take on new roles in a world of warehouse robots
Honeywell: Six Fast-Emerging Trends Impacting the Warehouse Automation Industry
OSHA: Safety and Health Topics / Warehousing / Hazards and Solutions