Forklift trucks, the backbone of warehouses and industrial operations, are about to take center stage as we delve into heavy-duty forklifts. These remarkable machines are not your average warehouse companions; they have incredible capabilities to handle massive weights and tackle demanding material handling tasks.
Buckle up as we explore the most powerful forklift trucks ever built, uncovering their jaw-dropping specifications, lifting capacities, and unique features that have revolutionized the field of material handling.


Let's explore the 10 most powerful forklifts



1. Kalmar DCG720-10LB Forklift
Manufacturer: Kalmar Global
Engine: Volvo
Rated Capacity: 158,733 lbs (72,000 kg)
Lift Height: Up to 13 ft (4 m)
Weight: 206,132 lbs (93,500 kg)

Prepare to be amazed by the Kalmar DCG720-10LB, a heavyweight in the material handling world, renowned for its exceptional performance and advanced features. With the ability to effortlessly hoist extraordinarily heavy loads, this forklift is designed for heavy-duty applications and offers impressive reach to access and maneuver loads at considerable heights.
Its cutting-edge technology and user-friendly controls ensure precise and efficient operation. It is well-suited for heavy-duty applications in ports, shipping yards, and industrial facilities where the movement of oversized and heavy containers is required.
In addition to the DCG720-10LB, the company Kalmar manufactures other incredibly powerful forklifts. These include the DCG700-12LB, the DCG680-12LB, and the DCG650-12LB, with a load capacity respectively of 154,324 lbs, 149,914 lbs, and 143,300 lbs.



2. Konecranes SMV 65-1200 C Forklift
Manufacturer: Konecranes
Engine: Volvo
Capacity: 143,300 lbs (65,000 kg)
Lift Height: Up to 13 ft (4 m)
Weight: 197,534 lbs (89,600 kg)

Not to be outdone, but the Konecranes SMV 65-1200 C is a true powerhouse that excels in the material handling world. Designed for heavy-duty applications, it stands tall with its exceptional lifting capacity and robust performance.

This forklift boasts a certified low-emission Volvo engine with 265 kW and 6 cylinders, curved glass for improved visibility, and smart load-sensing hydraulics. With a 7" touch screen, operators can monitor all vital components and functions, while programmable settings and a quick-change fork system enhance operational efficiency.





3. Versa-Lift 100/140 Forklift
Manufacturer: Custom Mobile Equipment Inc.
Engine: GM
Capacity: Up to 140,000 lbs (63,503 kg)
Lift Height: Up to 26.6 ft (8 m)
Weight: 120,000 lbs (54,431 kg)

Earning a prominent spot among powerful forklifts, the Versa-Lift 100/140 forklift impresses with its remarkable lifting capacity and versatile features. With a maximum capacity of 100,000 lbs (expandable to 140,000 lbs with additional counterweights), this beast of a machine boasts a hydraulic boom that extends up to 25 feet and can tilt 10 degrees forward and 7 degrees backward. Moreover, its ability to fit through a 10' door allows easy access to indoor spaces.

Despite its many capabilities, the Versa-Lift 100/140 boasts a compact design, all-wheel drive, and hydraulic power steering. From manufacturing to construction and other demanding industries, this robust forklift proves its mettle in tackling the most challenging lifting tasks.





4. MKF CS 600 D Lift Truck
Manufacturer: Bulmor Sonderfahrzeuge GmbH - MKF Kompaktstapler
Engine: N.A.
Capacity: 132,277 lbs (60,000 kg)
Lift Height: N.A.
Weight: N.A.

Moving on, we encounter the MKF CS 600 D Lift Truck, a versatile forklift that can handle various applications. Powered by a diesel engine, this forklift combines performance with environmental consciousness, thanks to its exhaust gas purification system that reduces emissions. Its compact design allows it to navigate tight spaces effortlessly, and its compatibility with various attachments offers customization based on specific needs.
With a displacement of 7.8 liters and a power output of 250 kW, the Tier 4 engine of the MKF CS 600 D guarantees robust and high-performance operation. This forklift prioritizes operator comfort and functionality for added convenience and ease, including a hydraulically liftable cab, a rotating workstation, and wireless remote-control operation.




5. Toyota THD12500-48 Forklift
Manufacturer: Toyota
Engine: Cummins
Capacity: 125,000 lbs (56,699 kg)
Lift Height: Up to 36.75 ft (11.2 m)
Weight: 159,400 lbs (72,303 kg)

But wait, there's more! The Toyota THD12500-48 asserts its dominance as the largest forklift in Toyota's IC pneumatic lineup. Designed for heavy-duty lifting, this forklift finds great utility on construction sites, efficiently moving materials and loading full trailers onto large ships. It is particularly recommended for industries such as lumber yards, general manufacturing, building materials, and freight, where heavy-duty lifting is required.
Safety takes center stage with features like the Operator Presence Sensing System (OPSS) and a vehicle management system, providing operators with real-time alerts and valuable information. The THD12500-48 forklift Toyota also offers other high-capacity forklifts like the THD12000-48 with a load capacity of 120,000 lbs, and the THD10000-48 and THD11000-48 with load capacities of 110,000 lbs.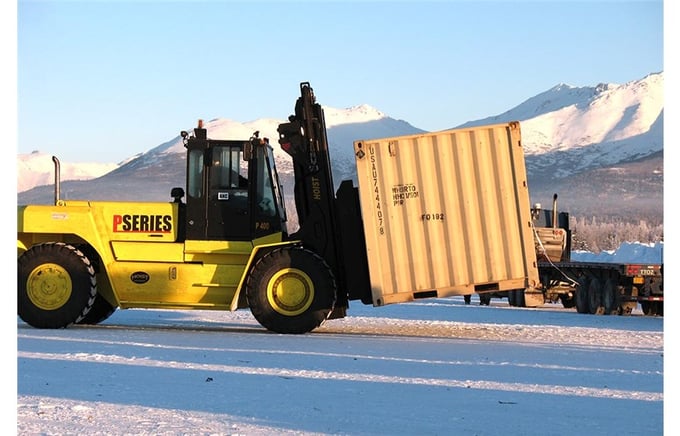 6. Hoist P1250 Forklift Truck
Manufacturer: Hoist Material Handling
Engine: Cummins
Capacity: 125,000 lbs (56,699 kg)
Lift Height: N.A.
Weight: N.A.

Step into the world of Hoist P1250, a forklift that strikes a unique balance between durability, ergonomics, and high-powered performance. It is powered by a diesel engine that reduces fuel consumption and emissions, a three-speed automatic powershift Dana transmission, and a load-sensing hydraulic system.
Features like safety valves and chrome-plated rods ensure controlled lowering in case of a hose failure and easy seal replacement. Unlike many other manufacturers, the Hoist P1250 maintains its full rated capacity even when additional features like a side-shifting fork positioner are added. This forklift is well-suited for various industries, including agriculture, general manufacturing, mining, ports, oil and gas, concrete, lumber, metals, brick, block, and pipe.


7. Hyster H1050XD Forklift Truck
Manufacturer: Hyster
Engine: Cummins
Capacity: 105,800 lbs (47,990 kg)
Lift Height: Up to 41.92 ft (12.78 m)
Weight: 134,400 lbs (60,963 kg)

Let's not forget the Hyster H1050XD, a heavy-duty forklift engineered to excel in demanding material handling tasks. Designed for various industries, such as breakbulk, steel, mining, concrete, and construction, this forklift combines a heavy-duty mast and carriages for long load centers, wide loads, and specialty loads.
The Hyster H1050XD incorporates features such as cooling on demand, load-sensing hydraulics, RPM management, alternate engine idle speed, and multiple oil-immersed brakes with a cooling system. The forklift has a 4-speed Spicer Off-Highway TE-32 powershift transmission and Tier 4 Final QSL 9L engine featuring cooled exhaust gas recirculation (EGR) and Selective Catalytic Reduction (SCR) technology.



8. Svetruck 52120-60 Forklift
Manufacturer: Svetruck
Engine: Cummins
Capacity: 104,000 lbs (47,174 kg)
Lift Height: Up to 13,12 ft (4 m)
Weight: 132,498 lbs (60,100 kg)

The Svetruck 52120-60 has earned its place on the list of the most powerful forklifts, handling large and heavy loads in challenging environments. It offers customization options, allowing customers to choose between Volvo or Scania engines based on their specific requirements.
This forklift's powerful features and well-dimensioned mast profiles make it well-suited for demanding applications in port operations, terminals, stevedoring companies, heavy industries, and steelworks. It provides the strength required to handle heavy loads in these specialized sectors.




9. Sany SCP460C Forklift Truck
Manufacturer: Sany
Engine: Volvo or Cummins
Capacity: 101,413 lbs (46,000 kg)
Lift Height: Up to 13,12 ft (4 m)
Weight: 127,648 lbs (57,900 kg)

Next up is the SANY SCP460C, a heavyweight contender designed for heavy cargo loading and unloading and support maintenance, disassembly, and installation of heavy equipment. This counterbalanced forklift features the following configuration: a standard whole-view mast or a duplex full-free lift mast.
This forklift ensures operator safety and efficiency using advanced technologies like Auto-Luck Cab Protection, automatic braking, and cargo fall-off protection. With engine options from Volvo and Cummins, it's ready to tackle demanding applications easily.



10. Hyundai 250D-9 Forklift
Manufacturer: Hyundai Material Handling
Engine: Cummins
Capacity: 55,116 lbs (25,000 kg)
Lift Height: Up to 13.25 ft (4 m)
Weight: 81,617 lbs (37,021 kg)

Lastly, we have the Hyundai 250D-9, a powerful and technologically advanced forklift that combines performance, safety, and emissions compliance. It boasts a ZF fully automatic transmission, fully hydrostatic power steering, and an engine power of 278 horsepower at 2,200 rpm, thanks to its Cummins QSL six-cylinder turbocharged engine.

With an engine power of 278 horsepower at 2,200 rpm, thanks to its Cummins QSL turbocharged engine, ZF automatic transmission, and advanced control interface, this forklift delivers exceptional power, intuitive operation, and enhanced safety features like a load indicator system.






5 Other Powerful Forklifts in the Industry Worth Mentioning


1. Linde E180-900 Forklift
Manufacturer: Linde Material Handling
Engine: VW
Capacity: 39,683 lbs (18,000 kg)
Lift Height: Up to 13 ft (4 m)
Weight: 60,285 lbs (27,345 kg)

The Linde E180-900 forklift takes the best of both worlds, combining the power of diesel vehicles with the eco-friendly and quiet nature of electric forklifts. With powerful electric motors and the option of lead-acid or lithium-ion batteries, customers can choose between cost-efficiency for lighter applications or a robust solution for demanding tasks.

Quick battery changes enable uninterrupted 24/7 use. With all-around visibility, an armored glass roof, and an optimized grip, safety is paramount, even in challenging conditions. The Linde Safety Guard assists operators and pedestrians, warning them of potential hazards and preventing collisions.





2. Komatsu FH160-1 Forklift
Manufacturer: Komatsu
Engine: Komatsu
Capacity: 35,000 lbs (15,876 kg)
Lift Height: Up to 19 ft (5.8 m)
Weight: 42,781 lbs (19,405 kg)

The Komatsu FH160-1 forklift features a Tier 4 final diesel engine, incorporating advanced technologies to reduce fuel consumption and minimize exhaust emissions. Its hydrostatic transmission and HST drive system ensure smooth and efficient shuttle movements, maximizing uptime and minimizing maintenance costs.

Speed parameters can be adjusted to navigate tight spaces, and safety is prioritized with the Operator Presence Sensing System. Sealed wet multiple-disc brakes provide reliable stopping power, even in harsh environments. From freight and manufacturing to steel and oil and gas industries, the FH160-1 excels in heavy-duty applications.





3. Caterpillar DP150 Lift Truck
Manufacturer: CAT
Engine: Mitsubishi
Capacity: 33,000 lbs (14,969 kg)
Lift Height: Up to 18 ft (5.5 m)
Weight: 39,160 lbs (17,760 kg)

The Caterpillar DP150 is a rugged and high-performance diesel-powered pneumatic tire lift truck. Its powerful 131-horsepower 6-cylinder engine delivers excellent torque, fuel efficiency, and reliable cold-weather starting capabilities. Swift acceleration, low noise levels, and a seamless 3-speed transmission optimize productivity.
Operator comfort is ensured with convenient controls, a full-floating compartment, and reduced fatigue during long shifts. Easy access to internal components simplifies maintenance, keeping the forklift running smoothly.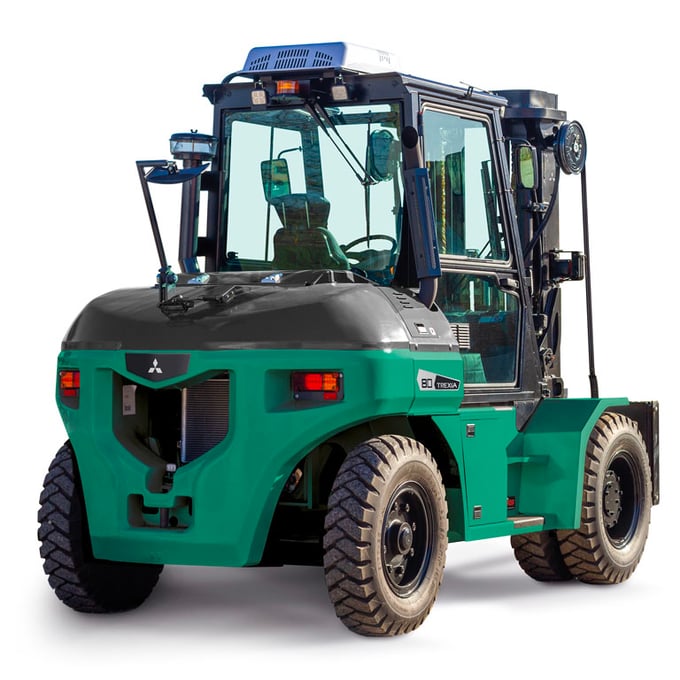 4. Mitsubishi FD100N3 Lift Truck
Manufacturer: Mitsubishi Forklift Trucks
Engine: Kubota
Capacity: 22,046 lbs (10,000 kg)
Lift Height: Up to 9.8 ft (3 m)
Weight: 28,462 lbs (12,910 kg)

The Mitsubishi FD100N3 from the Trexia series is a diesel-powered counterbalance forklift designed for productivity. Its powerful four-cylinder common rail turbo engine offers high speed and efficiency.
The clear-view mast and low counterweight design provide excellent visibility and maneuverability. Safety features, including the Integrated Presence System, prioritize operator well-being. With low noise levels and reduced fuel consumption, this forklift delivers a comfortable and eco-friendly performance.



5. Crown CD90S-9 Forklift
Manufacturer: Crown
Engine: Doosan
Capacity: 20,000 lbs (9,072 kg)
Lift Height: Up to 21.4 ft (6.5 m)
Weight: 26,411 lbs (11,980 kg)

The Crown CD90S-9 forklift has a turbocharged and intercooled 3.4-liter Inline 4 CYL Diesel engine, delivering powerful performance and torque at low RPM levels. With a focus on durability and reliability, it incorporates a low-maintenance gear-driven valve train.
Safety features such as a dual-element air cleaner and optional pre-cleaner protect critical components and extend powertrain life. A wide-open legroom, easy-to-read gauges, and a suspension seat ensure operator comfort. Maintenance is made hassle-free with tool-less access panels, keeping downtime to a minimum. Whether it's tough environments or different load types, this forklift is adaptable to meet various operational demands.




Prioritizing Forklift Safety and Warehouse Protection
In conclusion, the showcased largest forklifts are a testament to engineering excellence and innovation, revolutionizing material handling with their impressive lifting capacity and reach. While these machines offer increased productivity and operational efficiency, it's crucial to recognize that forklift operation involves inherent risks. Did you know that around 90 percent of rack damage can be linked to the impact caused by forklifts?
Despite the fun aspect of driving forklifts, they can be potential hazards. Ensuring safe forklift operation requires daily inspections of the vehicle's condition and focusing on the workplace environment. Warehouse safety should be a priority even before the forklift comes into play.
To enhance overall warehouse safety, it's essential to collaborate with a reliable and experienced safety partner. Such experts can help find the most suitable and efficient safety solutions, safeguarding employees and assets. You can create a secure and efficient working environment by taking proactive measures, minimizing risks, and optimizing productivity.


References and Sources for Visuals and Data
https://www.kalmarusa.com/equipment-services/forklift-trucks/forklift-trucks-130000-158000-lbs/
https://www.kclifttrucks.com/equipment/konecranes-lift-trucks/forklifts-10-65-tons/37-65-tons
https://www.nc-nielsen.com/product/konecranes-37-65
https://www.lectura-specs.com/en/model/forklifts/diesel-forklifts-konecranes/smv-65-1200-c-11732596
https://www.versa-lift.com/Models/100-140/index.php
https://www.highreachinc.com/forklifts/versa-lift-100-140/
https://www.mkf-kompaktstapler.de/en/compact-forklift/diesel-lift-trucks.html
https://www.toyotaforklift.com/lifts/heavy-duty-forklifts/high-capacity-ic-pneumatic
https://www.hoistlift.com/p-series-22-000-125-000-lbs-/
https://www.hyster.com/en-us/north-america/high-capacity-internal-combustion-trucks-pneumatic-tire/h800-1050xd/
https://www.svetruck.se/en/forklifts/#3260
https://www.sanyglobal.com/product/port_machinery/forklift_truck/63/
https://www.hyundaiforkliftamericas.com/forklifts/180d-9/
https://www.linde-mh.com/en/Products/E-Trucks/E100-E180/
https://www.komatsu.com/products/forklifts/ic-pneumatic/fh100-160/#specifications
https://cranemarket.com/specification-7624
https://lan.mitforklift.com/en/eu/mitsubishi-trexia-es-fd60-100n3-series-6-to-10-tonne-diesel-forklift/specifications
https://www.crown.com/en-us/forklifts/internal-combustion-counterbalance-forklifts/cg-cd-13-20-internal-combustion-pneumatic-forklift.html