As we wind down from this incredibly unusual year, anything that can make running a safe warehouse a little easier and stress-free is incredibly helpful. The pandemic has created a surge in various industries such as e-commerce, food and beverage, and big-box retail. This has consequently created a lot of demand in the supply-chain and warehousing industry. According to Forbes, COVID accelerated eCommerce growth 4 to 6 years.
While warehouse owners are under more pressure than ever before to run a well-oiled machine, they are also obligated by law to keep their warehouse workers safe - and not just COVID-safe (mask-wearing and social distancing) - but safe from any warehouse hazards, including racking system failures. A single incident can cause loss of time, money, productivity - and sometimes, serious injuries. The last thing any warehouse manager needs during a period of high demand is a shortage of workers due to a workplace hazard. This is why safety precautions should be in place and practiced regularly.
In this blog article, we'd like to gift rack owners with 5 essential tools that can help promote warehouse and worker safety in 2021.
1. How Safe Is Your Warehouse?

Before you can improve, you need to know where you stand today regarding safety. Once you know this, then you can decide what needs improvement and where to focus your energy on. Is it more safety training for your workers or an improvement is needed in the way you monitor performance?
Take our 2-minute quiz below to get your rack safety score. The questions will help you reflect on your current safety practices (or lack thereof). Once completed, we will give you some quick tips on how to improve.
2. Practical Guide to Rack Damage Assessment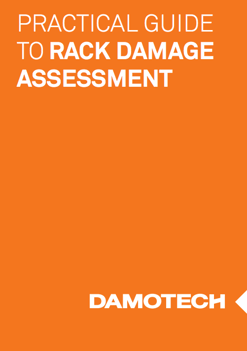 Assessing an engineered rack system's condition can be quite challenging due to a variety of issues. Our pocket guide provides clear guidelines to help you determine what to address. In this guide, you will learn about:
Rack Guidelines based on ANSI/RMI, OSHA, FEM standards and recommendations.
How to determine if a deflection on an upright should be addressed by using the simple "1-2-3 rule".
The vital role of horizontal and diagonal braces to the capacity and stability of the rack system.
The importance of regular inspections.
3. Pallet Rack Inspection Checklist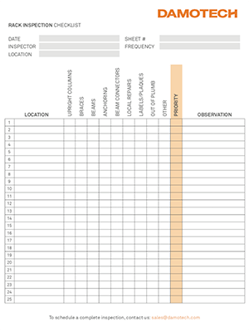 To help you conduct your own rack inspections, discover rack components that need attention, and increase warehouse safety, we've put together this free pallet rack inspection checklist template. The download contains two documents: a PDF guide to help evaluate damage (rack inspection guidelines) and a pallet rack inspection checklist (audit file in Excel format).
Use this pallet racking inspection template to:
Consolidate a list of rack damages in your warehouse.
Record the exact locations of damage and add short descriptions of each issue.
Specify the component of the rack where repair is needed (uprights, braces, beams, anchors, etc.).
Define a priority level for each issue.
4. Rack Safety Poster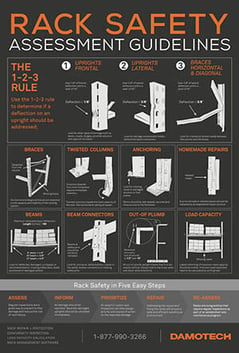 We are visual creatures. There is something about visual aids that create a long-lasting impression in our memories. Therefore, having something physically posted on the walls of your warehouse or cafeteria can help serve as a reminder to your employees to practice good rack safety. This rack safety poster provides clear guidelines to help determine which racking deficiencies need to be addressed.
Formats:
Printed on 24" x 36" on glossy paper (free poster and shipping to US & Canada).

Downloadable PDF file.
5. Rack Repair vs. Replacement Infographic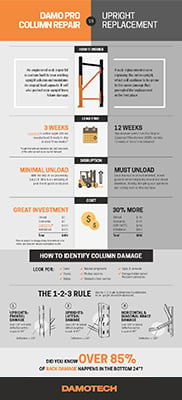 There are two ways of addressing rack column damage: replacing the entire upright with OEM (Original Equipment Manufacturer) parts or isolating the damage and repairing it using an engineered rack repair kit. In this infographic, you will learn about which solution is best for you based on the topics below:
Delivery
Installation disruption
Installation
Warranty
Impacts on the environment
Costs
Getting Support from A Rack Safety Partner
If you use all the resources above, you will be in a great position to improve your rack safety measures in 2021. If you need support, Damotech can provide you with the products (repair and protection) and services (engineering services) needed to help you maintain a safe warehouse long-term. Safety training is something that you should budget in for the New Year, as this is also crucial in reducing workplace injuries. No matter your challenges, the size of your warehouse, or the industry you are in, our dedicated team of rack safety experts will cater to your specific needs. Learn more about the advantages of partnering with a rack safety partner here.