Damotech is proud to announce that the innovative design of its trade show booth was awarded an honorable mention by Exhibitor Magazine.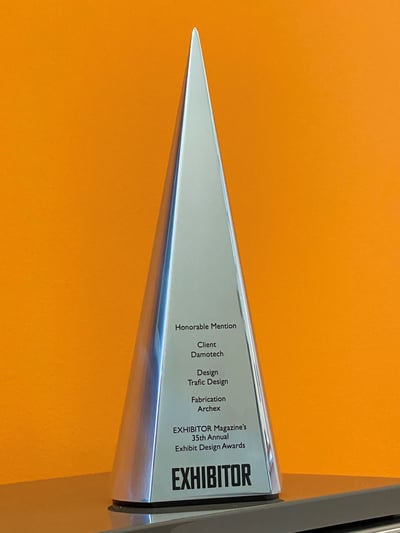 Among the efforts to showcase the quality of its products, Damotech joined forces with Trafic Design, a Montreal-based company that designs innovative environments that bring to life brands' DNA. With its expertise, Trafic Design was able to create an exceptional trade show booth that features a very unique tunnel and products mounted onto the walls.
"The intention behind this creative design is to make sure that Damotech's products are presented in a way that ignites conversations towards the benefits they bring the user, making sure Damotech stands out from the crowd," said Marie-Josée Frigon, Founder and President of Trafic Design.
Aiming to achieve excellence across all its activities, Damotech was delighted to benefit from Trafic Design's unique set of skills to create a high-performance marketing asset. Not only will this booth support the company's growth efforts, but it will also contribute to the brand's visibility in North America.
"We are really impressed with the positive effect the design of our booth has had on visitors and our success at generating new business. The tunnel space provides an intimate area to have conversations with prospects and demo our rack maintenance software, while the outer perimeter enables us to feature our pallet rack protection and repair products and attract visitors inside the booth. Seeing the reactions from our booth's visitors has been really rewarding and validated our decision to partner up with Trafic Design to develop this project." – Derek Zakaib, Chief Marketing Officer at Damotech.
In an article published about Damotech's award, the Exhibitor Magazine mentioned: "Throughout the booth, purposeful lighting highlighted the products and supported a warm, welcoming environment. Meanwhile, designers kept graphics to the minimum while clearly communicating the Damotech name and product benefits — a tactic that further supported the sophisticated scene."
Exhibitor Magazine is the ultimate resource for trade shows and corporate event marketers. Featuring articles, news, and more, it promotes the best practices in trade show and event marketing.
The ingenious design of Damotech's exhibition booth will constitute a key asset as the company continues its expansion in the United States by attending major supply chain trade shows like MHI's MODEX and PROMAT to present its engineering services, rack inspection management software, repair and protection products.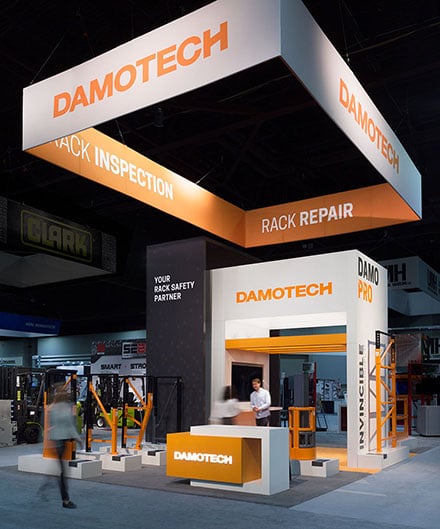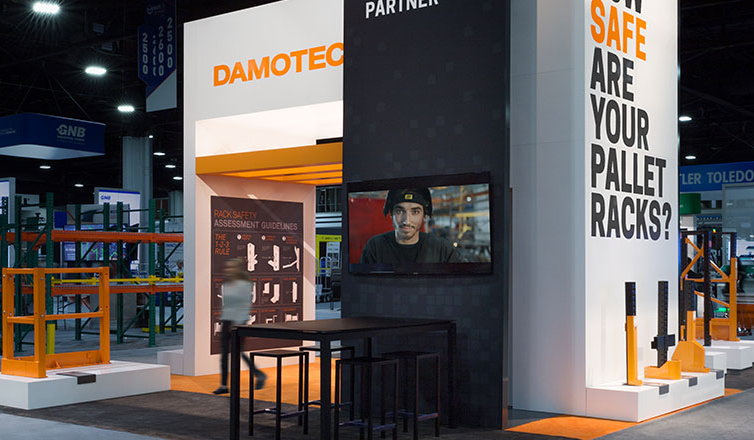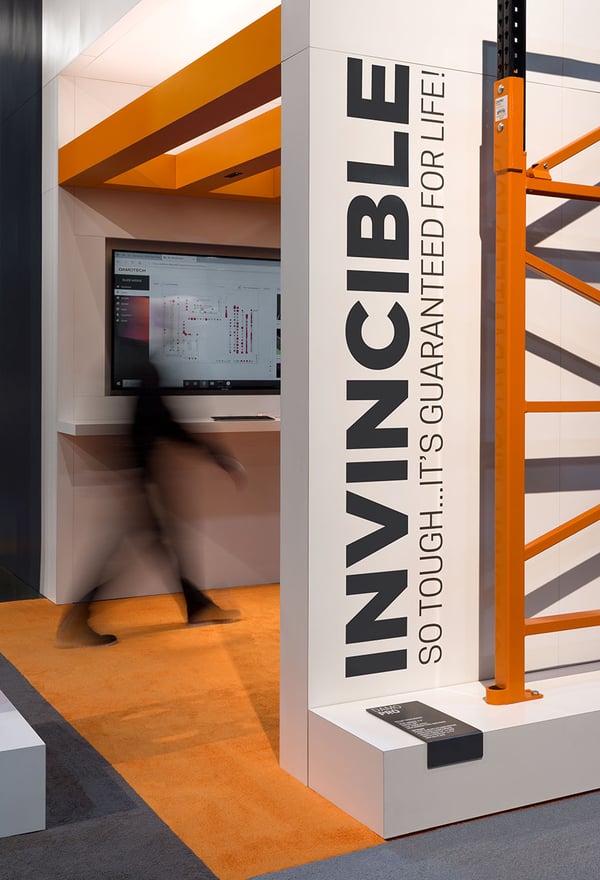 Photo credits: Sean Murphy.