Most industries, if not all, are faced with regulations imposed by federal or local governments to ensure the safety of workers. Some industries, such as air transportation, are heavily regulated, whereas others have ill-defined regulations.
The racking industry falls somewhere between the two because although there are rack codes and rules to adhere to, they are not strictly monitored equally throughout North America. This article aims to educate warehouse managers on the main governing bodies or "main actors" in the pallet racking industry so that they can make better decisions in the day-to-day management of their rack assets, and ultimately, keep their warehouse workers safe.

OSHA and R.M.I. (U.S.A.)
With the Occupational Safety and Health Act of 1970, Congress created the Occupational Safety and Health Administration (OSHA) to ensure American workers have safe and secure working conditions. Its mission is to provide training, outreach, education, as well as assistance in the industry. OSHA is part of the U.S. Department of Labor and covers all 50 states, including certain territories and jurisdictions under federal authority.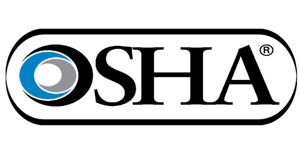 OSHA's general clause states that each employer must provide their employees with a workspace free from recognized hazards that might cause harm to the employees. In addition, it says that they must comply with the OSHA standards promulgated under this Act. The employees are also obliged to comply with OSHA standards and rules applicable to their actions and conduct.
Other than the general clause, two regulations apply to the racking industry:
Standard Number: 1910.159
Standard Number: 1910.176


Standard Number: 1910.159
The first one deals with automatic sprinkler systems applied to any indoor racking system. This OSHA standard states that a minimum clearance of 18 inches should be present between the sprinklers and materials below it.
Standard Number: 1910.176
The second one deals with material handling and storage. This standard underlines the importance of properly securing stored items to prevent them from sliding or collapsing. Essentially, the storage of material should not create hazards in the workplace. This standard, albeit generic, naturally applies to racking systems as well.
Another essential industry group in America is the Rack Manufacturing Institute (R.M.I.). The R.M.I. is part of M.H.I., America's largest material handling, logistics, and supply chain association. Formed in 1958, the R.M.I. has 32 members that make up the industry's leading suppliers of industrial steel storage racks; Damotech is a proud associate member of the R.M.I. The mission of the Rack Manufacturers Institute (RMI) is to promote the safe and effective use of industrial steel storage racks and related storage and handling systems.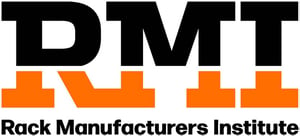 The institute helps develop American national standards for industrial steel storage racks and welded wire decking through extensive product testing and R&D (Research and Development).
Notably, it has drafted the American National Standards ANSI MH16.1 for industrial pallet racks, ANSI MH16.3 for cantilever racks, and ANSI MH26.2 for wire rack decking. Furthermore, it provides certification with these compliances via the R-Mark. See a list of certified companies here.

S.C.C. and Ontario Ministry of Labor, Training, and Skills Development (Canada)
The Standards Council of Canada (S.C.C.) is the leading accreditation organization in Canada. The council's mandate is to promote efficient and effective voluntary standardization in Canada for industries that lack standardizations imposed by law. The S.C.C. is not government-affiliated and possesses no legal power.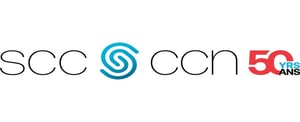 Standards are sets of agreed-upon rules or guidelines which promote safe practices and provide technical requirements in various fields; these can be mandatory or voluntary depending on local laws and regulations. Industry players may purchase standards through the S.C.C. database, which can be found here.
For standards pertinent to racking, we find CSA S16, which contains all the relevant information about the design, manufacturing, and installation of steel storage racks in annex N. This annex is applied to single deep racks formed of hot or cold-rolled steel. This publication also references the CSA A344-17 user guide for steel storage racks which must be used in conjunction with the CSA S16.

In Ontario, there is a specific article to follow for racking and storage safety, the R.R.O 1990, Reg. 851, which is actually under OSHA. Employers must assess whether a P.S.R. (pre-start health and safety review) is necessary depending on whether there is documentation showing that the rack has been designed and tested according to the standards in the article.
The Act also requires employers to ensure that the racks are operational by replacing or repairing damaged components.
The employer also must ensure that forklifts are being appropriately driven and pallet racks are being loaded/unloaded adequately for safety. Lastly, the employer must provide the workers with sufficient training, instruction, and supervision to ensure safety.




When in doubt, the S.C.C. is a useful database to find what you are looking for regardless of the industry that you are in!
Canadian Standards Association Group (International)
CSA group, the Canadian Standards Association, was established in 1919 as Canada's first Standards Development Organization (SDO). With over 100 years of experience, the CSA group is a global organization dedicated to safety, social good, and sustainability. The CSA is a leader in standards development and testing, inspection & certification. Their certification services cover a wide range of products and are recognized by OSHA, S.C.C., and ANSI in North America.




As for the standards development, it is non-profit and relies on over 10,000 volunteer experts from various fields to continuously improve the current standards that exist in industries. It is important to note that the CSA Group is not a government body. Therefore, it does not have legal power in deciding which standards should be permitted by law. A standard (or code) is enforced by law only if it is referenced in legislation by a federal, provincial, or municipal government.
As mentioned previously, the CSA Group has a user guide for steel storage racks which can be found here. This guide contains all the standards and codes that the CSA Group has developed throughout the years.
If you are unsure of where to begin, the user guide produced by the CSA Group is robust and very informative; following its standards is a safe bet!
Takeaways
Although clearly defined regulations may not always exist in the racking industry, it is the supervisor's responsibility to ensure that the working environment remains safe for those around it. This blog post referenced some regulations on both national and international levels, along with voluntary standards and user guides that outline safe practices in the industry.
To summarize, here is a map that references the appropriate codes and standards by province in Canada: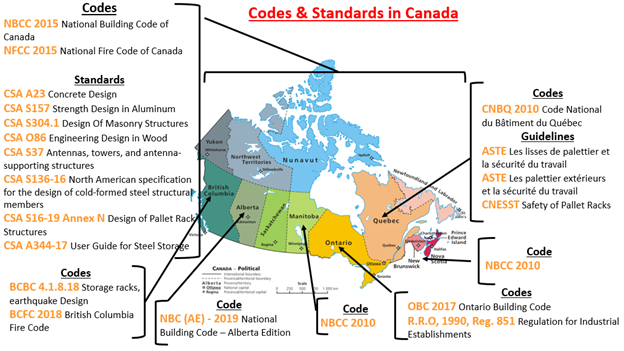 Similarly, here is a map for the United States: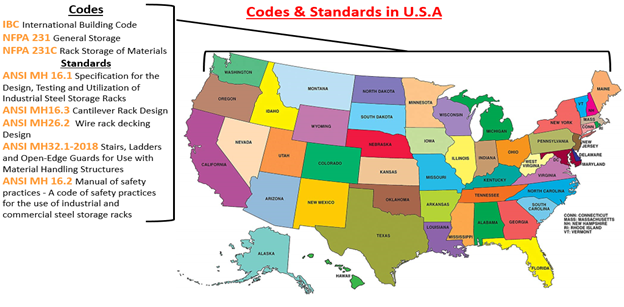 References:
Think your warehouse is safe? Take this 3-minute quiz to find out.