MONTREAL, QUEBEC, MARCH 20, 2023—Damotech, the industry leader in warehouse safety and rack repair, launches DAMO CARE©, a new full-service warehouse rack safety program that will transform the way companies approach pallet rack safety.
This innovative offering helps busy warehouse managers implement and manage their company-wide rack safety program by offering critical products and services, including rack inspections, routine assessments, employee training, maintenance planning, asset protection, rack repair, and management software. By leveraging the cloud-based Damotech Platform, leaders get real-time insights, making tracking maintenance and progress simpler than ever.
"DAMO CARE helps our clients proactively navigate the challenges of overseeing a safety program by ensuring a smooth and stress-free process. It allows companies to focus on running their business while we take care of rack safety," said Eric Naaman, President and CEO of Damotech.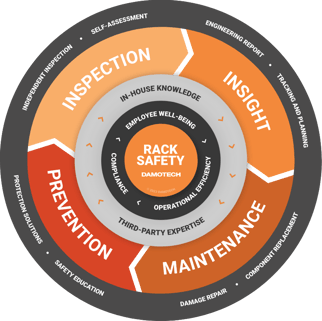 Built on Damotech's 30-plus years of experience ensuring safety for large and small warehouses across North America, DAMO CARE is an all-encompassing solution providing a structured approach to warehouse rack safety.

It is rooted in Damotech's Rack Safety Flywheel©, a proven framework that outlines the founding principles that help companies establish a comprehensive and effective safety program.

Thanks to DAMO CARE, organizations can achieve higher levels of employee well-being, operational efficiency, and compliance. Damotech's industry-leading engineers will work closely with customers to define a roadmap and ensure their safety program meets all relevant industry standards and local codes.

"By embarking on the DAMO CARE Rack Safety as a Service solution, companies can protect their workers and assets while simplifying their safety management process," expressed Marc Rousseau, VP of National Accounts and Strategic Partnerships.


Overview of DAMO CARE
DAMO CARE is a comprehensive Rack Safety as a Service solution designed by Damotech to assist organizations in running a rack safety program to improve employee well-being, operational efficiency, and safety compliance.
Founded upon the Rack Safety Flywheel, a 360-degree comprehensive plan, DAMO CARE provides a full range of products and services, including engineered inspections, routine assessments, load calculations, rack repair and protection solutions, management software, safety training, and more.
With a DAMO CARE subscription, companies receive discounted prices on Damotech repair and protection products, including the renowned DAMO PRO repair kit offered with a lifetime warranty against impacts.
DAMO CARE provides access to a team of rack safety experts and engineers across the U.S. and Canada.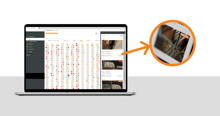 Damotech's all-in-one solution includes the Damotech Platform, providing real-time insights into a company's rack safety performance from any device.
About Damotech
Pallet racks in warehouses are constantly damaged by forklift impacts. And this damage can lead to tragic consequences such as collapses if misdiagnosed or left unattended.
With over 30 years of experience, Damotech is North America's leading rack safety specialist. More than half of Fortune 500 companies choose Damotech's engineering services, employee training, rack repair and protection kits, and rack maintenance software. By partnering with Damotech, companies gain peace of mind by making their warehouses safer while reducing maintenance and liability costs.
For more information, visit the Damotech website or reach a Damotech expert directly at info@damotech.com.