MONTREAL, QUEBEC, October 28, 2019 – We are proud to announce that during MHI's recent Annual Conference in Palm Springs, CA, Damotech was recognized as an Associate Member of RMI, the Rack Manufacturer's Institute. Damotech joins a group of 35 leading suppliers of industrial steel storage racks and related systems who are collectively committed to the safety, innovation, and continuous improvement of rack design and application.
Over the last 30 years, Damotech has become an industry leader and a well-respected pallet rack repair manufacturer across North America. Pallet racks are widely used for storage in the material handling, distribution, shipping, and manufacturing industries. Damotech has developed and grown its team of experts to include engineers whose sole focus is industrial racking systems and their safety. "This Associate Member status sends a positive message about rack repair as a being a safe and effective alternative to rack upright replacement" says Eric Naaman, Damotech's President and owner.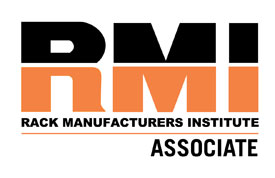 Since 2012, Damotech has attended RMI's engineering meetings and has participated in the development of guidelines for the assessment and repair or replacement of damaged racks. Because Damotech also strives for conformity, safety, and a better general understanding by the community of the rack repair process, it has invested heavily in educating the market on safety standards and the importance of inspections through rack safety seminars and conferences.
RMI holds its members to the highest standards, and membership is a real gauge of quality. With rack safety being the main focus for both Damotech and RMI, together, they now strive to limit liability and risk surrounding the repair of a damaged rack with an engineered solution.
Damotech is already a member of ProGMA, an MHI group composed of the industry's leading suppliers of fixed protective guarding products designed to protect personnel, equipment, and inventory in industrial and commercial facilities. This group is a recognized authority on the best practices, standards, and applications of protective barriers and guarding solutions.
Damotech has been an active member of MHI attending its conferences and exhibiting at its annual trade show events; PROMAT and MODEX. "I am especially thrilled about Damotech joining RMI," says Charles Carbonneau, Ph. D., Chief Engineer at Damotech. "This is a positive step towards improving our industry's safety standards with regards to interventions on pallet racks which are engineered structures that must be treated as such."
About MHI
MHI is the nation's largest material handling, logistics, and supply chain association in America. It offers education, networking, and solution sourcing for members, their customers, and the industry as a whole through programming and events.
About RMI
The Rack Manufacturers Institute (RMI) gathers the industry's leading suppliers of industrial steel storage racks and related structural systems. Its members supply industrial rack solutions worldwide in virtually every major manufacturing and distribution sector. Formed in 1958, it continues to develop and advance national standards for industrial steel storage racks and related products. It certifies compliance with the standards via the R-Mark Certification Program. This group also funds product testing and R&D programs for technological advances. Finally, RMI members contribute to education and various programs surrounding industrial storage racks and their related products.
About Damotech
Damotech is the largest manufacturer of pallet rack repair and protection solutions in North America. For 30 years, it has helped customers keep their warehouses and employees safe by maintaining the integrity of their industrial storage systems. As a partner, Damotech provides everything you need to achieve your rack safety goals. Through our engineering team, we perform rack conformity inspections, load capacity calculations, and employee training to educate and ensure the safety of all warehouses. We manufacture and install the industry's top-performing rack protection and rack repair kits, including the popular DAMO PRO. Damotech also offers the only truly dedicated rack inspection and management software in the industry.