< Blog Home
Julian's career growth at Damotech
After working as a welder at Damotech, Julian is now a candidate to the engineering profession at the company. You probably wouldn't know it, but this young man overcame many challenges, traveled thousands of miles, and climbed mountains to get to where he is today. This post covers his story with all its ups and downs. Get ready to be inspired!
Phase I: The strategic plan
Julian was born in the village of Ibagué, Colombia. Aware that access to good schools and jobs was limited in their country, his parents came up with an ambitious plan whose success relied on a great deal of forethought, a little bit of luck, many sacrifices, and a lot of perseverance so that their son could access a career that would meet his potential.
Julian began professional studies in Colombia, enrolling at age 16 in a metal structures program, in which he learned the basics of welding. "I chose a technical program because I was planning to immigrate. I knew it would help get my application approved. It was a strategic choice that allowed me to leave my country and begin my education in Quebec, where I knew that higher education would be accessible."
Thanks to a combination of hard work and luck, Julian's application was approved. He was invited to fly to Montreal to start a program that would unlock the opportunity to get a diploma of vocational studies (DVS) in welding.

Phase II: Arrival in an unknown land
With plans to stay with his older brother in Montreal, Julian felt excited when he first set foot on Canadian soil. At just 19 years old, he was aware of the challenges that lay ahead and the effort it would take to adapt to his new home, but he was also determined to succeed. The next step was already upon him: he would be taking six French courses, paid for by his parents, to learn the language before beginning his professional training.

After learning the fundamentals of French, Julian began working toward his DVS. Looking back on his first years in Canada, he says, "I quickly realized that in Colombia, I was a bit spoiled. I spent my first years in Canada living in much less comfortable conditions than many other people my age at the time. I take a lot of pride in having managed on my own."
Investing $17,000 in his future, at age 19
The cost of a DVS for an international student in Quebec is about $17,000. Well aware of the debt he was facing, Julian started his training. Instead of allowing himself to feel overwhelmed by the weight of the financial burden, he used it as motivation to push his limits even further and achieve new goals:

"I chose to get the DVS at the time because it was the most accessible in terms of cost, given my immigrant status. My plan was to enroll in university as soon as my status permitted because I'd be eligible to pay much lower tuition fees."

Once he earned his DVS, Julian moved from his brother's home to an apartment and entered the workforce as a welder. He slowly began repaying his student debt and continued his integration into Quebec culture, all while learning the basics of his trade.

Two years later, he could finally enroll in the mechanical engineering program at Concordia University!

His beginnings at Damotech
It might seem like Julian was already living a fast-paced life, but it was during this next phase that he honed his ability to persevere and pushed his limits as far as they would go. "I felt an enormous amount of pressure because not only was I still in debt, but I also knew that while I was in university, I could no longer work full-time."

This challenging time allowed him to diversify his skills to a degree he never could have imagined: "I picked carrots on farms, I worked in food service at a hospital, worked as a bartender, bagger, day laborer, renovation apprentice… I took on as much part-time work as I could during the school year, then worked full-time during the summer to replenish my budget and save up to pay my bills in the winter."

It's during this busy time that Julian started working at Damotech as a welder: "I started working at Damotech thanks to Lizeth, the girlfriend of a buddy I played soccer with. She was already working there and told me they were looking for a welder. I started working there in the summer. I loved the place right away, especially because of the atmosphere and company culture."

A career advancement opportunity at Damotech
For three years, he worked tirelessly to do it all.

"I wasn't sleeping much. I worked in the evenings and had to study when I got home. I felt like I owed it to my parents to succeed since they were counting on me and had sacrificed a lot to get me where I was."

During this period, the idea of staying at Damotech to make his career change started to grow.

"I realized that I wanted to continue working in that environment even after finishing university, and I hoped to develop my future career in engineering there. I knew that Damotech was a place where evolving as a professional was possible. The work culture clearly favored professional growth and career advancement, so the idea stuck with me."
When he graduated and a job opening was posted at Damotech, Julian applied... and he got the job!
Julian has been living in Canada for 10 years now, and he joined the engineering team at Damotech last summer. His work takes him all over North America and gives him ample opportunity to grow in his career alongside inspiring colleagues. Damotech's values, anchored in the day-to-day life of everyone at the organization, line up with Julian's and mirror his journey to success.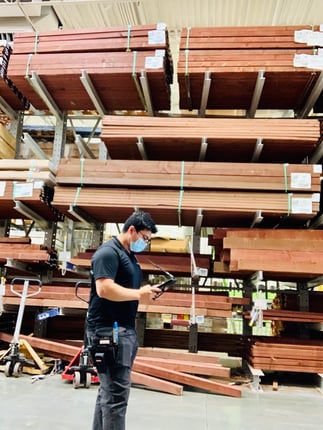 One thing Julian has learned is to never give up when faced with difficult situations. His ability to solve problems, work as part of a team, and persevere to achieve his goals are serving him well in his role at Damotech, an organization that shares his values of collaboration and efficiency.

"I've learned to stay motivated and put things in perspective, whatever the situation. To persevere, stay positive, and believe in myself."