Tradeshows are back in full swing more than ever, and in 2023 you won't want to miss ProMat, the largest international supply chain and logistics trade show. ProMat is sponsored by RMI (The Rack Manufacturers Institute) and will be held March 20-23 at McCormick Place in Chicago.
You can learn about material handling and logistics innovations from nearly 1,000 manufacturing and supply chain professionals. Check out the latest productivity trends at more than 100 seminars and build lasting business partnerships.
If you plan to attend this tradeshow, you should be adequately prepared. With so many exhibitors, networking events, and seminars, the best approach to always take advantage of an opportunity to learn and build new relationships is to prepare for them.
Here are some tips for getting the most out of ProMat 2023.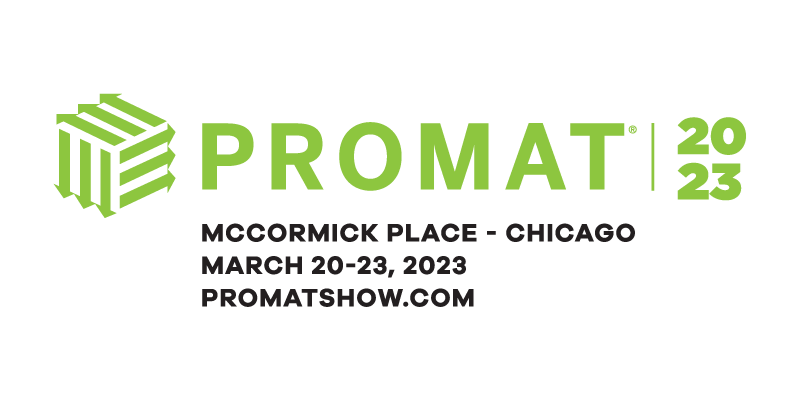 1- Do your research beforehand and plan your schedule wisely
Admission to exhibitions and seminars is free. ProMat will begin on March 20 at 10 a.m. and run until March 23 at 3 p.m.
During this material handling expo, you'll have the chance to discover the following:
Real case studies.
Management trends and best practices.
Unique insights into future supply chain models.
Innovative methods to meet new manufacturing, distribution, and supply chain challenges.
Practical solutions to reduce costs, maximize efficiency and minimize risks.
Don't forget to check out the exhibitor booths and attend the supply chain conferences. In addition, you can participate in networking activities with the many professionals in manufacturing, distribution, and supply.
Source: ProMat 2023

To prepare for your visit, look at the ProMat website, where you'll find all the essential information. It's a great tool to help you find relevant opportunities to learn more about topics relevant to your business.
Once you've reviewed the names of the various exhibitors, what seminars are offered, and the networking events, plan your schedule to take in those that interest you the most!
2- Sharpen your professional skills with seminars
ProMat 2023 includes more than 150 educational seminars. The wide variety of presentations will help deepen your knowledge and keep you up-to-date with the latest supply chain developments. Here are some warehouse safety seminars that may interest you.

ProGMA (Protective Guarding Manufacturers Association) presents 5 COMMON HAZARDS TO PEOPLE, PRODUCTS & FACILITIES: HOW PROPER PROTECTIVE GUARDING CAN HELP MITIGATE RISK.
Date: Tuesday, March 21, 2023
Time: 2:15 p.m. to 3 p.m.
Room: Theater H
Did you know that in 2020, the estimated total cost of workplace injuries was $163.9 billion? According to OSHA, improper guarding of industrial machinery has been the leading cause for the past 19 years. ProGMA leads the safety industry, developing innovative safety standards to promote safety and prevent injuries in facilities.
What you'll learn:
Find out about the new ANSI standard to promote worker safety.
Minimize risks and injuries through appropriate protection solutions.
Discover protective products to prevent damage to pallet racks.




Damotech presents 10 RACKING MISTAKES WAREHOUSE MANAGERS MUST AVOID
Date: Tuesday, March 21, 2023 Thursday, March 23, 2023
Time: 2:30 p.m. to 3:15 p.m. 10:30 a.m. to 11:15 a.m.
Room: Theater F Theater G
Warehouses are bustling with the constant movement of employees, goods, and equipment, which creates an ideal environment for the risk of incidents. How do you inspect, use and maintain your pallet racks to reduce costs and ensure your personnel's safety and inventory?
Charles Carbonneau (Ph.D.), an engineering team leader who has inspected thousands of warehouses, will present the 10 most common mistakes when using racks and solutions for each of them.
What you'll learn:
Assess damage and troubleshoot pallet racking issues.
Decide whether to repair or replace.
Protect pallet racks in the most cost-effective way possible.
Maintain operational excellence and warehouse safety.
Download free tools to use every day to maintain safety best practices.
| | |
| --- | --- |
| At the end of the seminar, get a free rack safety poster by visiting Damotech's booth (S1755). | |
Damotech presents THE 6 PRINCIPLES OF A BEST-IN-CLASS RACK SAFETY PROGRAM
Date: Wednesday, March 22, 2023
Time: 10:30 a.m. to 11:15 a.m.
Room: Theater A
The burden of liability and ever-increasing operating expenses encourage warehouse owners to seek trusted strategies to help them improve safety while reducing maintenance costs. Rack safety expert Marc Rousseau will show you a strategic framework based on best practices.
What you'll learn:
How often to inspect your equipment, and which problems to solve first.
How to train staff to identify rack safety issues.
How a safety program can help you reduce your rack maintenance costs.
And above all, don't miss the four leading conferences, including that of director Ron Howard on March 22. José Andrés, chef, founder of the World Central Kitchen organization, and one of the most influential people in the world, according to Time Magazine, will present on March 21.


3- Discover valuable products and services from exhibitors
At ProMat 2023, manufacturing and supply chain professionals can explore emerging trends or technologies to make their supply chain more successful.
With nearly 1000 exhibitors and more than 100,000 sq. ft. of exhibition space, ProMat will enable you to discover innovative methods developed by industry leaders. You can also talk with experts from various sectors.
When you access the exhibitor listings on the ProMat website, you can search by product category, sector, industry, state/province, country, business interest, and export market.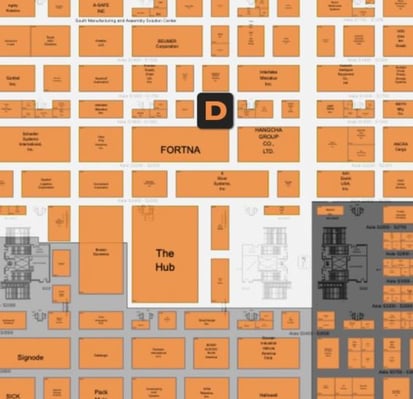 You can also view the show's floor plan to find where you're located among all the exhibitors. And above all, don't forget to meet our pallet rack safety experts at Damotech's booth (S1755). Free tools will be provided to you during your visit.
With over 30 years of experience, Damotech is North America's largest and most trusted rack repair and safety company, serving warehouses of all sizes. Fortune 500 companies choose Damotech for the quality of its engineering services, its pallet rack repair and protection products, and its rack management software.

4- Network and create new business relationships
With thousands of attendees worldwide, ProMat is a unique and rare opportunity to network. It would help if you determined which networking events will give you the best options to build successful business relationships, so get ready to chat.
Here are some of the events occurring during the tradeshow:

Symposium on women in the supply chain
Monday, March 20, from 12 p.m. to 5 p.m.
Participate in an afternoon of networking and professional development. This course will teach you how to communicate and build trust, build effective teams, help your team live up to your company's mission and values, build leadership skills and integrate into diverse professional groups and situations.

MHI networking event for young professionals
Monday, March 20, from 5 p.m. to 6 p.m.
Meet other young professionals in materials handling and supply chain management.

MHI evening with Nate Bargatze
Wednesday, March 22, 2023, from 4:30 p.m. to 7 p.m.
Participate in an evening of recognition, networking, and entertainment. This event will highlight the 2023 MHI Innovation Award winners and feature a performance by comedian Nate Bargatze.
If you're in school, remember that Student Day will be on March 22 from 8 a.m. to 5 p.m. During this interactive day, you'll be treated to presentations from many professionals and will take part in a guided tour of the exhibitions. You'll also be able to chat with industry experts in support of your professional development.
Between now and your visit, we encourage you to consult the career centers for ProMat and Damotech.


5- Take advantage of every opportunity
This event is created for professionals like you. It's, therefore, the perfect opportunity to learn about new methods, update your knowledge, draw inspiration from industry best practices, and add new partners to your professional network.
You'll meet people who can help you accelerate your business growth, optimize the progress of a business project, or even establish fruitful business relationships.
By attending ProMat 2023, you and your business will benefit from best practices, success stories, tools, and practical solutions. Whatever solutions you need to succeed, look at what's new and chat with industry professionals.
Register today: admission to exhibitions and conferences is free! And don't forget to stop by our booth (S1755); Damotech's team of experts will be happy to meet you and answer all your questions.