Safety signs exist for a reason, and displaying the right signs will help prevent errors in your day-to-day work life while also ensuring that you stop yourself from running a disorganized warehouse. From OSHA guideline-approved health and safety signs to compliance signs, danger warning signs, hazard warning signs, and material handling signs, there's no shortage of information you should display. Whether you're using warehouse aisle signs, warehouse floor signs, or even velocity signs, the proper signage is crucial to establishing a prudent and versatile warehouse. In doing so, you will find yourself running a tight, organized warehouse with peace of mind.

Below, you'll find a guide to recommended signs covering everything from organization and layout through health and safety, the requirements for OSHA signs, and much more.
Aisle and Row Signs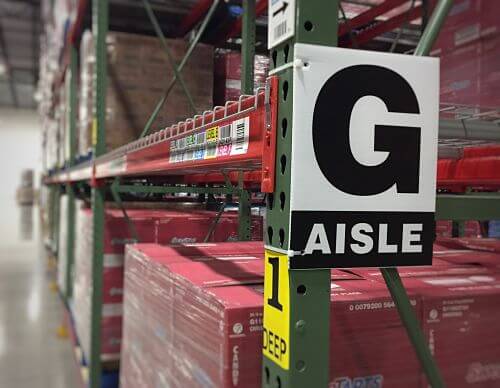 Figure 1. Example of warehouse aisle sign fastened to a rack column.
It might seem obvious, but it's easy to forget just how vital aisle and row signs are in providing your warehouse with a logical, highly organized layout. Aisle and row signs are imperative in creating an environment where employees and contract workers can find what they need as quickly as possible. Either suspended from the ceiling or attached to rack uprights, aisle and row signs come in many shapes and sizes, but their shared characteristics are large lettering and concise communication. It's also impossible to have too many of these signs: make sure you put them at any breakpoints that occur down each aisle in addition to the ends.
Think of how many minutes you've wasted while being lost in a grocery or department store, then multiply that by the number of employees working in your warehouse.
By organizing your workspace with a clearly labeled layout, you can increase both safety and productivity, thus streamlining workflow and, ultimately, maximizing profitability.
Forklift Traffic Signs

Figure 2. Examples of forklift caution signs (courtesy of Vecteezy).
Weighing up to 9,000 pounds and able to travel up to 18 miles per hour, forklifts are heavy-duty pieces of machinery. There's no denying the damage they can cause to racks, but they can also cause serious injury or loss of life. According to an OSHA study, forklifts account for around 85 deaths a year, with injuries reaching up to 96,700 cases. Worse yet, OSHA estimates that about 70% of these accidents could be prevented with proper forklift safety measures in place.

While regular and thorough training for forklift operators is key, you can also establish a safe workplace culture by implementing strong, clear forklift signage. Forklift signs come in many shapes and sizes. In high-traffic areas, you can post signage that warns other workers about potential collisions and reminds forklift operators of safety protocols. You can also implement signage that designates dedicated forklift lanes, using vinyl floor tape or other markings on the ground to keep the lanes clear.

Lights are also an option. These can include everything from light-up stop and start traffic signs (not unlike those you'd see in the street), flashing "collision awareness" signs, and floor indicators. The flashing lights command attention, adding another level of alertness to the warehouse.

Further, signs can be used to remind operators of key racking areas, to be sure they are extra careful when moving in and out of rows and aisles. As we know, there are many ways that forklifts can damage racks. Even minor forklift impacts can accumulate over time, resulting in serious consequences. As such, it's paramount to ensure that forklifts do not compromise rack integrity.

Utilizing forklift signage means increased safety for your workers and less damage to your racking and products. In other words, it's worth the added effort to be as thorough as possible.
Warehouse Health and Safety Signs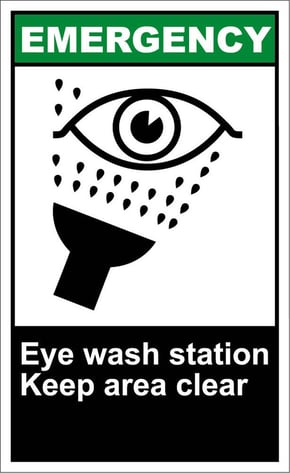 Figure 3. A sign indicating an emergency eye-washing station.
In addition to forklift signs, numerous other signs will apply to warehouse safety for your workers. These could range from sanitary hand-washing reminders in the restroom to specific information that is unique to your work environment. For example, health and safety signs can supplement your staff's training, or they can point to hazardous materials, dangerous areas, and other potentially important safety protocols throughout the warehouse.

Of course, you may not feel comfortable designing your own posters, but there are plenty available online to meet even the most specific needs. Damotech has designed a free warehouse safety poster highlighting various rack guidelines based on ANSI/RMI, OSHA, FEM standards, and regulations. It's a helpful poster to hang in a common area or breakroom. In doing so, you encourage employees to maintain a level of mindfulness about serious safety issues even when they're not active on the floor.


Signage for Rack Load Capacity
It is crucial to ensure that you have accurate, well-placed, and easy-to-read load capacity labels or placards on your racks. This helps make sure your warehouse workers do not overload the pallet racks. With the correct labels, the messaging about load capacity is clear to all.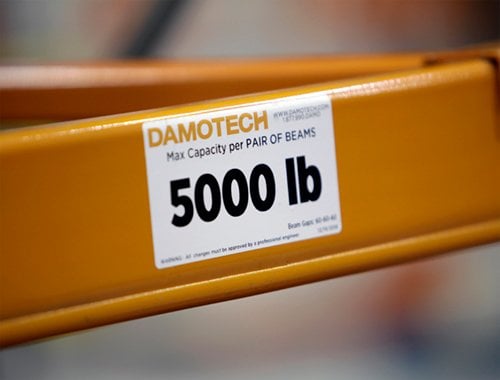 Figure 4. A label showing the maximum load capacity per pair of beams on a racking system.
If you have the original Load Application and Rack Configuration drawings (LARCs) from your rack systems' initial configuration, you may have access to accurate load capacity ratings. That said, it's possible that you've made configuration changes to your racks as your warehousing needs have evolved with time. As such, you may not have an accurate, verified load capacity rating. Any changes made to the configuration of a rack — even those as simple as adjusting a beam's height or removing it altogether — must be reviewed by a professional engineer working in that domain, who can make the calculations needed to determine the rack's load capacity.

Our engineering services can provide you with the accurate load capacity of your racking, as well as labels for displaying the maximum load capacity. These labels will offer peace of mind for both worker safety and the careful storage of your goods.
OSHA Sign Requirements
It's worth noting that there are strict OSHA signing requirements for specific signs, meaning you won't necessarily be able to use company colors for all of your warehouse signage. OSHA's full guidelines are available here, and there are some key takeaways. Signs that identify hazards must follow strict protocols regarding the sign and label colors, specific signal words, letter style, and size and placement within the warehouse.

There are three primary classifications for safety signs: DANGER, WARNING, and CAUTION.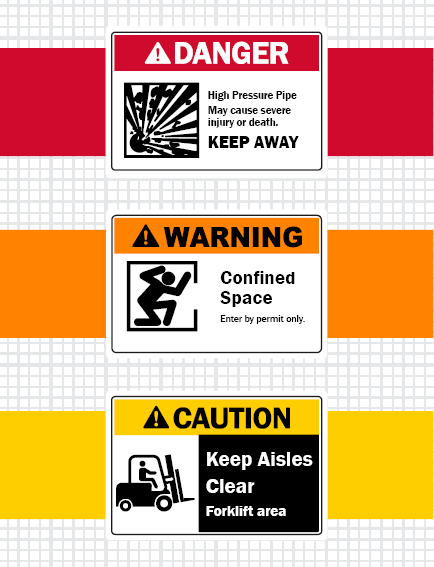 Figure 5. OSHA's three primary classifications for safety signs: DANGER, WARNING, and CAUTION.
Danger signs are used to indicate the most hazardous situations. If these situations are not avoided, they can result in serious injury or loss of life. The word "danger" must be printed in all capital white letters on a red background. The safety alert symbol precedes the word. These signs must be placed where a hazard poses an immediate danger. Common examples include signage required for high-pressure pipes, high voltage, heavy equipment, and machinery hazards.

Warning signs describe hazards that may result in serious injury or death, but the risk is not quite as severe as situations that require a "danger" sign. The word "warning" is printed in all-capital black letters on an orange background. The word is preceded by the safety alert symbol. These signs must be placed where the hazard poses an immediate danger. Common examples include signs indicating high forklift traffic and confined space.

Caution signs describe hazards that may result in minor or moderate injuries if the sign is ignored. The word "caution" is printed in all-capital black letters on a yellow background. The word is preceded by the safety alert symbol. The caution sign should be placed near the potential hazard. Common examples include signs for fall hazards and minor electrical shocks. This sign can also be used to promote general warehouse safety protocols.

In addition to knowing the specific types of signs, there are other requirements. For example, the signage materials must be blunt or rounded, and they should not include sharp edges or splinters.

Signs Can Save Lives
From designating forklift lanes and safety protocols through maintaining organization and structure in the workplace, signs are a constant source of communication for workers. The overall benefits of thorough warehouse signage far outweigh the efforts required to implement them. Whether you're starting up a new warehouse from scratch or you've been working in the same space for years, it's crucial to routinely audit your sign set-up and find ways to augment, streamline and improve the visual communication in the warehouse. This will help improve the overall safety in your warehouse. More importantly, it will help protect your workers from injury or even death. If you need a professional engineer who specializes in this domain to calculate your rack load capacities and provide you with updated load capacity labels or plaques for your racking systems, click here to get a personalized quote.