A warehouse isn't just a big building full of pallets and boxes. A warehouse provides many benefits, such as increased efficiency, and keeps businesses running smoothly. But how do you choose the type of warehouse that best suits your business?
The choice of a warehouse must be strategic since it plays an essential role in your supply chain. It enables you to easily store and ship your goods from one location, optimizing order fulfillment, productivity and inventory management.
If you're wondering what type of warehouse to choose for your business, you've come to the right place. In this article, we'll introduce you to 8 different types of warehouses, including automated warehouses, examples to illustrate which type is best for certain types of businesses, their primary advantages and disadvantages, and safety factors to consider.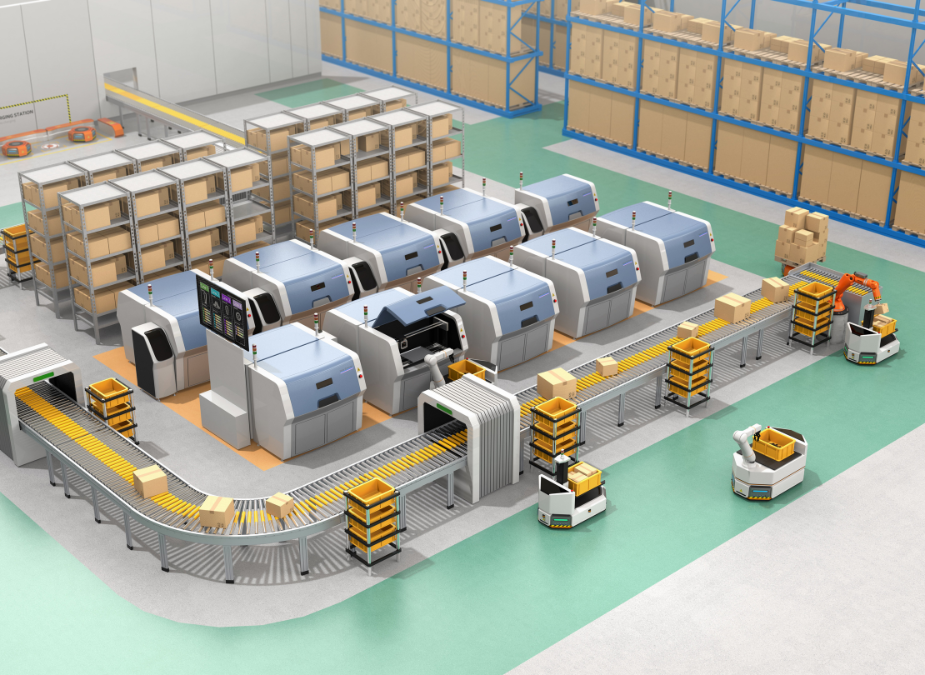 1. Smart warehouses
A smart warehouse uses artificial intelligence to carry out warehousing and optimize order management processes. This type of warehouse is increasingly sought after, and provides automation at all stages, including goods packaging, shipping, and delivery to the end consumer.
An automated warehouse is equipped with technology consisting of low-emission conveyor belts and automatic sorting tools to provide increased production, reduced mistakes, and decreased manual supervision.
Therefore, an automated warehouse offers unlimited possibilities for business owners seeking to address the lack of workforce.
ADVANTAGES
Reduced manual labor costs and effort

State-of-the-art sorting, retrieval and handling tools
Reduced inventory count and production errors
DISADVANTAGES

High initial investment

Routine maintenance or occasional repairs are required for technology equipment, which may result in downtime
Vulnerable to large-scale outages or computer failures
SAFETY FACTORS TO CONSIDER
Proper training of personnel on the use of automated systems and related dangers
Risk of injury (for example, employees could suffer broken body parts or be struck)



2. Temperature-controlled warehouses
A temperature-controlled warehouse, as the name suggests, stores goods at a specific temperature for the purpose of refrigeration (i.e. cold storage warehouses) and even freezing. Companies that use this type of warehouse also use temperature-controlled carriers to transport goods that require special care.
This type of cold storage is suitable for those who wish to extend the life of the items they store, for example, medicines, perishable foods, plants, cosmetics, works of art, candles, or even chemicals.
ADVANTAGES
Protection against natural elements, such as heat and sun exposure
Better preservation of stock, meaning less loss
Dust-free environment (for IT equipment)
DISADVANTAGES
Complexity related to enlarging the space supporting various temperatures when the volume of goods increases
Battery life affected by extremely cold temperatures
Possible loss of goods due to power failure, equipment failure, etc.
SAFETY FACTORS TO CONSIDER
Health risks to employees (such as frostbite, hypothermia, immersion foot, flu or colds)
Specific types of racks required (among other things to guarantee better energy efficiency and prevent corrosion)
Risk of damage to shelves due to poultry fluids



3. Cooperative warehouses
This type of warehouse is managed by a cooperative and is owned by several organizations or companies working in a spirit of cooperation. By collaborating more closely, all the companies that own such a building can share space and thus achieve savings in relation to storing their goods.
The combined investment makes this type of warehouse relatively accessible, so this cost-effective solution presents a financial advantage for the cooperative's members. The use of such a warehouse is widespread among farmers, wineries and business groups with similar types of products.
ADVANTAGES
Save money due to rental cost consolidation
Long-term increase in profits for all members of the cooperative
Opportunities for expanding the market
DISADVANTAGES
Limited operational control; decision-making is shared
Interdependence (the departure of a company or an organization can have a financial impact on the entire cooperative)
The challenge of creating a cooperative of companies within the same industry
SAFETY FACTORS TO CONSIDER
Training of employees who work for various organizations/companies within the cooperative
Joint decision-making for maintenance and repair of warehouse elements



4. Customs warehouses
A bonded warehouse, also known as a customs-bonded warehouse, is mostly controlled or managed by a government or private body holding a government license. Often located near a border, an airport, or a port, it serves as a warehouse for goods under custom supervision, for which customs duties have not yet been paid.
This type of warehouse also provides an important advantage: payment of customs duties is deferred until the time of sale of the goods. In addition, customs charges do not apply if the goods are exported, not sold or confiscated by a customs official.
ADVANTAGES
Provides storage for a variety of products
Facilitates cross-border and international trade
Low overall cost for storing goods for longer periods
DISADVANTAGES
High costs associated with trading across borders
Complexity related to obtaining customs permits and complying with customs requirements
Lengthy delays in gaining access to goods once in storage
SAFETY FACTORS TO CONSIDER
The owner of the pallet racks is different from the owner of the goods, so there's no decision-making ability regarding their maintenance or employee training


5. Consolidation warehouses
A consolidation warehouse refers to a storage facility owned by a third party. Consider, for example, a third-party logistics provider (3PL) who can manage all logistics services, including warehousing goods, distributing orders and managing inventory.
In the field of warehouse management, groupage or consolidation of goods means that various small shipments are received from several suppliers and are consolidated into a larger load destined for the same geographical location. Subsequently, the goods contained in each shipment are separated and delivered to the end user.
This economical solution is ideal for small businesses or start-ups that do not yet have a high enough volume of goods to fill a truck or container. This method is commonly used since it provides optimal management of orders and cost reductions.
ADVANTAGES
No capital investment or inventory required
Superior customer service due to better resource allocation
Lower operating costs
DISADVANTAGES
Increased frequency of coordination between suppliers, processing centers, carriers, etc.
Possible order processing delays due to inadequate coordination
Detailed planning required to consolidate or deconsolidate shipments
SAFETY FACTORS TO CONSIDER
The owner of the pallet racks is different from the owner of the goods, so there's no decision-making ability regarding their maintenance or employee training



6. Distribution centers
A distribution center is not just a simple "warehouse," as many confuse it. A distribution center is a rather large-surface warehouse that provides very short-term storage of goods and facilitates quicker entry and exit. Often located near a transport hub, this type of warehouse is at the heart of supply chain management (SCM)—goods are stored, prepared, packaged, and distributed there.
For example, consider a warehouse that houses perishable goods, such as flowers or groceries. The center receives the shipment in the morning, and everything is then distributed by the end of the same business day. Thus, a distribution center is designed to accelerate the circulation of goods and not allow them to accumulate.
ADVANTAGES
Optimized operations and storage capacity
Rapid transport of a variety of goods
Quality and reliability of service
DISADVANTAGES
Limited control over processes
Wide variation of services and technologies available from one center to another
Typically high employee turnover
SAFETY FACTORS TO CONSIDER
The owner of the pallet racks is different from the owner of the goods, so there's no decision-making ability regarding their maintenance or employee training



7. Public warehouses
A public warehouse is one that provides for the storage of goods on demand and belongs to a governmental or semi-governmental body. A section of the warehouse is therefore rented to a private sector company which pays a short- or long-term monthly rent, e.g. according to the number of pallets or according to the square meter.
Companies that require additional storage space, either for temporary or seasonal purposes or following a large volume of sales, have access to warehouses with excess storage capacity. In addition, the tenant company is not responsible for hiring warehouse staff, maintaining the warehouse, or purchasing warehouse equipment or inventory software.
This type is suitable for small businesses or start-ups that don't have the financial capacity to procure their own warehouse, as it helps reduce warehousing costs.
ADVANTAGES
An affordable and flexible option
Great accessibility
Competitive prices
DISADVANTAGES
Limited control over floorspace or layout
Rapid accumulation of monthly costs
Possible lack of storage space if your company grows
SAFETY FACTORS TO CONSIDER
The owner of the pallet racks is different from the owner of the goods, so there's no decision-making ability regarding their maintenance or employee training



8. Private warehouses
Private warehouses are mostly owned by manufacturers, large retailers, wholesalers, distributors, or even large online marketplaces.
Since the costs are higher than for renting space in a public warehouse, this choice is ideal for established companies, since they more easily benefit from the investment capital required for warehouse management.
The owner of this type of warehouse has absolute decision-making power over warehouse operations that are designed to meet the specific needs of the business. In addition, private warehouse inventory management has a lower margin of error since a smaller group is responsible. Thus, the circulation and storage of goods are improved.
ADVANTAGES
Possible warehouse rental instead of purchase

Lower long-term costs

Convenient option when no space is available in a public warehouse
DISADVANTAGES
Low return rates

Limited operational flexibility

High start-up costs
SAFETY FACTORS TO CONSIDER
Employee safety training (for example, on the use of heavy equipment and materials)

Rack usage rate and inspection procedures

Site ergonomics



Which type of warehouse best suits your needs?
Now that you've read this article, you should know more about the various warehouse types and their functions. And it's up to you to choose the warehouse that best suits your business needs.
For example, if your business is just starting up and your inventory level is low, you could use a consolidation service. If you want to reduce personnel and operational costs, you should consider a smart warehouse. And if you're going to sell perishable products, it would be better to use a cold storage location.
When choosing a warehouse, be sure to keep in mind your immediate and long-term needs, your budget, the type of products you sell, your customers, and your suppliers. Remember to choose the type of warehouse that will optimize your efficiency, as well as your customer service.

Warehouse type
Examples of industries or businesses that may be suitable for this type of warehouse
Smart warehouse
- Manufacturers
- Retailers
- Logistics service providers
- Wholesale distributors
- Consumer goods
- Food and beverage products
- Health and hospital care
Temperature-controlled warehouse
- Fresh produce, such as meat, fruits and vegetables
- Chemical products
- Medicines and vaccines
- Plants
- Cosmetics
- Works of art
- Petrochemicals
- Candles
- Pharmaceutical products
- State-of-the-art electronic equipment
Cooperative warehouse
- Farmer cooperatives
- Wine cooperatives
- Retail businesses
- Dairy products
- Natural foods
Customs warehouse
- Importers and exporters
- Manufacturers
- Businesses selling fragile products (such as electronic items)
Consolidation warehouse
- Small businesses
- Start-ups
- Toy stores
- Pet stores
- Fabric stores
Distribution center
- Online retailers
- E-commerce companies
Public warehouse
- Small businesses
- Start-ups
Private warehouse
- Established companies (with investment capital)
Note: No matter what type of warehouse you choose, whether it's your first time or part of a modernization initiative, the safety of personnel and equipment should always remain a priority. Complete our questionnaire about your warehouse's safety to get our recommendations.