Over their lifetime, racking systems can become damaged from many factors, be they environmental, like rust, from impacts with equipment like forklifts, or improper storage. Damaged racks can compromise the safety of your warehouse and reduce its efficiency.

But replacing entire uprights can be a lengthy process requiring you to unload the racking and can also be costly. Also, replacing a damaged rack will not prevent the new one from getting damaged again.

Thankfully, cost-effective repair services and products are available, reducing downtime and maintenance costs and often saving valuable time. From assessing a point of damage to a newly repaired and sturdy racking system, keep reading to find out how the process is completed.

Repair Process for Damaged Racks
Below we explore the 5 steps of a typical warehouse rack repair process from start to finish. While this is the recommended procedure for large-scale warehouses, dealing directly with a dealer for small-scale situations is also possible. Also, remember to schedule a full yearly inspection from a certified rack engineer for a later date.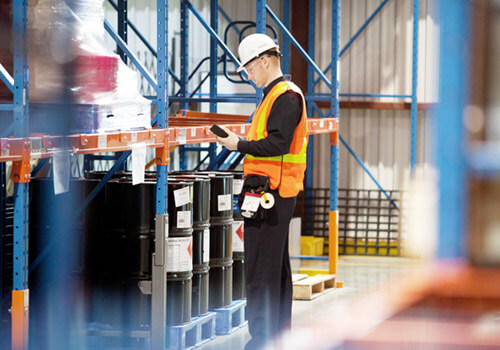 Step 1: Identification & Proposal
It all starts with a call or an email to a knowledgeable rack expert.

Did you find damaged racks in your warehouse? Then a rack expert can travel to your facility and roughly assess the scope of the mandate (size of warehouse and frequency of pallet rack damage). During their visit, the specialist will offer expert advice on fixing the damage and provide you with a detailed quote listing the suggested repair kits.

But suppose you are concerned about the state of your warehouse's racking systems and are looking for a thorough inspection. In that case, an experienced engineer can walk through your facility and carefully inspect your racks by taking photos, collecting on-site information, and recording damages and other faults that need addressing.

Following this visit, the specialist will issue a detailed report, providing a comprehensive overview of the condition of your racking systems. Pallet rack anomalies are classified based on their priority levels and rated by severity.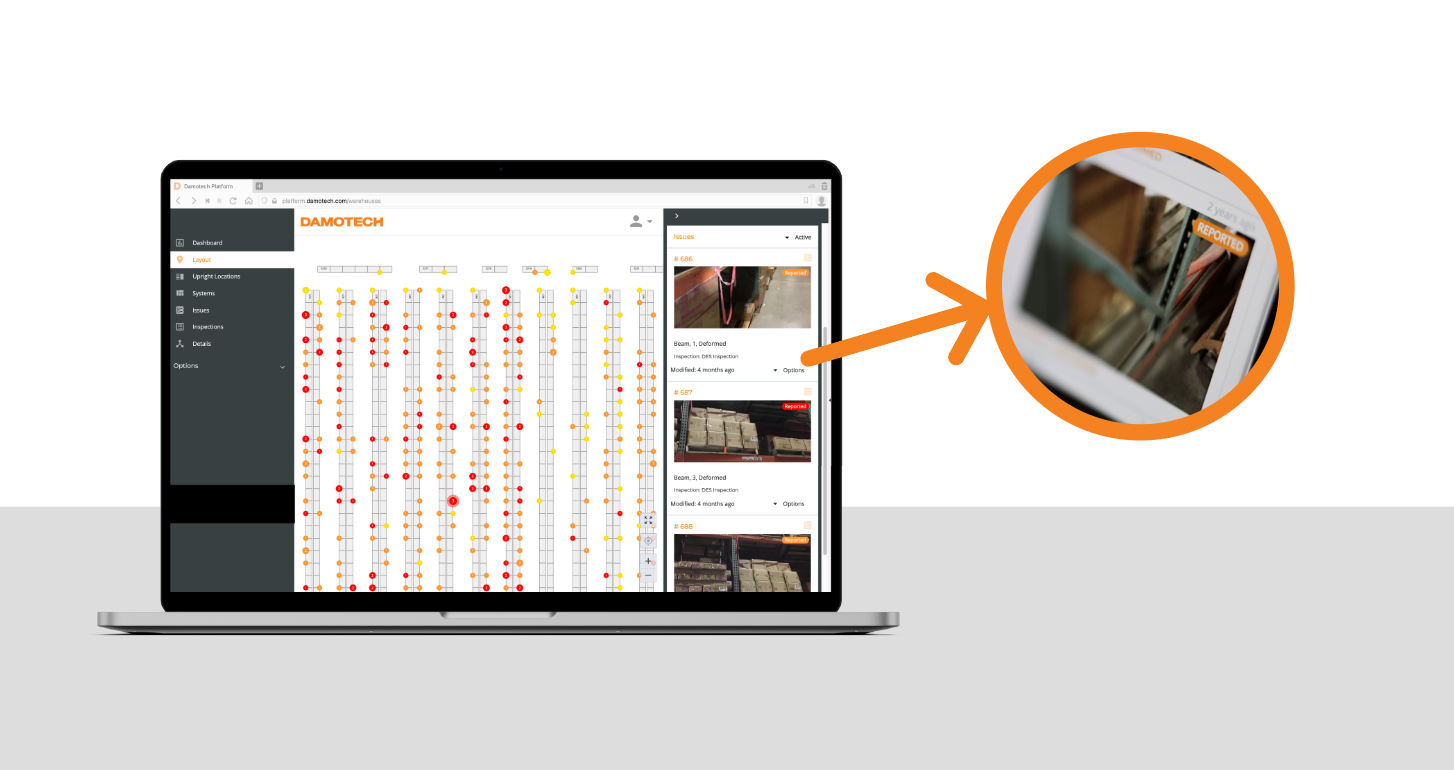 Additionally, as part of that inspection, a warehouse floor plan layout is created with issue markers so that you can quickly locate rack damages within your facility. Each issue found is detailed, so you will be able to easily understand both where and what the damages are from a bird's-eye view. This information will allow you to take corrective actions when necessary.

Based on the expert observations, a repair specialist will prepare a detailed proposal, advising you on the specific type of rack repair kits you need for every identified issue. Should you wish to proceed with repairs, the specialist will measure critical locations and send this information to the production department. These measurements will be used to customize the repair kits to meet the specifications of your racking systems.

Depending on the overall condition of your warehouse and your budget, you could split the work into different phases and prioritize the more urgent repairs to ensure your warehouse is safe to operate.




Step 2: Manufacturing
With the dimensions in hand, the in-house production team creates the parts for the repair kits. The kits can be tailor-made to the specifications of your systems. They can also be fully adjustable and integrated into any system. They are designed to respect the specifications of the original rack configuration.

After the powder paint is applied (which can match the colors of your existing racking), the kits are palleted, mounted on wooden pallets, and covered with corrugated cardboard stretch-wrapped for protection.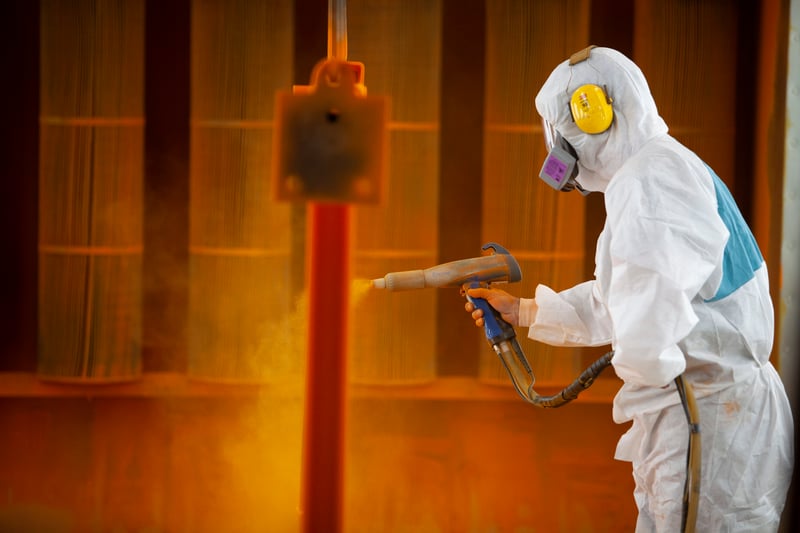 Then, the pallet rack repair units are shipped out by freight with a lead time faster than ordering replacement parts from the original equipment manufacturer (OEM). Repair kits are also more economical and easier to install as they usually require no unloading.

Each kit contains technical drawings specifying materials, dimensions, and installation locations. You can keep these drawings, showcasing that the repairs are certified engineered solutions.




Step 3: Preparation
On-site welding or hot permit is not required, as the units arrive ready to be installed, with all the necessary hardware, such as bolts and anchors. A certified installation team across North America will come to your facility to install the repair kits.

Installers will carry the repair kits and a custom lift device that holds up the racking so they can work beneath it without fully emptying the racking. While certain special situations require some degree of unloading for safety's sake, this device is generally an asset that saves your warehouse time and labor.

Before setting up the device, installers will ensure the area is safe from any hazards. They analyze pallet placement to make sure that nothing will fall and assess the system's stability. The state of the concrete the rack stands on is also considered, as it can affect the type of anchors used for the installation.

Additionally, some warehouses have wires, piping, heating, or other apparatus passing through the concrete slab. The installers also consider the depth and location of such features to avoid causing any damage. Another essential part of the preparation phase is that repair kits and assets are remeasured to ensure everything is according to specifications before cutting the rack.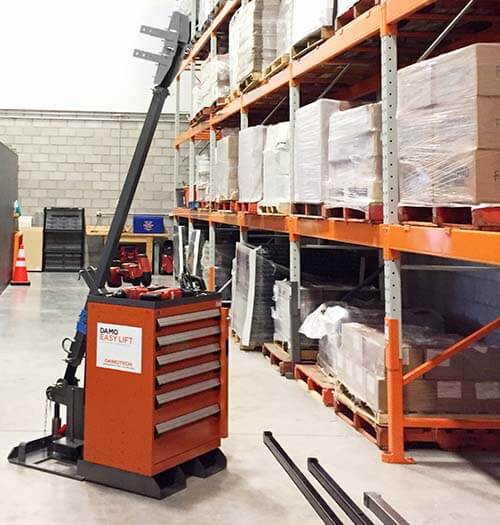 Step 4: Installation Services
In the case of column damages, a rack column repair kit is the optimal choice. Custom-made to the specifications of a damaged upright, it can be used to repair both front and rear column damage.

The installation team positions the lift device in front of the rack. Then, the arm is extended and clipped above the damaged area. Safety measures are implemented, and the racking is raised via the lift's hydraulics jack.

After verifying that the support is sturdy, the bottom of an upright can be cut out using a band saw. The repair kit is then bolted into the floor in stages to ensure everything is straight and level.

A standard repair kit can generally be installed by certified installers in under an hour. There is often no need to unload the merchandise stored in the racks, minimizing the disruption of your warehouse operations.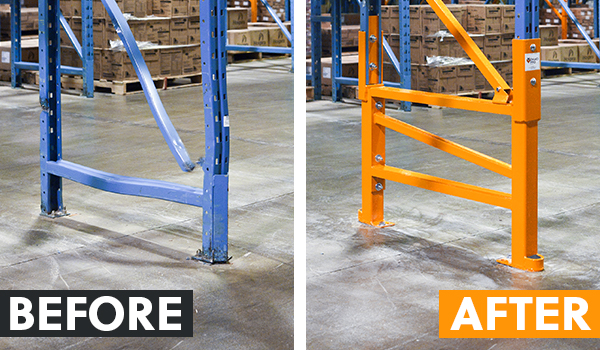 An adjustable brace repair kit can be installed when damage occurs on a system's horizontal and diagonal bracing without the columns being marred. The damaged diagonal or horizontal brace can be cut out using the same band saw before installation. The new brace can be attached in under 30 minutes, and no need to unload and dismantle your rack to address the issue.






Step 5: Completion of the Installation
After the installation, the crew will review their work and ensure they did a proper job. Each installed repair kit is an engineered solution, meaning that once installed, it is certified to return a system to its original load capacity.

They will clean the area and verify that all bolts have been installed correctly and that the system is straight. They will double-check the work at the end of the process and between steps to ensure quality installations, leaving you with systems fully restored to their original capacities.



Takeaways
The repair process for industrial racking can be technical. Poorly executed repairs are a source of uncertainty and risk. Safely altering a load-bearing structure while maintaining its capacity requires a certain amount of expertise.

The best way forward is to use engineered solutions and professional installation crews to get the job done correctly. Also, skilled installers will know how to minimize installation time and any disruption to your regular warehouse operations.
If your warehouse has damaged racking, consider using pallet rack repair solutions instead of replacing them with OEM parts. Repair kits can be designed to fit any pallet rack, respect the original configuration of your uprights, and bring back the actual load capacity. Regardless of your industry, the type of pallet racks you use, or the damage found in your warehouse, they are custom-built to match your needs.

If you are interested in minimizing the potential for future damage to your racking systems, you could introduce rack protection solutions. Racking protectors are an excellent investment: to minimize damage from forklifts, eliminate the constant need for upright replacement, and reduce operation downtime and maintenance costs.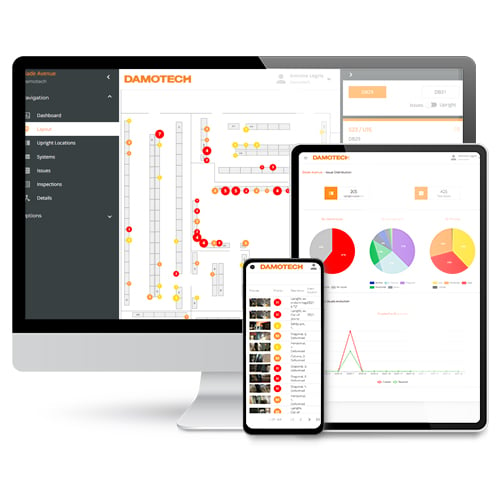 Additionally, consider using a warehouse rack inspection and maintenance software, making warehouse safety easier by allowing real-time access to inspection data. It allows you to:
Manage multiple locations

Track new and addressed rack issues

Organize data by priority level

Measure progress

View warehouse layouts and photos of deficiencies

Review load capacity by pallet position

Visually confirm system configurations