ProMatDX Sneak Peek week is happening now! This is the ultimate opportunity to stay on top of rack safety and register for Damotech's upcoming two events: one is an educational seminar on 5 Key Strategies to Improve Rack Safety, and the other, a product demo of our Damotech Platform, the only rack inspection tracking software of its kind. Visit Damotech's showcase page and our team will be happy to answer any questions via live chat.
ProMatDX, taking place April 12-16, is the new digital event for manufacturing and supply chain professionals from over 140 countries. ProMatDX combines the connections, solution-sourcing, and education that ProMat can deliver with the latest digital event technology in a five-day event. Register for this free event here.
At ProMatDX, you can:
Discover the most recent product and service solutions via showcases that include live chat and digital product demos of the latest technologies and innovations.
Learn what is driving efficiency in keynotes offered as well as over 100 digital seminars on emerging technologies like warehouse automation and robotics.
Network and build strong business partnerships with suppliers from around the world, including the ability to set up virtual meetings between your team and any solution provider of your choosing.

Damotech ProMatDX Events:
With only days until the event begins, you can now plan your ProMatDX experience by adding keynotes, seminars, and product demos to your personal calendar. Below is what you can expect from our two sessions, which will be offered free of charge to all ProMatDX attendees:
Education Seminar: 5 Key Strategies to Improve Rack Safety
Date: Monday, April 12
Time: 1:00 – 1:30 PM CDT
If you're a warehouse manager, knowing what is required to keep your warehouse safe can be a challenge. But being proactive in preventing hazards and potential loss of production time and money is extremely important. Join our racking experts, Charles Carbonneau, Ph.D., our Chief Engineer with over 20 years of experience in structural dynamics, and Marc Rousseau, VP, National Accounts and Strategic Partnerships, for an educational seminar that will introduce you to the 5 key strategies that will improve your rack safety.
Topics covered in this seminar:
Why rack safety?
Employee safety training
Inspection of racking systems
Pallet rack protection and repair
Safety partner selection
Product Demo: The Damotech Platform: Rack Safety & Inspection Cloud Software
Date: Wednesday, April 14
10:45 – 11:00 AM CDT
The Damotech Platform is the first and only dedicated rack inspection and asset management software in the industry. This cloud-based software provides interactive dashboards, and visual representations of warehouse layouts (plan views and elevations) and allows warehouse operators to remotely track racking issues and repairs in real-time across several warehouses. Rack inspections can be performed directly on the platform by internal teams or by a third-party inspection company. The intuitive rack issue and damage viewer interface makes it easy to zoom in on exact rack locations, view the status of deficiencies, as well as look at photos taken during a rack inspection. Clients can also gain a clear insight on flagged issues and missing components, allowing them to sort these concerns by priority level or component type, and take appropriate actions.
With the Damotech Platform, warehouse managers no longer need to sort through paperwork with hand-written notes on their racking issues. They no longer need to physically travel to multiple locations when there are issues. And more importantly, they no longer need to lose sleep over not knowing if their racking is being safely maintained. The Damotech Platform enables clients to effortlessly capture an understanding of their racking remotely, allowing them to make informed decisions when it comes to their rack assets and overall warehouse operations.
In this demo, you will learn how the Damotech Platform:
Puts critical rack inspection data at warehouse managers' fingertips, eliminating the need to shuffle through paperwork or multiple Excel sheets.
Provides a visual representation of the layout of your warehouse, making it easy to zoom in on exact locations (plan view and elevations).
Provides actionable data with sorting and filtering by priority level and component type.
Gives access to photos taken during the inspection, allowing for quick reference to flagged issues.
Enables review and analysis of load capacities by individual pallet location.
Helps optimize budget planning for resolving rack issues, and fast-tracking progress toward a safer warehouse.
To add this event to your calendar, click here.
Best IT Innovation Finalist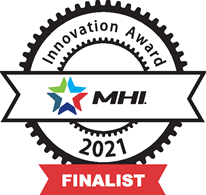 In addition to our education seminar and product demo, the Damotech Platform is also a finalist for the 2021 MHI Innovation Awards, in the category of Best IT Innovation. The MHI Innovation Award serves to educate and provide valuable insights on the latest manufacturing and supply chain products and services to ProMatDX attendees. Learn more about it here. The winners of the 2021 MHI Innovation Awards will be announced during a ProMatDX keynote session at 11:00 AM CT on April 12 at promatshow.com.
Have questions? Visit our showcase page and our team of rack safety experts is there to answer any questions via live chat.