MONTREAL, QUEBEC, September 23, 2020 - Damotech and New Breed are very proud to announce that Damotech's website redesign has won the 2020 WebAward for Outstanding Achievement in Web Development from the Web Marketing Association. Damotech, a rack safety company, has partnered with New Breed, an agency with expertise in inbound marketing, web design and web development, to create a fully optimized and modern corporate website.
"Our goal was to create a website that would both adequately represent our premium products and new brand positioning around rack safety, while also promoting growth through online lead generation," says Derek Zakaib, Damotech's Chief Marketing Officer.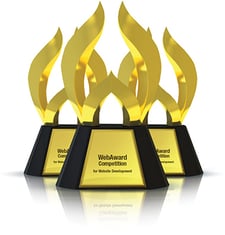 A prerequisite that Damotech's marketing team had was that they knew they wanted the website to be built within Hubspot so that their CMS, marketing, sales and service needs all could be catered to on this one platform. Knowing that New Breed had specific technical expertise in Hubspot, the choice was easy in terms of choosing an agency.
"We wanted to bring our technical expertise to a website build that was about more than reflecting modern aesthetic and functionality best practices. Damotech's new website is best in class for their industry and embodies their commitment to excellence," says Patrick Biddiscombe, New Breed's CEO.
The website launched in February 2019 and today it is clean, brand-driven, user-friendly, SEO-optimized, and has generated ten times the number of leads than it did before the redesign. Not only is this website a huge win for the marketing department – but it has also become an instrumental tool for the sales team.
"The biggest difference since the launch of our new website is the ease of selling our products to our customers," says Eric Manaigre, Vice President of Sales at Damotech. "We often hear our reps and dealers indicate that most of the selling is already done by the time they meet with the customers thanks to the detailed information our website provides on our products and service offering."
The ability to continue optimizing the website after its initial launch was also on Damotech's wish list. New Breed developed customizable modules, allowing the Damotech marketing team to be autonomous in creating new website content.
"Our website was the first building block in a much larger 360-degree inbound marketing strategy," says Zakaib, "and to have it win a WebAward at this stage is very exciting."
About New Breed
New Breed is a revenue performance management firm for the world's fastest growing B2B companies. It prides itself on operating as a strategic partner that serves over 200 B2B clients in various industries. They are backed by their technical expertise and partnerships with Hubspot, SaaSWorks, Salesforce, Drift and Vidyard.
About the Web Marketing Association
Since 1977, the Web Marketing Association's annual WebAward Competition has been setting the standard of excellence for website development. Independent expert judges from around the world review sites in 96 industries. The WebAward Competition is the premier award recognition program for web developers and advertising agencies.