MONTREAL, QUEBEC, October 15, 2020 - Canadian Business has ranked Damotech No. 309 (out of 415) on the 32nd annual Growth List, the definitive ranking of Canada's Fastest-Growing Companies. It is the third year in a row that the company ranks on this list. Produced by Canada's premier business and current affairs media brands, the Growth List ranks Canadian businesses on five-year revenue growth. Growth List winners are profiled in a special print issue of Canadian Business published with Maclean's magazine and online at CanadianBusiness.com and GrowthList.ca.
Damotech made the list with a five-year revenue growth of 186%.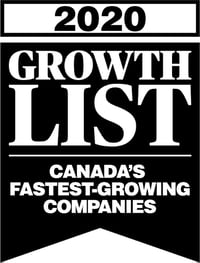 "The companies on the 2020 Growth List are really exceptional. Their stories are a masterclass in how to survive when the economy throws a curveball. Despite turbulence, the 2020 Growth List companies showed resilience, spirit and, most importantly, empathy and strong leadership," says Susan Grimbly, Growth List Editor. "As we celebrate over 30 years of the Canada's Fastest-Growing Companies program, it's encouraging to see that the heart of Canada's entrepreneurial community beats strong, even in tough times."
"Damotech is honoured to be on the Growth List ranking for the third year in a row," says CEO Eric Naaman. "With all the merit going to our extraordinary team, it makes the journey that much more exciting!"
Damotech is the largest pallet rack safety and repair company in North America. For 30 years, it has helped warehouse owners and operators keep their work environment safe by maintaining the structural integrity of their racking systems. Today, its rapid growth can be attributed to its solid presence as a full-service rack safety solutions partner in North America. Last month, it also made The Globe and Mail's ranking of Canada's Top Growing Companies.
Visit our website and follow us on Linkedin, Facebook or Twitter.
ABOUT THE GROWTH LIST
For over 30 years, the Growth List ranking of Canada's Fastest-Growing Companies (formerly the Growth 500) has been Canada's most respected and influential ranking of entrepreneurial achievement. Originally developed by PROFIT and now published in a special Growth List print issue of Canadian Business (packaged with the December issue of Maclean's magazine) and online at GrowthList.ca and CanadianBusiness.com, the Growth List ranks Canadian companies on five-year revenue growth, and the Startup List ranks Canadian new growth companies on two-year revenue growth. For more information on the ranking, visit GrowthList.ca.
ABOUT CANADIAN BUSINESS
Founded in 1928, Canadian Business is the longest-serving business publication in the country. It has fueled the success of Canada's business elite and, through the Growth List ranking, celebrates leadership, innovation, business strategy and management tactics. Learn more at CanadianBusiness.com.