If you are an owner of pallet racking systems, you are most likely no stranger to twisted or sheared upright legs, deflected beams, and missing or dented braces. These are just a few examples of rack components that are damaged during the process of pallet loading and unloading in a busy warehouse. Whether the cause is a hasty forklift driver or a lack of proper safety training, the reasons can vary. When faced with any of these types of damages, you can choose to repair or replace the damaged OEM (Original Equipment Manufacturer) parts.
To illustrate the advantages of rack repair, we have chosen to spotlight one rack component in particular: rack bracing. In our latest infographic (Figure 1), we compare the repair of a damaged brace with the replacement of an entire upright. By carefully evaluating the factors in the decision-making process, which we discuss in this article, we conclude that repairing a damaged brace is the soundest choice. Download our DAMO BRACE Repair vs. Upright Replacement infographic below:
What is Rack Bracing and Why is it Important?
A rack frame bracing consists of horizontal and/or diagonal members that join the front column to the rear column. These members are very carefully designed by the rack manufacturer to stabilize the rack frame in the cross-aisle direction and to support each of the individual columns. Any damage to these components can jeopardize the stability of the racking frames and could degrade the structural integrity of the entire racking system. Therefore, if you spot any missing or detached braces, these need immediate attention. If you see cracked or broken welds in the braces, these need to be addressed as well. In our DAMO BRACE Repair vs. Upright Replacement infographic, we give you easy tips to follow on how to properly identify brace damage on your racking systems.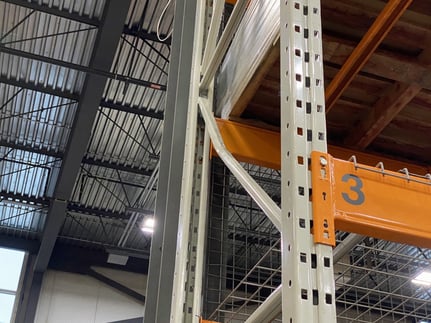 Figure 2. An example of brace damage: a severely dented diagonal brace.
Brace Repair is Economical and Less Disruptive
The first thought that many warehouse managers have when they spot pallet rack damage is the impact on the budget – and rightly so. Budgets are tight and the pressure to do more for less is ever-present in the warehousing and manufacturing industries. The average price of our DAMO BRACE repair kit is $60 versus a new upright which will set you back about $260 on average. This does not take into consideration the cost of getting your maintenance crew to unload and dismantle the damaged upright, as well as the lead time of about 12 weeks for the new upright to arrive at your facility. During this time, the area surrounding the damaged rack may need to be closed off and temporarily put out of service. This also has financial repercussions as everyday there will be losses incurred related to the slowing of production. And when the new upright does arrive on-site, additional installation fees of roughly $150 will likely be charged. Often, installation takes several hours. In contrast, the DAMO BRACE requires little to no unloading, has a lead time of under a week, and can be installed easily in under 30 minutes – saving you money all around. In the video below, you can see how the damaged brace is simply cut off and the DAMO BRACE is bolted onto the existing upright.
Save 85% by repairing a damaged brace with the DAMO BRACE vs. replacing an entire upright.
An Adjustable Rack Repair Solution
The DAMO BRACE is universal: it can fix braces at any angle (Figure 3), at various lengths, and on any type of rack. This means you can proactively purchase these repair kits in advance and store them in your warehouse because whether you identify a detached diagonal brace that is 24 inches long or a dented horizontal brace that is 94 inches long, you can use the DAMO BRACE to fix both. This level of adaptability is what makes this repair kit so unique. On top of being flexible, the DAMO BRACE is also durable as it is made of high-quality steel. Its standard paint color is orange, but it can be painted a different color to match your racking upon request.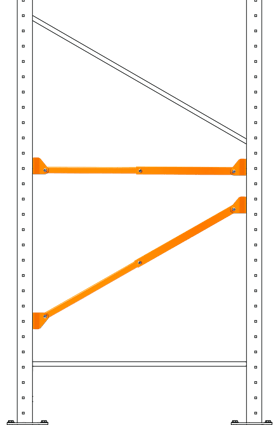 Figure 3. The DAMO BRACE is installed both horizontally and diagonally.
Be Proactive and Have Your Brace Repair Kit Handy
If you choose to purchase the DAMO BRACE repair kit in advance and store it in your facility, you eliminate the lead/production time entirely so you can address brace damage immediately the next time it occurs. On the contrary, when you are replacing an upright, you are limited to replacing it on a like-for-like basis: same material, same specifications, and from the same rack manufacturer. When considering storage capacity, accumulating different styles of uprights in your warehouse, not knowing which may get damaged next, may not only prove to be difficult logistically, but it also does not make much sense economically. In our DAMO BRACE infographic, we give you tips on what to look for when assessing the health of your pallet rack bracing, as well as provide you with three easy steps on how to be proactive and enjoy a hassle-free repair.
Choose A Reputable Rack Repair Company
It is very important when choosing to repair a damaged rack to refer to rack safety experts for support and guidance. Damotech offers engineered and certified repair solutions, as well as on-site rack damage assessment services, performed by experienced rack safety experts. Our rack repair products are engineered to hold up to the industry's highest standards. They respect the original configuration of the rack, maintain its load capacity, and offer protection against future damage. If you have already gone through several cycles of rack replacement and are fed up with the hassle and extra costs, the DAMO BRACE and DAMO PRO (for column repair) are your best rack repair solutions.
Download our DAMO BRACE repair vs. Upright Replacement infographic to learn more or request a quote on the DAMO BRACE repair kit if you are ready to get your hands on this cost-effective solution to brace damage in your warehouse!