< Blog Home
This guest blog was originally published on MHI's website and written by Damotech's Marc Rousseau.
As a safety-conscious warehouse manager, perhaps you have done your due diligence and taken the first steps in integrating safety best practices in your warehouse. You may even have implemented regular inspections of your racking systems to ensure the smoothest of operations, as well as the safety of your employees. But what happens when you identify damage in your racking? What options are available to you?
There are two ways of addressing damage to uprights: replacing the entire upright or replacing only its damaged parts. For damaged front or back columns, while replacing the entire upright is an option, you can also choose to repair it with an engineered rack repair kit.
What Is A Rack Repair Kit?
Rack repair kits are a simple and cost-effective solution to fix damage to the lower portion of upright legs. They are custom built to respect the original configuration of your upright and will bring back its original loading capacity. Various kit configurations are available to fix either just the front leg, the back leg, or both at the same time. The size of a repair kit is made to measure; however, the most common heights vary between 24", 36" or 48", but they can be made to almost any height or depth.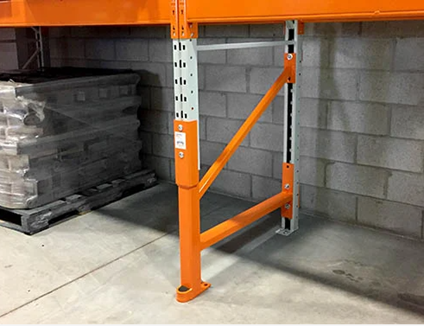 A rack upright with a repair kit bolted to it.
How Is A Rack Repair Kit Installed?
If you are partnering with an experienced rack repair company, their experts will assess the damage on-site and determine the proper measurements of the repair kit needed. At the time of installation, the damaged upright frame is secured and usually supported by a specially designed lifting device. Once the damaged portion is cut and removed, the rack repair kit is inserted into place, and the kit is bolted on and anchored to the ground. No "hot permit" is required since there is no welding on-site. This allows the repair kits to be installed on units in any environment – including large refrigerators and freezers. The installation of the repair kit can be generally installed in less than an hour.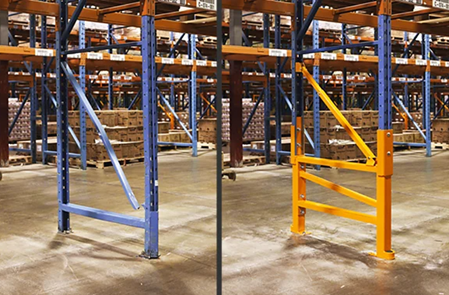 Before (left) and after (right) a rack repair kit installation.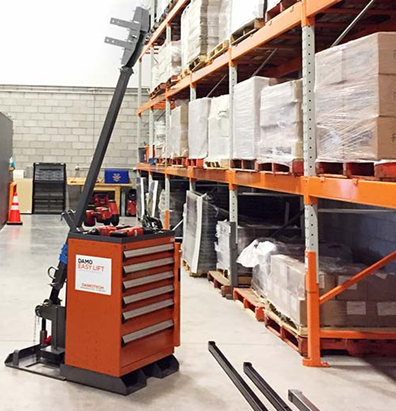 A specially designed lift is used to support the load while the repair is being installed.
Rack Repair Benefits
Repair vs. replacement needs to be evaluated on a case by case basis. In some cases, repair might be a good option as it can save time and money since the product can generally be manufactured much faster than new racking. Repair kits can also be stocked for instant replacement and minimize rack system downtime. The ideal pallet rack repair kit is easy to install and engineered to fit your existing uprights perfectly. This means that once installed, they will restore the rack's original load capacity.
It is important to note that not all rack repair kits are one and the same. Depending on which company you purchase from, the quality of the kit will vary. Some serve to simply repair, and others are designed for a dual-purpose: to both repair and permanently protect your rack from future impact.
Repair of Damaged Braces
When single or even multiple braces are damaged on a single upright, custom built or adjustable braces can be used to fix the damage instead of replacing the entire upright, saving time and money in the process. Adjustable braces can usually replace both horizontal and diagonal braces. Repair braces are easy to install: the damaged brace is simply cut off and the new brace is bolted onto the existing upright.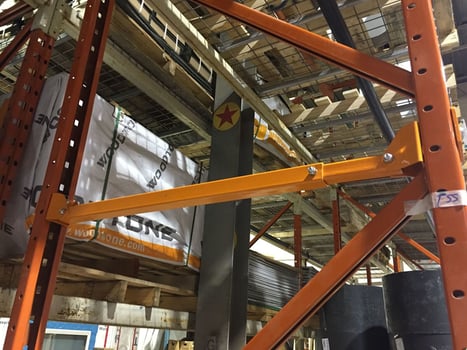 An example of a repair using a horizontal, adjustable brace.
Partnering with A Rack Repair Expert
If you are unsure which repair solution is right for you, or your warehouse contains multiple types of racks, consider partnering with a knowledgeable rack safety solutions provider. Your best bet is to find a company that is an active ProGMA member, an MHI group composed of the racking industry's leading suppliers of fixed protective guarding products. Purchasing from a ProGMA member ensures you are getting products that are engineered to hold up to the industry's highest standards.
Some companies also provide on-site rack damage assessment services, performed by experienced rack safety experts. These professionals should also be able to share advice on the best solutions to improve the safety of your warehouse. Often, rack repair kits come with warranties. Look for the ones with a lifetime impact warranty. The most important step is to inspect your racks regularly. This way, damage can be detected as soon as possible – avoiding any hazards. And remember there is great peace of mind that comes with putting an end to the ongoing cycle of rack replacement prevalent in many warehouses today.