Today, we'd like to address a warehouse safety topic that concerns not only rack owners and operators, but maintenance personnel and safety committees as well. When faced with a damaged rack upright column, one can choose to replace or repair it. A common reaction might be to call the original equipment manufacturer and order a new upright. However, rack repair offers several benefits that merit consideration and further explanation.
To begin, there are many misconceptions out there about pallet rack repair kits. Reputable manufacturers such as Damotech offer engineered solutions, built to replicate the original configuration of uprights and bring back the original loading capacity of the racking system. Our repair kits are built to withstand the harshest of impacts. They are made of high-grade steel, are bolted-on and anchored to the ground with high shearing capacity anchors. When a repair is done in a seismic area for example, our repair kits will be adapted for this specific situation.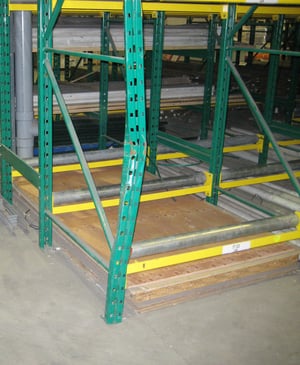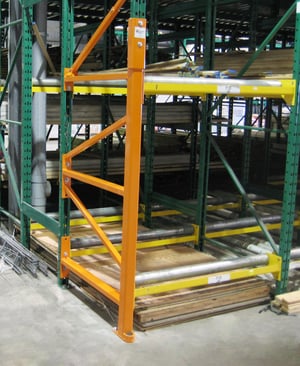 Before and after photos of a rack repair kit installation
When a rack is replaced by an original (OEM) part, not only can it take 6 to 8 weeks to get your replacement upright, but you will also need to dismantle your rack frame and the beams attached to it to do the replacement work. Once the new rack is in place, it's just as vulnerable and unprotected as it was before the replacement. A more proactive approach is to protect it once it is replaced, which is exactly what a Damotech rack repair unit will do. Our rack repair kits offer protection against future damage after the installation is done so you don't worry about this part of your rack again.
The use of repair kits is not only meant to repair front posts. It's also ideal at the end of aisles, which are generally high traffic areas prone to damage. It proves to be especially practical in the long run when you factor in the price of continuously replacing and protecting these areas. Additionally, repair on tall racks or racks that are no longer manufactured also makes the most sense, since they don't need to be dismantled. Only the damaged part is replaced, significantly reducing the complexity of the intervention and the amount of waste. Speaking of complexity, when a sprinkler system happens to pass through or near the damaged racking system, it's much better and simpler to repair than to dismantle and reinstall the rack.
Continuing to use a structurally damaged rack could lead to failure or collapse, which could, in turn, result in a much higher expense than fixing the problem in the first place.
When you choose to repair a damaged upright with a repair kit:
Make sure to work with a reputable company that offers engineered and certified repair solutions.
Make sure that the capacity of the rack is not altered or diminished by the repair.
Ending the cycle of upright replacement
If you choose to replace a damaged rack component with a new upright, you can hope that it does not get hit again from forklift impact or a moving pallet. You will need to order an additional protection unit to prevent damage from occurring in the same location again. The thing is, a pallet rack system will continue to get hit again and again, and if it does, the worst that could happen is that your rack collapses. Why not stop the abuse, once and for all? This is what is meant by the cycle of upright replacement. When a rack system is hit and replaced with a spare part, it is ripe again for getting hit the minute the installers are done with the installation. Unless the upright is well guarded, the potential for impact remains. Rack repair kits like the DAMO PRO will fix the damage and offer permanent protection against future impact, meaning that once it's installed, you don't have to worry about it again.
Rack Repair vs. Rack Replacement
Still unsure about the advantages of repairing a rack vs. replacing it with a spare part? Perhaps you need to convince a colleague to give rack repair a try ? Download this infographic, which offers a comparison of both options.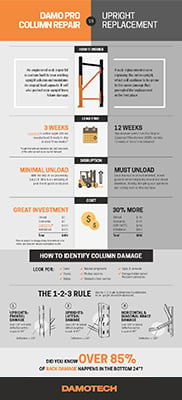 Why home-made repairs and field welding are not recommended
Although field welding on existing racks may seem like a quick and inexpensive way of repairing a damaged racking system, there are risk factors to consider before going forward with this option. We've written an article about this here. Since it's difficult to test the result of the weld and guarantee a resistance at least equal to that offered by the original component, there are strong recommendations against field welding on existing warehouse pallet racking. If you absolutely must use this method, first consult an engineer familiar with racking systems and make sure that all aspects of the code and regulations are followed carefully before proceeding with the welded repair. As an alternative, choose a certified bolt-on repair solution that does not require on-site welding or the dismantling of the racking system.
How does rack repair work?
Rack repair kits are bolt-on solutions that are made-to-measure before installation. Once on-site, Damotech's certified installers secure the rack, cut the upright above the damage, and insert a solution that will repair and protect the upright against future impact. Rack repair kits such as the DAMO PRO come with a lifetime warranty against impact, which means that it will prevent damage from occurring again. Read more about the rack repair process here.
How to repair racks without unloading them?
We can repair a standard rack with minimal to no unloading of the system because our certified installers use a proprietary lifting device called the DAMO EASY LIFT. This tool is secured to the rack while the repair is being performed. Thanks to this device, the installation process of a repair unit is safe and generally done in an hour. This process is non-disruptive to your operations.
Is repairing a pallet rack a safe option?
If using a rack repair kit from a reputable supplier that offers engineered solutions, if the repair kit is installed according to procedures set forth by an engineer, then repairing a rack with a bolt-on solution is a safe alternative to upright replacement. All repairs should be approved by a qualified design professional, either from the manufacturer of the unit, the supplier or an independent professional engineer familiar with racking systems.
What happens to the load capacity of a rack after a repair?
An engineer experienced with racking can certify that a repair is compliant with the rest of the system, and local building codes and that it does not reduce the load capacity of the rack. Incidentally, only a Professional Engineer can calculate the load capacity of a racking system.
What about repairing racks in a seismic zone?
When ordering a rack repair kit, the location of the repair, as well as local building codes and standards, should be taken into consideration. For examples, a repair unit set to be installed in a seismic zone will be designed with a thicker and broader base plate (or footplate), and seismic anchors will be provided. To be sure, all of Damotech's products have been reviewed and tested by engineers.
If you still have questions about the repair process or have damage in your warehouse that you would like to address, talk to an expert. Damotech will send a specialist at no cost to measure the damage and suggest the right product to fix you pallet rack damage, once and for all.