DAMO SHIELD


DOWNLOAD BIM FILES & CAD DRAWINGS

If you're an architect, engineer, draftsman, or construction manager looking for BIM Files or CAD drawings of a steel building column protector to use in your warehouse or car park designs, this free download is for you.
Add specifications to your architectural or engineering drawings
The package contains the DAMO SHIELD's BIMs, 2D plan and elevation technical drawings, and 3D models for use in renderings, animations, or walkthroughs. All in all, 40+ files of the DAMO SHIELD (Standard & XL sizes) with modular extensions.
The download package includes BIM files, models for Autocad, Inventor, and Revit, but can easily be imported into many of your favorite CAD/3D modeling software including, SketchUp, VectorWorks, 3DS Max, Catia, and others.
BIM & CAD Drawings File Formats:
BIM:

Building Information Modeling

DWG: Autodesk Autocad Drawing Files
DXF: Autodesk Drawing Exchange Format
IAM: Autodesk Inventor Assembly Files
RFA: Autodesk Revit Family File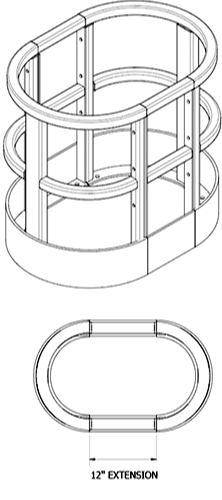 Fill out the form to download the file