Our specialist walks the facility and performs a visual assessment of the racking system.
Damotech has a network of specialized dealers that can survey racks and service your warehouse. They can suggest the right rack repair kits and protection products, free of charge.
They can also help determine if a more complete and thorough assessment of your racking systems is required. It is strongly recommended to use a third-party safety expert with professional engineers that visit the store and conduct in-depth inspections. In that case, our engineers will perform a conformity inspection and provide you with a comprehensive report to give you an overall picture of your racking systems' condition and compliance.
How often should racking be inspected? A professional racking inspection performed by an engineer is recommended once every other year. These types of inspections should be performed more frequently if the racking system sustains a higher number of damages.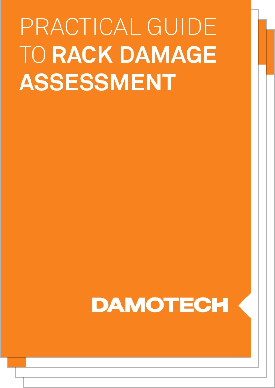 If you would like to know more about pallet racking damage assessment, we have prepared a guide on the subject. It offers guidelines that will help you perform your own inspections:
Practical Guide to Rack Damage Assessment
.