10 RACKING MISTAKES TO AVOID
Get pallet rack recommendations from Engineers who have inspected 1,000s of warehouses.
Find out if you're an expert when it comes to configuring, managing and maintaining your racks. Register for this webinar now and you'll:
Identify the top 10 mistakes that could jeopardize your warehouse safety
Learn easy changes in habits that will lead to better rack safety
Discover free downloadable tools you can use every day to maintain safety best practices
Monday, March 28, 2022 at 3:45 PM, Theater G
Thursday, March 31, 2022 at 12:45 PM, Theater F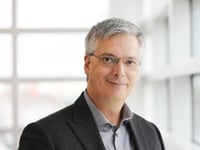 Charles Carbonneau
Chief Engineer at Damotech
Charles is a structural engineer (Ph.D.) with more than 25 years of experience in structural dynamics. He is renowned for the depth of his knowledge about racking, and his dedication to finding innovative rack safety solutions.